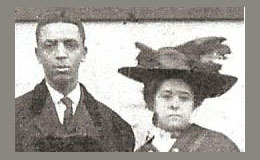 For this year's April A-Z Challenge I am blogging everyday using items taken from the letters written by my grandfather to my grandmother from 1907 to 1912, starting with "A" and moving right through the alphabet to "Z" during April.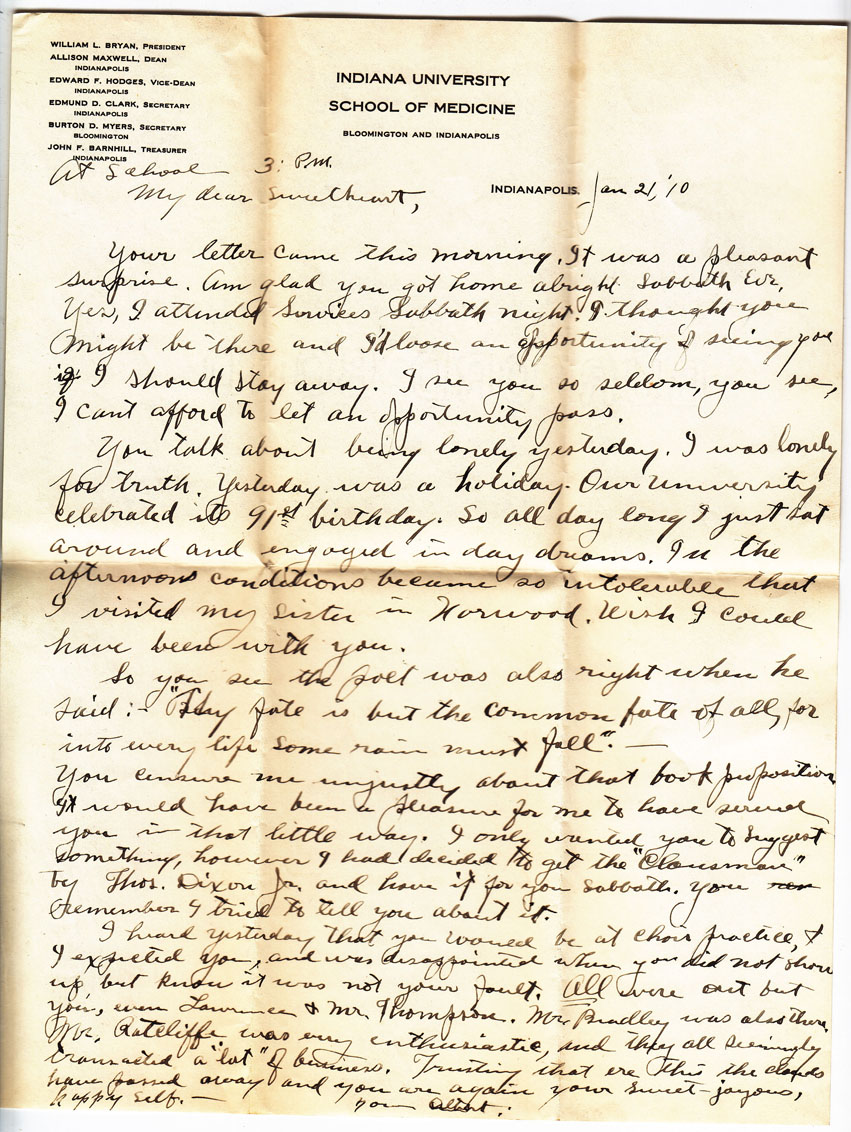 At school 3 Pm     Jan 21, '10
My dear sweetheart,
Your letter came this morning.  It was a pleasant surprise. Am glad you got home alright Sabbath Eve, Yes, I attended Services Sabbath night.  I thought you might be there and I'd loose an opportunity of seeing you if I should stay away.  I see you so seldom, you see, I can't afford to let an opportunity pass.
You talk about being lonely yesterday. I was lonely for truth. Yesterday was a holiday. Our university celebrated its 91st birthday. So all day long I just sat around and enjoyed in day dreams. In the afternoon conditions became so intolerable that I visited my sister in Norwood. Wish I could have been with you.
So you see the poet was also right when he said:- Thy fate is but the common fate of all, for into every life some rain must fall." –
You can censure me unjustly about that book preposition. It would have been a pleasure for me to have served you in that little way.  I only wanted you to suggest something, however and had decided to get the "Clansman" by Thomas Dixon Jr. and have it for you Sabbath. You remember I tried to tell you about it.
I heard yesterday that you would be at choir practice, and I expected you, and was disappointed when you did not show up, but know it was not your fault.  All were out but you, even Laurence and Mr. Thompson.  Mr. Bradley was also there. Mr. Ratcliffe was very enthusiastic, and they all seemingly transacted a "lot" of business.  Trusting that ere this the clouds have passed away and you are again your sweet-joyous, happy self. –
Your Albert
Ah, so here we have the title of a book that they read.  The racist movie, "Birth of a Nation" about the rise of the Ku Klux Klan during Reconstruction, was based on  Dixon's racist book "The Clansman".  I wonder what they said about it. Being the children of people who had been slaves, the first generation born after slavery, and who fought for their rights through the years, I can imagine it wasn't complementary.  The book was published in 1904.  It's available free online here The Clansman – Project Gotenberg ebook.