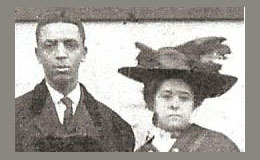 For this year's April A-Z Challenge I am blogging everyday using items taken from the letters written by my grandfather to my grandmother from 1907 to 1912, starting with "A" and moving right through the alphabet to "Z" during April.
This postcard was written during my grandfather's summer working on the Steamer Eastern States.
6/28/09
I am "sight-seeing" in Buffalo today.
A.B.C.