On September 5, 1864, Bluford Hubbard enlisted in the United States Colored Troops (Calvery) in Lebanon, Kentucky. He was 19 years old. It was a month after Thomas Ray Allen had enlisted. Bluford was born about 1845 in Taylor County, Kentucky.
On his enrollment papers he is described as 5 ft 7 in, copper colored with black hair and black eyes. He had been enslaved by George Hubbard of Taylor County and enlisted without his consent. Bluford served along with Thomas until the end of the Civil War in 1866 and was mustered out in Helena, Arkansas.
Bluford returned to Taylor county and a year later married Eunice Buckner. They lived near to his mother Rachel Gaddie and several of his siblings. Bluford farmed and Eunice kept the house and worked along with him. Six children were born to them but only two lived to adulthood, John born in 1872 and Lewis born in 1878.
By the late 1880s the family had moved to Indianapolis, Indiana. In 1887 Bluford began to receive an invalid pension. He testified for the first time in 1897 that he knew Thomas Allen to be one and the same as Thomas Ray because he had served with him in the army and also continued to see him over the years.
He is listed as a pensioner in the 1900 census. He and his wife Eunice have been married 33 years. Six people lived in the household on Paca. The two sons are listed as common laborers. Eunice's younger sister, Fannie, is living with them and both Eunice and Fannie are taking in washing. Seven year old nephew Burford Palmer is also a part of the household. The three younger members of the household are literate. The older ones are not.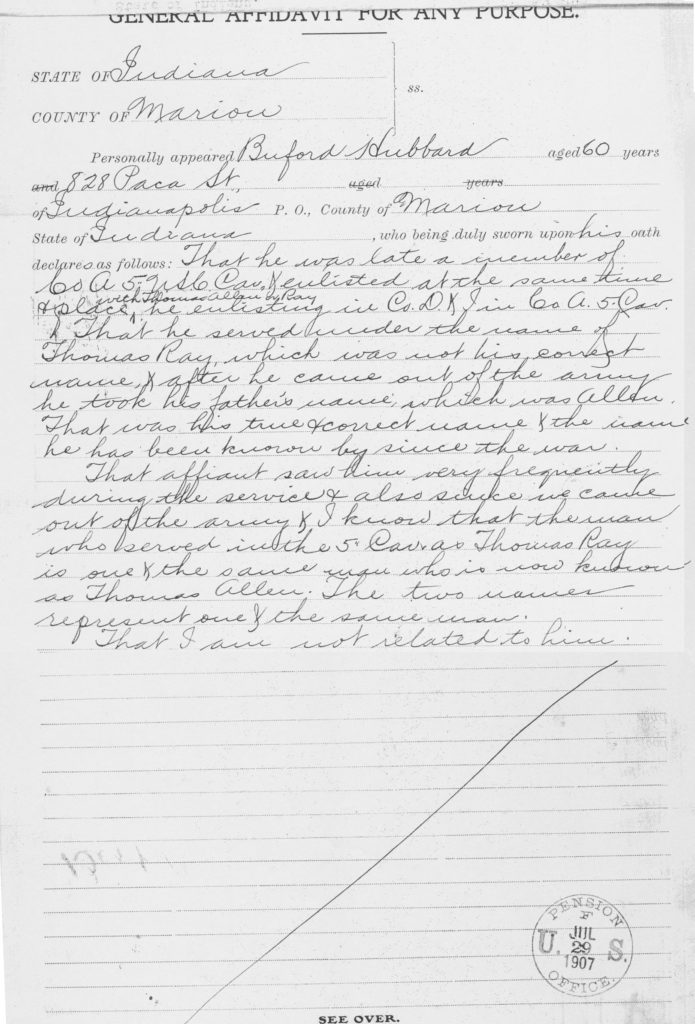 In 1908 Bluford was admitted to the Old Soldiers Home in Center, Grant, Indiana. He was still enumerated with his family in the 1910 census. Eunice is doing laundry for a private family, both sons are laborers. Nephew Burford is 16 and an actor and comedian. There is one border who is also a laborer. The family is still renting the house at 868 Paca Street.
Bluford Hubbard died on February 2, 1915 of chronic nephritis (inflamation of the kidneys). His son Lewis was the informant on the death certificate and gave Bluford's parent's names as Zealer Hubbard and Rachel Gaddie. He was buried in Crown Hill Cemetery and has a veteran's headstone.
His son John died in 1929 of a pulmonary hemorrhage brought on by tuberculosis. Bluford's widow, Rachel, lived for another 20 years after her husband's death, dying in 1935 at the age of 84 of bronchial pneumonia. Lewis disappeared after the 1920 census.
*Resources I used to find the information in this post: 1870, 1880, 1900, 1910, 1920 and 1930 US censuses; Indianapolis City Directories; Bluford's military records; death certificates for Bluford, Eunice and John Hubbard; records found in Thomas Ray Allen's pension file. The photograph of Bluford's gravestone is from find-a-grave. Except for the pension file, which I have in my possession, I found these records on Ancestry.com and familysearch.com I also did a bit of random googling if something called for it.