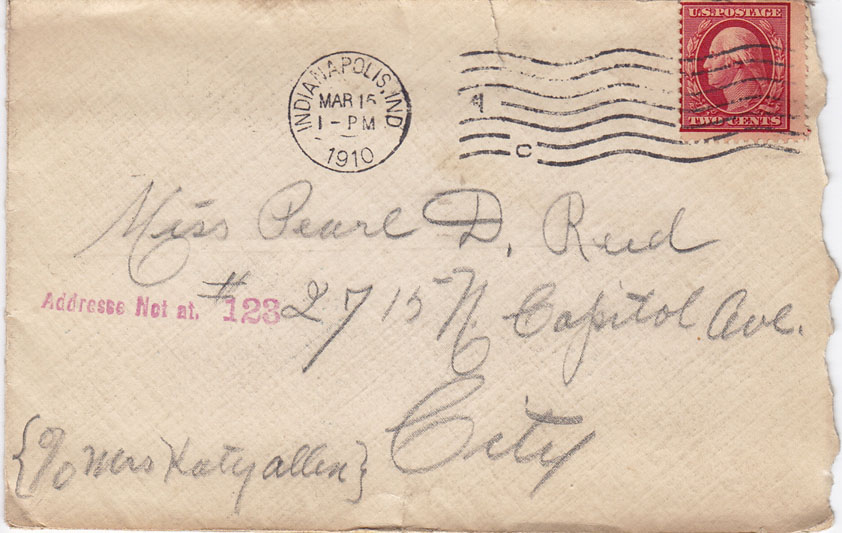 Last week I decided to take one more look at a question I had about my grandfather Albert B. Cleage's letters to his future wife, Pearl Reed. Who was the Katy Allen at 2715 N. Capital St. Indianapolis?  Albert sent Pearl letters there for several months in 1910. I had looked for Katy Allen several years ago when I first posted some of the letters on my blog, and found nothing. I only had her name and street address.
Recently I looked again and found Katy Allen listed in the Indianapolis City Directory for several years around 1910. She was listed as the widow of Thomas Allen. I then found her in the 1900 census with her husband and then I found his death certificate from 1907 (all on Ancestry) Thomas' mother's name was listed as "Clara Green".  This was my great grandmother Anna's mother's name – which made him my grandmother Pearl's uncle and her mother Anna's brother. I had never found any relatives for Anna except those of her mother and children. Anna's maiden name was given as "Ray" on some of her children's records.
I looked some more and found Thomas Allen's Will. It said he used to go by the name of "Ray" which was his former master's name but he changed it to "Allen" after he got out of the service (he gave his unit as 5th US Colored Calvary). In the military record, there is his former slave holder's full name! Now this particular branch of the family was very close mouthed about anything to do with slavery, although they did mention those Cherokee Ancestors who passed on no DNA. So, from looking for some info for my book about my grandfather's letters, I found a new ancestor; my first United States Colored Troops family member; the last slave holder for that particular branch of the family and who the person was at that N. Capital St. address.
Last Will and Testament of Thomas Allen
State of Indiana
Marion County
I, Thomas Allen, a resident of Marion County, Indiana, and being of sound and disposing mind and memory, do make, publish and declare this to be my last will and testament, hereby revoking all former wills by me made.
I, Thomas Allen, known on the war records of Company D, Fifth United States Colored Calavry, and in matters relating to my pension business (act of June 27, 1890, Inv. Cft. 693170) as Thomas Ray, wish to explain that this difference is caused by my enlisting in the army under the name of my former master owner, whose name was Ray.  However, after my discharge, I took the name of Allen, which was my fathers name and which is my true and correct name, and the name und which I have transacted all other business and under which I was married to my present wife, and the name under which I am known and recognized by my neighbors, friends and acquaintances, and that Thomas Ray and Thomas Allen are the same and identical persons –
Item #1. I give and devise to my beloved wife, Kate Allen, the following described real estate, situated in the city of Indianapolis, County of Marion and State of Indiana, and described as follows: – Lot number twenty-five (25) in Ruddell and Vintons Park Place, Plat Book number four (4), Page one hundred ninety (190) in the Recorder's Office of Marion County, Indiana.
Item #2. I give and bequeath to my wife, Kate Allen, all of the personal property of which I may die seized.
Item #3. I constitute and appoint Otts Delp executor of this will.  
Witness my hand and seal, this 23rd day of July, A.D., 1907, at Indianapolis Indiana.
Wm. S. Steavens  Henry C. Bade  Thomas Allen
The foregoing instrument signed, sealed and acknowledged by said Thomas Allen as and for his last will and testament in our presence, who, at his request, and in his presence, and the presence of each other, have subscribed our names as witnesses there to, this 23rd day of July 1907.
Subscribed and sworn to before me, this 23rd day of July, 1907.
Bert Delp
Affidavit of Death
State of Indiana, Marion County, Set"
Otto Delp being duly swornm on oath says that Thomas Allen departed this life on or about the 10 day of November 1907 and at the time of his death was a resident of said County and State.
Subscribed and sworn to before me, this 14 day of November A.D. 1907       Otto Delp
Leonard M. Quill Clerk
Proof of Will
Before the Clerk of the probate court of the County of Marion, in the State of Indiana, personally came William S. Stevens and Henry C. Bade subscribing witnesses to the forgoing instrument of writing, who being by me first duly sworn, upon oarth depose and say that Thomas Allen testator named in the instrument of writing purporting to be his LAST WILL AND TESTAMENT, did sign seal, publish and decare the same to be his last will and testament, on the day of the date thereof; that the said testor was at the same time of the full age of twenty-one years, and of sound and disposing mind and memory, and that he was under no coercion, compulsion or restraint, and that he was competent to devise his property. And that the said testator so signed, sealed, published and declared the same to be his last will and testament in manner and form as aforesaid, in the presence of affiant and of – the other subscribing witness…thereto and that each attested the same and subscribed their names as witnesses thereto, in the presence and at the request of said testator, and in the presence of each other.  Wm. S. Stevens   Henry C. Bade
Subscried and sworn to before me in witness of which, I hereunto affix the seal of said Court, and subscribe my name at Indianapolis, this 14 day of November A.D. 1907
Leonard M. Quill Clerk