In a recent post I talked about my grandmother Pearl Reed Cleages singing doppelganger Pearl Holmes Cleage. In this post I will explore the other Pearl's second husband Jerome Cleage. Was he related to my grandfather Albert Cleage? Both were Cleages, both with roots in McMinn county Tennessee. In the marriage record found on Family Search for Pearl Holmes and Jerome Cleage I found he was born October 20, 1880 in Rhea Springs, Tennessee to Richard and Adeline (Wasson) Cleage. He was married to Pearl on September 23, 1914 in Cleveland, Ohio.
In 1870 there were three Richard Cleages in all of Tennessee, two black and one white. All three were in McMinn County. This was where Samuel Cleage settled in the 1820's with the slaves he had brought from Virginia and the ones he picked up as payment for building houses all along the way. I noticed when I looked in the book "The Hidden History of McMinn County" by Joe Guy, that the slaves were described as Angolan. I wonder how the author knew that? I will have to write and ask. When Samuel Cleage was killed by one of his overseers the slaves were split between his two sons, Alexander and David. My ancestors came off of Alexander Cleage's plantation. I don't know which one Jermone's people came off of.
Of the three Richards, the white Richard Cleage the great grandson of Samuel and the grandson of Alexander, was nine years old at the time of Jerome's birth. I disregarded him as a possible father of Jerome. The other two Richards were both sons of Charles Cleages. There were two of them. Charles and Martha's son was 3 months old in 1870. I don't think he fathered Jerome at the age of ten. The other Richard was the fifteen year old son of Charles who had no wife ennumerated with him in the 1870 census. Charles did have 8 Cleage children living with him, who I assume were his sons and daughters. Relationships were not specified in the 1870 census. This Richard would be about 25 by the time Jerome was born in 1880. One of this Richard's younger brothers was named Jerome.
Richard and Adeline Cleage were enumerated in Rhea county in 1880. I found Richard, a hostler (he cared for horses), and his wife Adeline was a cook. They lived in the household of John Abernathy, a physician. They had two children, both born in Texas, two year old John and one year old Emma. Jerome had not been born yet. I was suspicious of the Texas birthplace thinking it might be a transcription error but Texas was listed on all the records I found for them. I wonder how Richard and family ended up there and what they did and why they returned to Tennessee.
I can't find any of the family in 1900. In 1910 I found Adeline widowed, living with two of her teenage children, Hosea and Louise, in Hamilton County, Tennessee. Jerome's sister Emma was a servant living with the Irving Reilly family in Chattanooga, Tennessee. I didn't find Jerome until his marriage in Cuyahoga, Ohio in 1914. In his WW 1 Draft registration card in 1918 he and Pearl were married and living in Cleveland, Ohio. In the 1920 Census Jerome is divorced, living with his mother Adeline in Cleveland, Ohio. He is 35 if he was born in 1885 or 40 if he was indeed born in 1880.
Adeline died June 20, 1926 in Cleveland. Her son Archie signed the death certificate. Two months later sister Emma died. In the 1930 Census Jerome was listed as 49, a servant living in Shaker Heights, Ohio with the Eugene S. Carr family. On Jerome's draft registration card in 1942 Jerome is living with his sister Louise at E.101 St. in Cleveland. He is described as a 5'5″ Negro weighing 140 lbs, of light brown complexion, bald with gray hair.
In 1942, I found a mention of my father, Rev. Albert B. Cleage in The Cleveland Call and Post. While in Divinity school at Oberlin he preached regularly at the Union Congregational Church but was going to be in Detroit one weekend so someone else was preaching the article explained. I wonder if any of the Cleveland Cleages went to those services.The last mention I find of Jerome is in a small article in The Cleveland Call and Post where he attended an impromptu Bond Rally at the Chauffeurs' Club in 1944. His brother Richard died in Cleveland in August of 1955. I have yet to find a record of Jerome's death.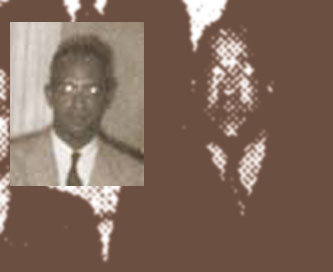 I guess I will never know if Jerome was related to my grandfather or even if their people came off of the same plantation but they did both start out in McMinn County Tennessee and by the early 1900's had almost all relocated to the north – Cleveland in Jeromes family's case and Detroit in my family's case. I found a bad photograph of brother Archie in a newspaper article online and I see a resemblance to my cousin Richard Cleage. It could be both bad photographs of men wearing glasses. The insert is my great uncle Henry's son Richard. The other is Jerome's brother Archie.
Part 1 – My Grandmother Pearl Cleage's Doppelganger
About Jerome's Cleages
Extra! Extra! John Cleage Injured in Explosion!
Abraham and Amanda Cleage
Emma Cleage
Charles A. Cleage
CHARLES A. CLEAGE "I was a sound man when I enlisted."