Since posting "The Hat" on January 12 I have been sucked into a research whirlpool.  It wasn't that hard to find some of the names. I looked on the backs of other photos in the set and found "Dr. Gamble" and "Mrs Gamble" identified.
Of course I wasn't satisfied with just their names.  Where were they from? What building was that in the background? How did they meet my grandparents? Why were they all in the DC area?   When were these photographs taken? And who was the lady in the polka dot hat?
I thought the building might be on the Howard University campus in Washington, DC, but looking at photos online I was unable to find one that looked exactly right. I asked my sister, who attended Howard, if she thought it was on the campus and she suggested it was Freedmen's Hospital, which was established in 1862 and served as the teaching hospital for Howard. The building shown below was new and completed in 1909. Googling "Freedmen's Hospital" I found several photographs of the hospital that showed me she was right.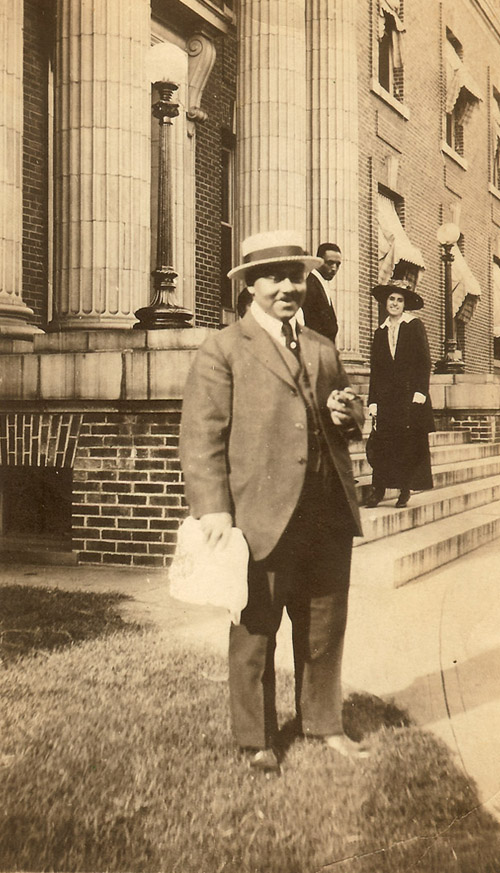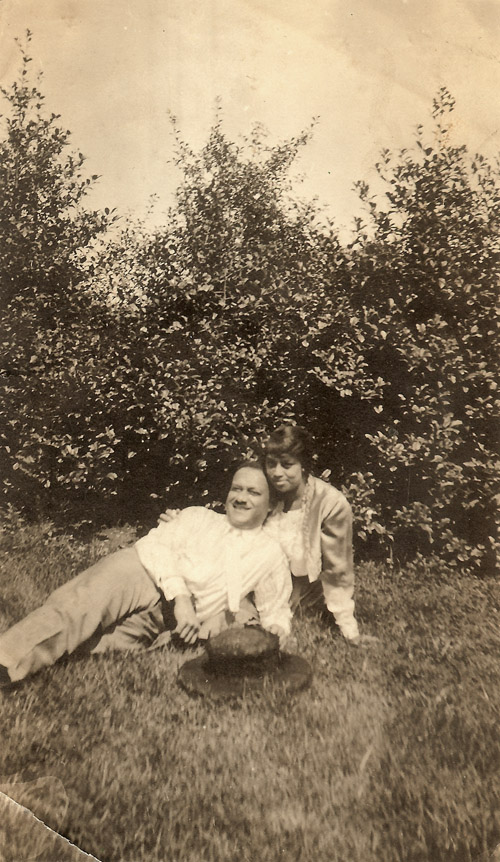 I needed the Gamble's first names to do more research. First I looked at a photograph I have of the doctors who practiced at Dunbar Hospital in 1922 to see if he was there.  He was and you can see him third from the right in the first row.  His name is listed as Parker G. Gamble. His middle name was actually Blair. My grandfather is on the end of that same row, on the far right.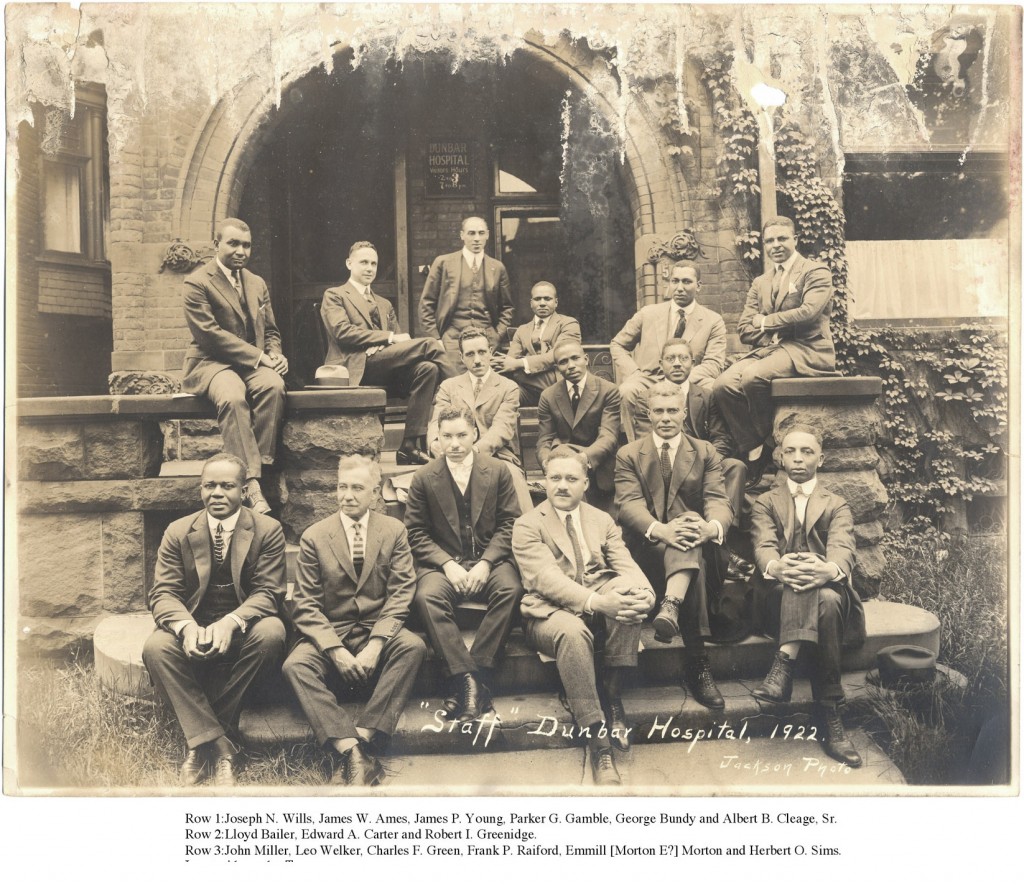 Next I looked in a book I have called "Michigan Manual of Freedmen's Progress" published in 1915 to"celebrate 50 years of freedom for the former Negro slaves of this nation…" where I found this entry for Parker Gamble on page 53.
"Gamble, Parker Blair,M.D., 226 E. Lafayette, Detroit.  Born at Chattenooga, Tenn.  Graduate of Knoxville College and the medical department of the University of Michigan, class of 1912.  Like almost all other Negro Professional persons, Dr. Gamble worked his way to his sheepskin and is now successfully practicing medicine in Detroit."
With this information it was easy to go to Ancestry.com and Familysearch.org and find the following information in census records, draft registration records and marriage records.  I also googled and found small bits of information online.
In 1900, 14 year old Parker Gamble was in school.  He lived in Hamilton County, Tennessee with his parents, Wesley and Mary Gamble. There were six children in the family ranging  from 20 year old Lula who was teaching to 12 year old Jessie. All the younger children were in school.  Mary Gamble had birthed nine children and six were still living. Wesley Gamble earned his living as an iron moulder, that is he made molds for casting iron.
Parker attended Knoxville at the same time as my grandfather, Albert B. Cleage.  In 1906 he graduated. He enrolled in the University of Michigan Medical College and worked his way through.  I wonder if he worked on the cruise lines that went from Detroit to New York, as my grandfather did in the summers to pay for his education. On September 21, 1909 twenty four year old Parker married twenty two year old Melzetta M. Crosby, a teacher in Ypsilanti Michigan. In 1912 he graduated and moved to Detroit to practice medicine.
By 1918  Dr. Gamble had his own practice as a physician and surgeon  at 346 St. Antoine on the east side of Detroit.  According to his World War 1 draft registration papers he was 5 foot 6 inches tall and weighed 178 lbs with brown hair and brown eyes.  His wife, Melzetta Gamble was someone who would always know where he was.
He and his wife had no children.  By 1942 according to his his World War 2 draft registration he was an inch taller and had gained 10 lbs. His hair was showing some grey mixed with the brown and he had a mustache.
I found a few things out about him by googling. He wrote a thank you letter to W.E.B Dubois.  He introduced another doctor at the National Medical Association Convention held in Detroit in 1927. There is a scholarship for medical students in his name at Wayne State University.  Dr. Parker Gamble died in 1948.
Dr. Parker Gamble seems to have led a pretty quiet life.  The same cannot be said for Dr. Alexander Turner and his wife Leota Henson Turner who I will write about in part two of Solving Mysteries.