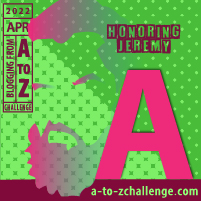 This is my ninth year of blogging the A to Z Challenge. Everyday I will share something about my family's life during 1950. This was a year that the USA federal census was taken and the first one that I appear in. At the end of each post I will share a book from my childhood collection.
Amazingly, the 1950 Census will be the first one I will personally appear in! I have spent years looking through old census records and trying to piece together the lives of my Ancestors. When I realized that the 1950 census would be released on April 1 this year, I was pretty excited that now I would get to see what picture the census gives of a year I know. Although I was only three when that census was taken in April, 1950, I remember and I recall those days. Sort of. With the help of news articles and photographs I will go through my family's life in 1950 during this A to Z Challenge.
Although the news items show that my family was active and aware of what was happening at the time, I was blissfully unaware as I lived my young life. I was living through that simpler time everyone remembers as the past, but the adults were living through lives that were as complex as any. And so it goes.
A poem I wrote six years ago about this photo.
I was almost four
 swirling
in the backyard. My
life beginning.

August 2016 sitting at my 
desk
writing
listening to Sati. The 
ceiling fan creaks
around my husband's voice on
the phone.

Outside cars pass.