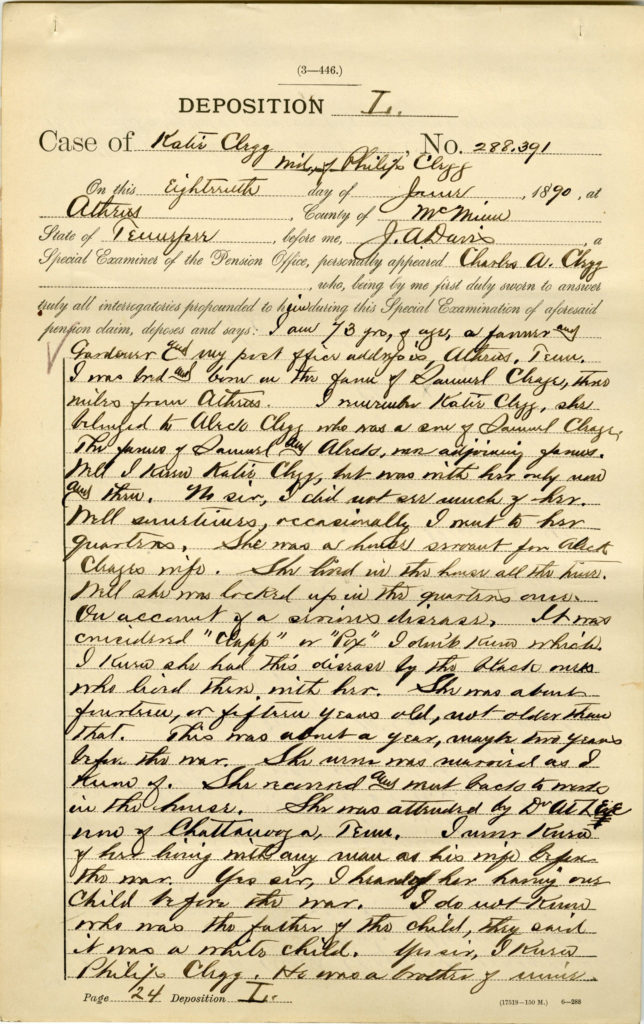 Deposition L
18 June 1890
Charles A. Cleage
I am 73 years of age, a farmer and gardener and my post office address is Athens, Tenn. I was bred and born on the farm of Samuel Cleage, three miles from Athens. I remember Katie Cleage, she belonged to Aleck Cleage who was a son of Samuel Cleage. The farms of Samuel and Alecks were adjoining farms. Well, I knew Katie Cleage, but was with her only now and then. No sir, I did not see much of her. Well sometimes, occasionally I went to her quarters. She was a house servant for Aleck Cleage's wife. She lived in the house all the time.
Well she was locked up in the quarters once, on account of a serious disease, it was considered "clap" or "pox" I don't know which. I know she had this disease by the black ???? who lived there with her. She was about fourteen or fifteen years old, not older than that. This was about a year, maybe two years before the war. She never was married as I know of. She recovered and went back to work in the house. She was attended by Dr. Atlee now of Chattanooga, Tenn. I never knew of her being with any man as his wife before the war. Yes sir, I heard of her having one child before the war. I do not know who was the father of the child, they said it was a white child.
Yes sir, I know Philip Cleage. He was a brother of mine. He belonged to Aleck Cleage. He was a farmer and coachman part of the time. No sir, Philip was never married. I saw Philip frequently. He lived in the quarters with the other slaves. If he had been married I would have known it. He never lived with Katie as I know of. I was in the same company with him in the army. He was a corporeal in C. A 1st U. S. C. H. Arty. I was with them when established at Chattanooga. Katie never was in camp with him, to my knowledge. Yes sir, I know Preacher McCaury. I never heard of his marrying Philip and Katie until just now. I don't know as I have seen Katie since the war. I have not known anything about her.
She never was in Camp with Philip, not to my knowledge. I would have known it if she had been there. Yes sir, I have an interest in this matter. He was my brother and my mother and father are dead and myself and Patsy are left and my interest is for his back pay and bounty as his heirs. Yes sir, we have received that. I have fully understood all your questions and my answers have been correctly recorded.
Charles (his mark X) A. Cleage
18 June 1890
***********
Charles A. Cleage was the brother of Philip Cleage, Katie's husband. I wrote a blog post about Charles A. Cleage and his life several years ago, before I ordered any pension files -> Charles A. Cleage. I will have to write another one when I finish this series about Katie Cleage, because I have his pension file also.
I found the information for this post in Katie Cleage's Civil War Pension file.
For links to the other posts in this series, click this link – Katie Cleage's Pension Hearing