As soon as I saw this weeks prompt for Sepia Saturday, I thought of this photograph. I decided to revisit an old post from Henry's journal, written during several months of 1936, where he mentions playing the bass at a club.
January 11
Awoke to find that I had lost 2 dollars very depressed. Wrote on theme. Played tonight at Quinn's Lone Pine with Duke Conte, played bass, terrible night. Fingers sore. Noticed how good-looking Lene is… Ought to throw a line – Police stopped us at about 1:00AM. No permit to play until two. I was glad. Very animal acting bunch in River Rouge. Most of them seem friendly though.
January 12
Played matinee dance at Elks rest with Heckes, Toddy and Bill – Dracee's band came in and sat in awhile (no trouble) Kenneth was there. Too tired and sleepy to study history. Get up early tomorrow (no English) Toddy is going downtown to get some books is supposed to get me 'American Tragedy" and 'Bartlett's Familiar Quotations"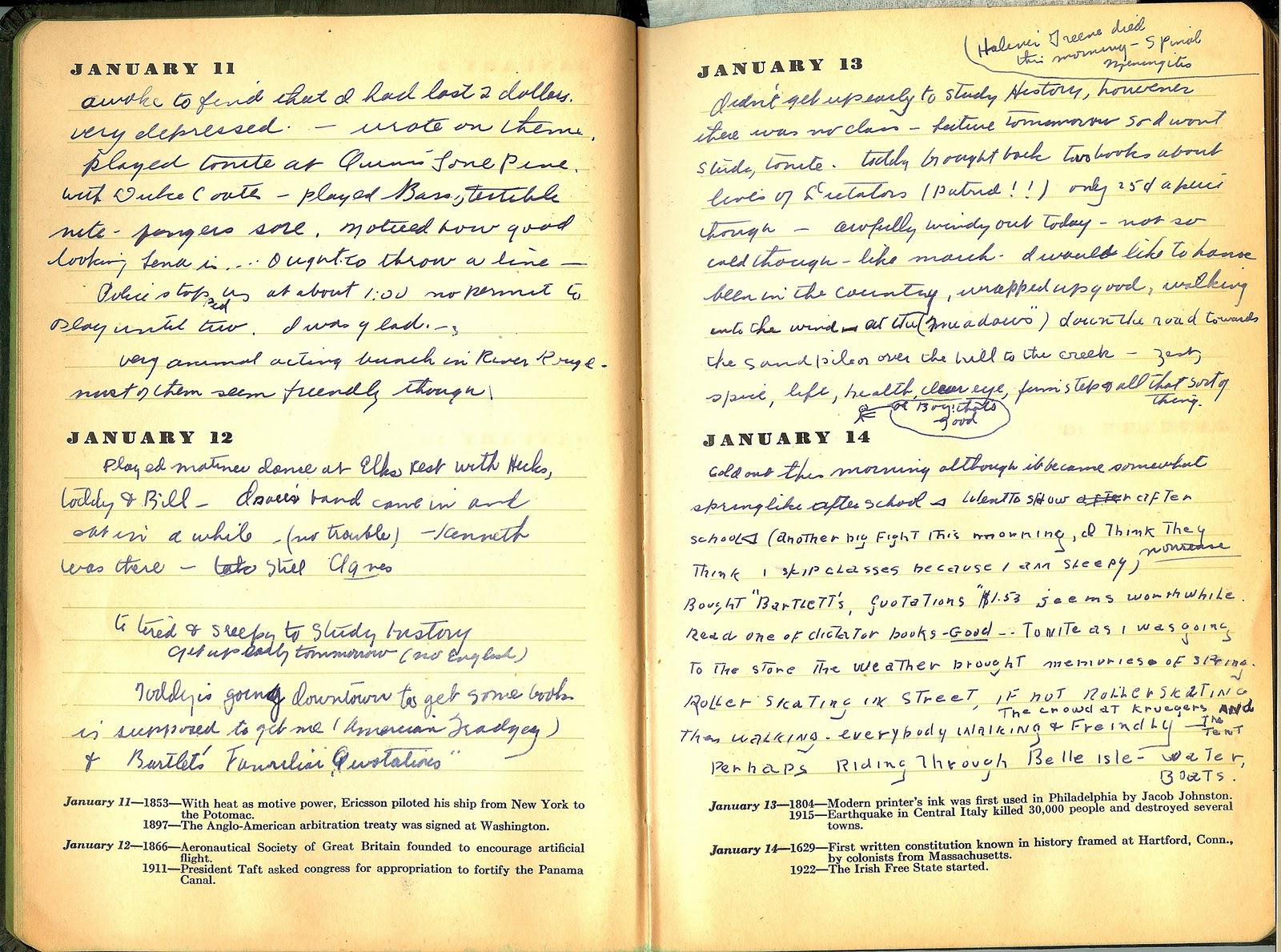 January 13
Haliver Greene died this morning -spinal meningitis. Didn't get up early to study History, however there was no class – lecture tomorrow so I won't slide, tonight. Toddy bought back two books about lives of Educators (putrid!!) only 25 cents a piece though – awfully windy out today-not so cold thought – like March. I would like to have been in the country, wrapped up good, walking into the wind at the Meadows, down the road towards the sand pile or over the hill to the creek – zest, spice, life, health, clear eye, firm step and all that sort of thing.
January 14
Cold out this morning although it became somewhat spring like after school. Went to show after school. Another big fight this morning, I think they think I skip classes because I am sleepy, nonsense. Bought 'Bartlett's Quotations" $1.53. Seems worthwhile. Read one of dictator books – Good – tonight as I was going to the store the weather brought memories of spring. Roller-skating in street, if not roller skating then walking. Everybody walking and friendly. The crowd at Krueger's and the tent. Perhaps riding through Belle isle – water, boats.


To read more of Henry's journal go to Henry Cleage's Journal – 1936 and Henry's Diary Part 2 – 1936 with photos from the Black Album. For a followup with more information about the band go to Follow up on Henry's Diary.