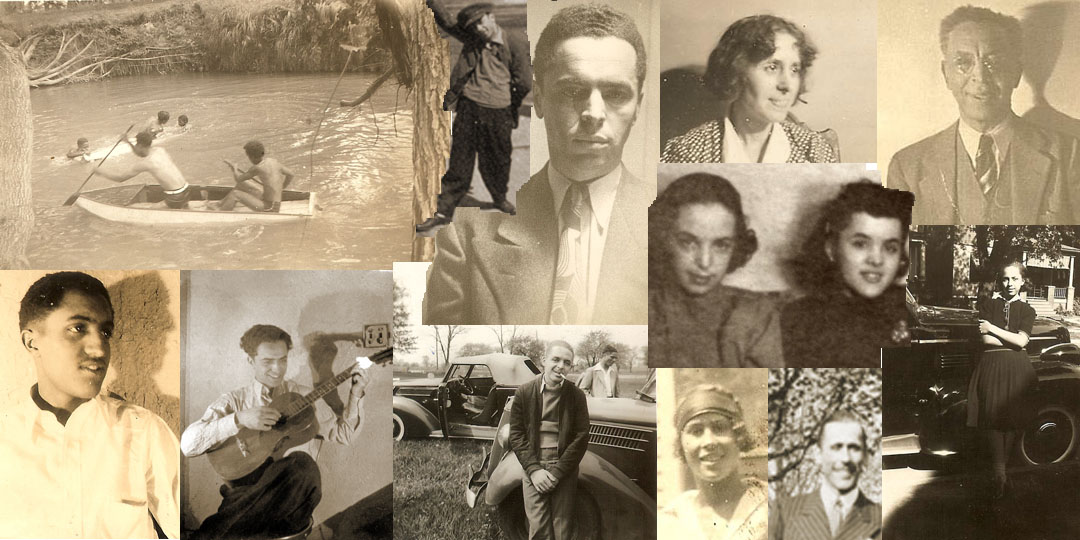 Since posting Henry's Diary from 1936, I've gotten several questions off of the Blog so I've decided to add an explanation entry. Some of the information come from transcriptions I made of conversations with Henry during the 1990's and some are new from today via my aunt Gladys Cleage Evans memories.
First Question was about the band:
Ben said "Enjoyed reading his journal. It sounds like they played in a band. Do you have info about the band?"
I sent out the call to two of Henry's sisters via their daughters and got the following information back:
From my Aunt Gladys via her daughter Jan:
"okay, Gammie can't remember what Hugh played, but Toddy was the manager, and booked the gigs and whatever they needed, he switched everybody around to accommodate … Louis on piano, Henry on sax and bass, cousin John on sax and soprano sax, cousin Bill on trombone, maybe cousin Harold was there, can't remember, if anyone sang it was Henry… she's still thinking I'll get back as more is remembered! I didn't even know they had a band… sorry as Gammie says, combo! 🙂
And from Aunt Anna via my cousin Anna: "Hi there! I had a chance to get Mom's remembrances on Uncle Toddy's band. This is what she recalls:
Uncle Toddy was trying to establish the business of being an agent where he would send singers and instrumentalists to different clubs etc. to perform. If he couldn't get enough players, this is where he would ask Uncle Louis (player of drums), Henry (sax player, bass violin and vocalist), and sometime Mr. Hand (Oscar) – not really sure what he played – to fill certain jobs. Uncle Henry was a really good sax player and he had a great voice. Some group called the Vagabonds wanted him to play the sax for them. Mom thinks that Henry actually joined their band for awhile."
From Henry, told in the 1990's: "John was pretty good on the saxophone. He turned out to be pretty famous on the West Side of Detroit." Henry says "When I played with John, he was so temperamental until he wouldn't play. I remember a couple of times he didn't like the set up. You know, at that point he was a jazz musician. I was more a Johnny Hodges type. We were playing at some big thing and he didn't like to play outside, it was cold, So I played the whole thing myself. All the parts. He wouldn't play."
Second Question from my daughter Ayanna:
"What does he mean when he says that his parents went to the show. Was it movies?"
Yes, going to the show was going to the movies. There was a segregated theater on Grand River, which was a big business street several blocks from their house. Black people had to sit in the balcony. This was in Detroit, Michigan.
Henry in the 1990's. Once he was going to the show with his cousin, Minnie "Girl" Mullins (she was named after her mother Minnie, hence the "girl"). After they purchased their tickets, the man was standing there directing them towards the balcony. Minnie put her nose in the air, said she wasn't sitting up there and went and sat downstairs. Nothing happened, they weren't thrown out or arrested or anything. He admired Minnie for her boldness.
And from my aunt Gladys again via cousin Jan again: "She doesn't remember a segregated theatre! She doesn't remember being in the balcony! JUST remembers Hugh taking her and Peewee to the show which was in walking distance! probably the same theatre…this is getting sooooo intriguing! anything else you need, let me know."
Henry mentioned The Meadows several times. "The Meadows" was a former farm within driving distance of Detroit. They used to go out there and fish and camp out. I need to get more information about who owned it and where it was. More to come. Back to the Aunts!
And the reply arrives – got to love the internet!
From Aunt Gladys via FB message and her daughter:
"Albert Senior and a bunch of fellow doctors bought it. It was to be a place where everyone could get away and the kids could meet and play.. big house on the property with a porch that wrapped around 2/3 of the house… (Plum Nelly was the conscientious objector farm) … dances on the porches… near Capac Michigan… Apparently they sold it later. she kind of remembers parties on the porch… a get-a-way other than the Boule or Idlewild. Mom remembers the boys spending a couple weeks at the meadows during the summer and Louis packing the provisions."
Part 1 of Henry Cleage's Diary 1936