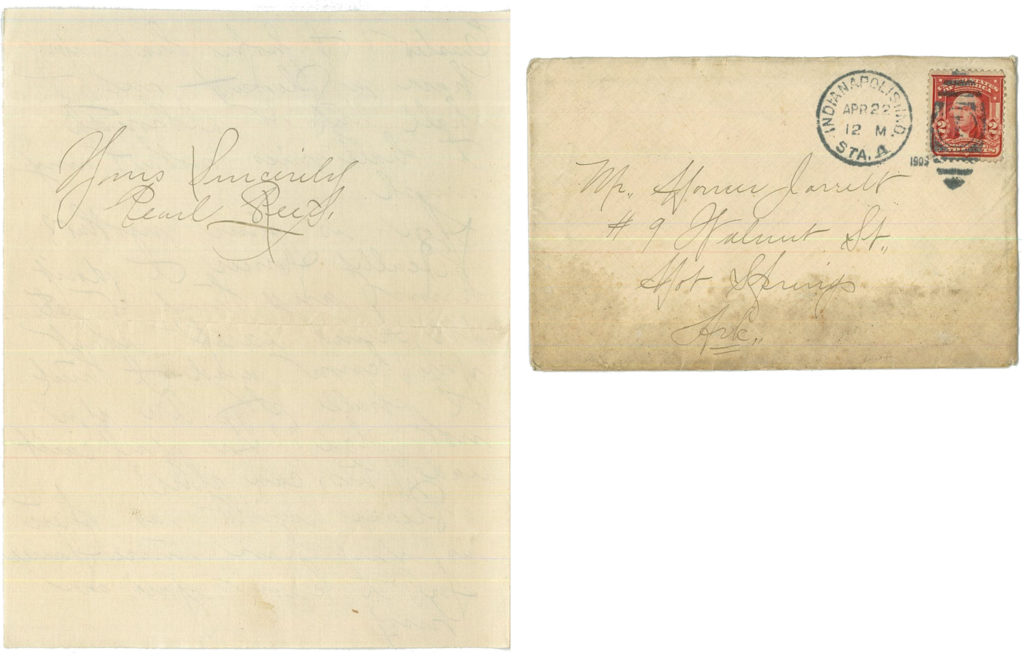 Homer Jarrett
9 Walnut St.
Hot Springs, Ark
2730 Kenwood Ave
Indianapolis, Indiana
April 21, 1905
Dear Homer,
Your letter was received ok and I should have answered it sooner but have been so busy. Mother leaves tomorrow at 7:00 A.M. for Benton Harbor and I have been sewing for her and helping her get ready to go. She will stay until late fall or early winter – I think. She sends her sincere regards to you Homer and would have you be a good boy. When you get this she will be in the Harbor and I shall be one of the most lonesome of people.
Forgive me for neglecting you Homer, but how are you? I hope you are in good health, as you generally are. Are you not glad Spring is here? Don't you know that I just detest cold weather of late? I would live in a warm climate if I was able, at all times. I think. What are you doing? Have you the same mates yet? Have you changed homes as often as you did here? Or, are they more to your liking there?
O, where shall you spend Easter? I hope that you have a pleasant one. I shall try to, although I shall miss mother very much.
How is your mother? Really Homer I don't know any thing to tell you, friend, except what you know. Well, I think I shall stop. Are you not glad? For you can't read this, can you?
Please write as often as you have time Homer for I know you are busy.
Yours Sincerely
Pearl Reed
______________________