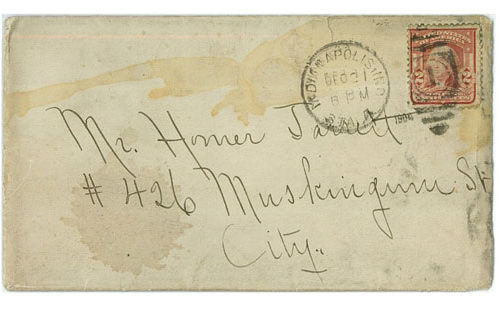 Homer Jarrett
426 Muskingun St. City
230 Kenwood Ave City
December 21, 1904
Mr. Jarrett,
Homer your letter was received, gladly and I shall try to answer every question which you asked of me.
I am very sorry to hear that you are leaving town so suddenly, we shall all miss you very much. You spoke as if someone could influence you in regards to leaving or remaining.
Just for an instant we will say that someone does care for a certain person, and that person wishes to visit his home and mother and friends, whom he has not seen for a long time. Do you think that she would be selfish enough to try to persuade him to remain here, and feeling that his heart is there? I do not think she is that kind of a girl. It is perfectly natural for one to turn homeward at Xmas tide.
Minnie, if she comes at all, will be here about Saturday at noon. Haven't heard from her for nearly two weeks.
You think that you will not enjoying going to the entertainment alone Monday? I am sorry, for sure. Will you accompany us to Mrs. Rodger's home and go from there to Church? If you will, be here at 6:15 or 6:00 o'clock if possible, if you are not here at 6:15 we shall go on alone.
Shall be pleased to see you Sunday afternoon. In regards to Xmas present, why anything that you get I shall like it. Do not worry about it for I should be pleased with anything.
Yours Sincerely
Pearl D. Reed