This year I am going through an alphabet of news items taken from The Emancipator newspaper, published between 1917 and 1920 in Montgomery, Alabama. Most are about my grandparent's circle of friends. All of the news items were found on Newspapers.com. Each item is transcribed directly below the clipping. Click on any image to enlarge.
_________________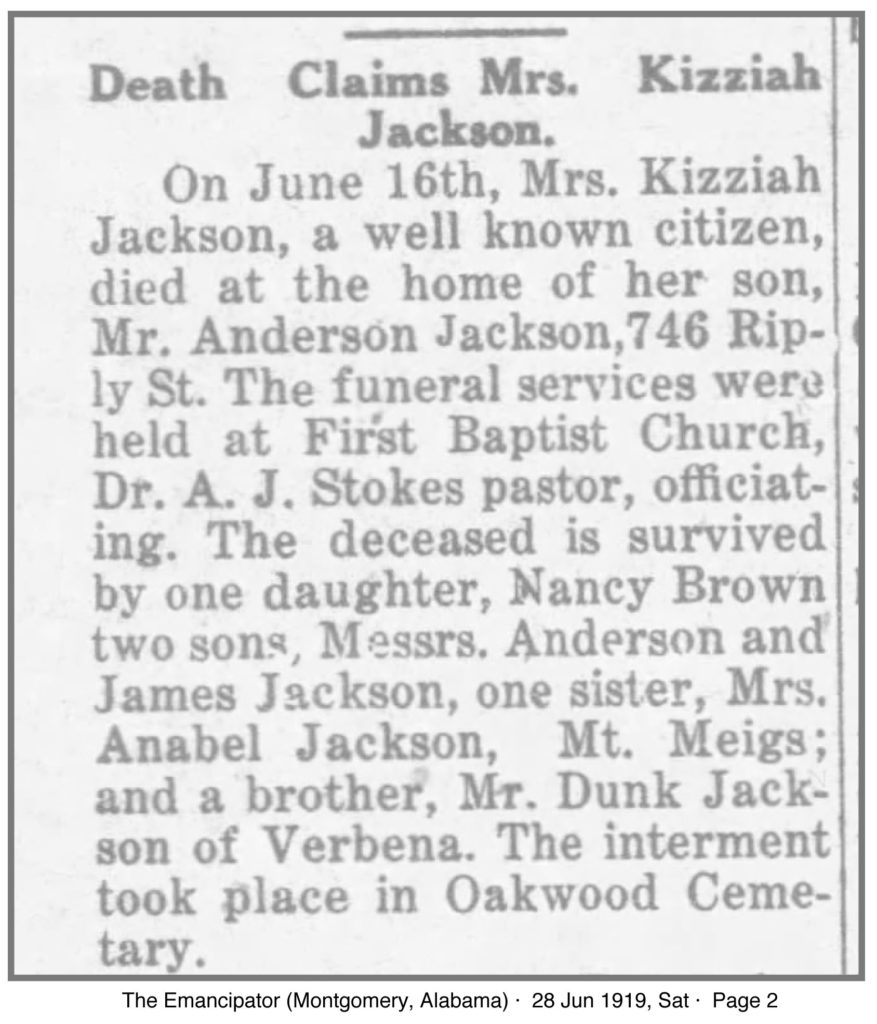 Death Claims Mrs. Kizziah Jackson
"On June 16th, Mrs. Kizziah Jackson, a well known citizen, died at the home of her son, Mr. Anderson Jackson, 746 Riply St. The funeral services were held at First Baptist Church, Dr. A. J. Stokes pastor, officiating. The deceased is survived by one daughter, Nancy Brown two sons, Messrs. Anderson and James Jackson, one sister, Mrs. Anabel Jackson, Mt. Meigs; and a brother, Mr. Dunk Jackson of Verbena. The interment took place in Oakwood Cemetery."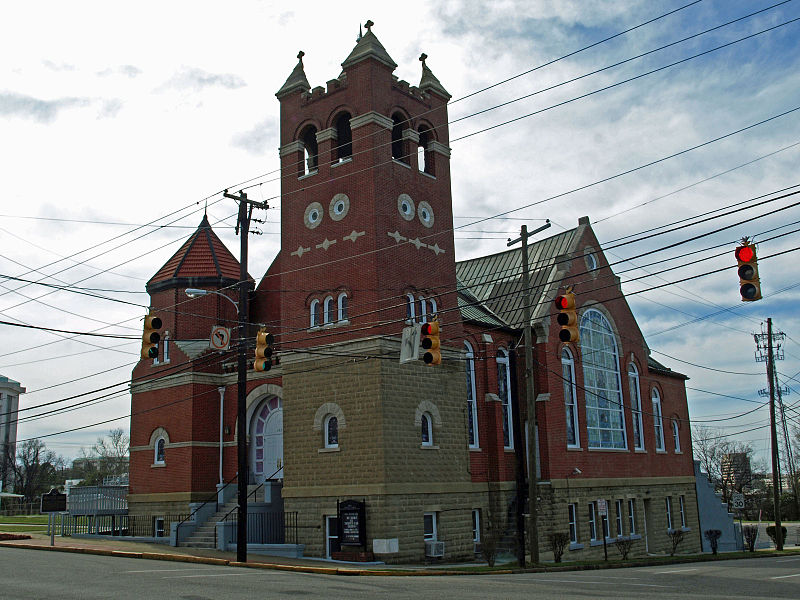 Kizziah Jackson was born into slavery around 1855 in Alabama. Her mother's name was listed as Viola Jackson on her death certificate. I was unable to find either of them, or any of the siblings mentioned in her obituary, in the 1870 census. The 1870 census is the first one in which formerly enslaved people were listed by name. During slavery days we were listed by age and color under the slave holders name in a separate slave census.
In the 1880 census, Kizziah Jackson was living in Bullock County, Alabama. She was the only adult in the home and was listed as single. She had two children, Nancy Jackson, age seven and George Jackson, age five. Nancy attended school. Kizziah worked as a cook and laborer.
The 1890 census was destroyed by fire so we lose 20 years of records. In 1900 Kizziah Jackson was still in Bullock County. She was 45 years old and listed as a widow. She worked as a cook. Kizziah had given birth to four children and all four were living. The two youngest lived with her. Anderson was nine and attending school. James was five.
Nancy Jackson Brown, the oldest child, was 27 years old,. She was married to her second husband. Of the two children she had given birth to, only one daughter was still living. She lived with her paternal grandparents.
I have not found son George after the 1880 Census. He would have been 25.
In the 1910 Census, Kizziah and her younger sons had moved to Montgomery. They shared a home with Nancy. Her husband was not enumerated in the home. Nancy's daughter died the year before in 1909, at the age of sixteen. Nancy worked as a washer woman. Anderson was 19 and worked as a porter at a grocery store. James was 16 and worked with a blacksmith. Everybody in the household, except Kizziah, was literate. No occupation was listed for her. There was one lodger, Mary McGee, who worked as a cook.
In the 1919 Directory, Kizziah Jackson was living with her son James. She is listed as a domestic. He worked as a presser. Anderson was married and worked as a drayman. He lived on South Ripley. Nancy was a laundress and lived on Jeff Davis.
Kizziah Jackson died on June 16th at her son, Anderson Jackson's home. She was buried in Oakwood Cemetery in Montgomery.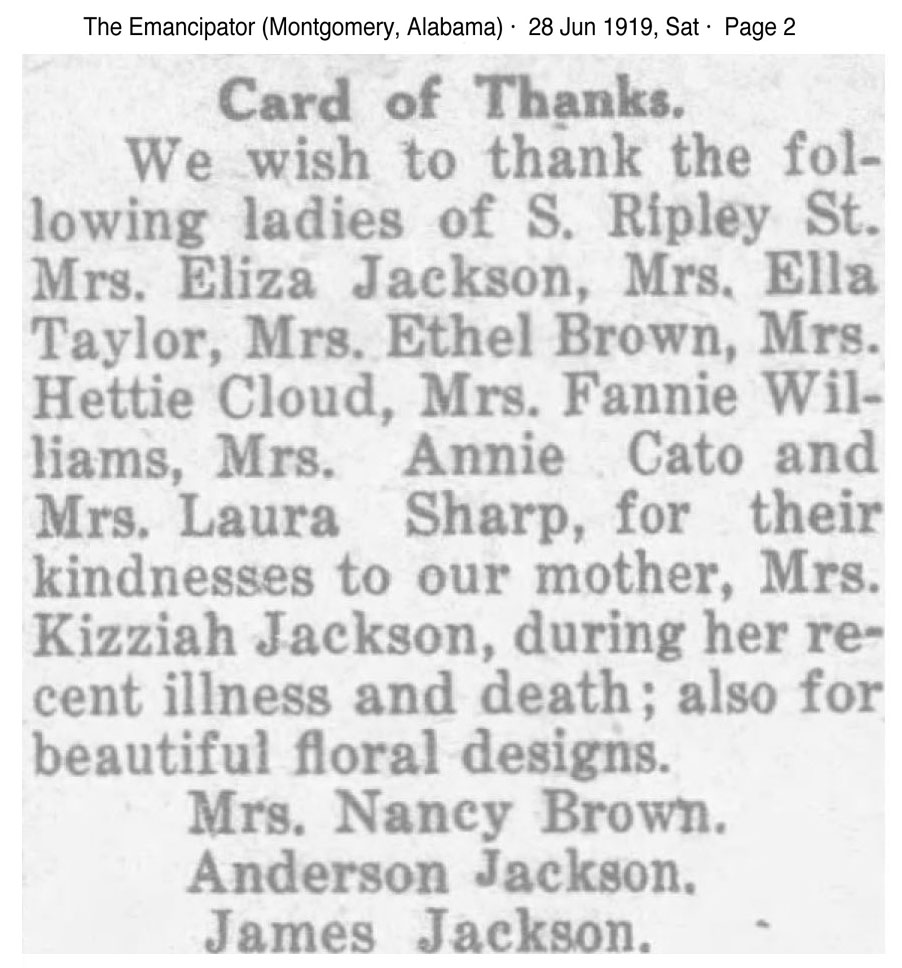 Card of Thanks
"We wish to thank the following ladies of S. Ripley St. Mrs. Eliza Jackson, Mrs. Ella Taylor, Mrs Ethel Brown, Mrs. Hettie Cloud, Mrs Fannie Williams, Mrs. Annie Cato and Mrs. Laura Sharp, for their kindnesses to our mother, Mrs. Kizziah Jackson, during her recent illness and death; also for beautiful floral designs.
Mrs. Nancy Brown. Anderson Jackson. James Jackson."
_________________________
I found this information on Ancestry.com in Census Records, Directories, Death Records, Military Records and Marriage Records. The news items were found on Newspapers.com.