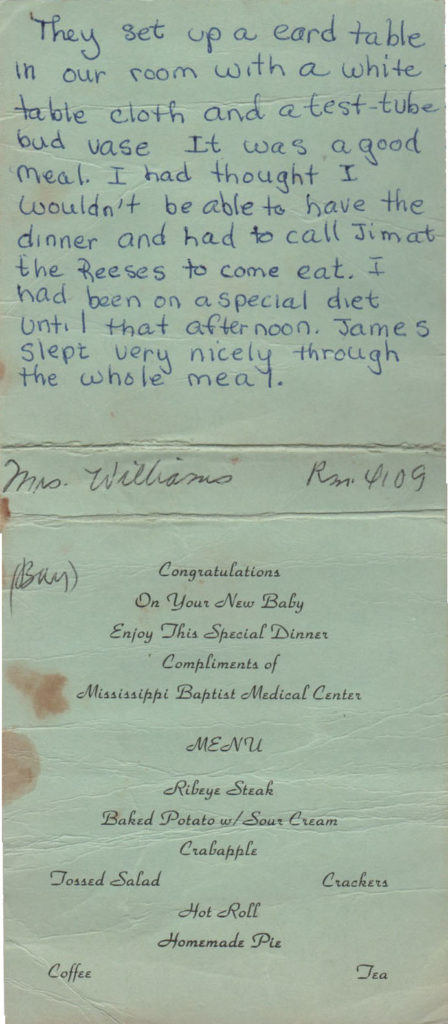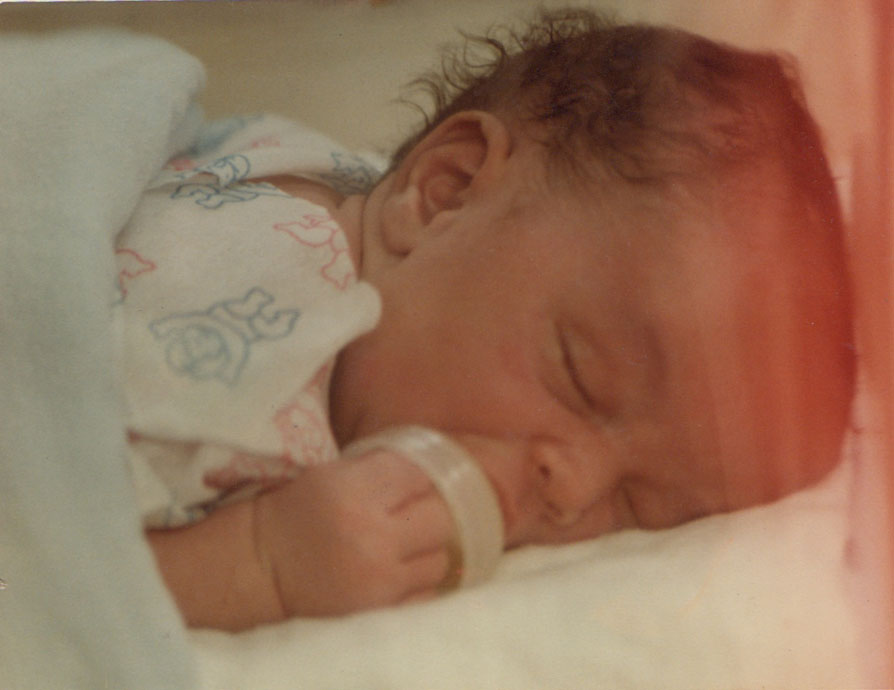 "They set up a table in our room with a white tablecloth and a test tube bud vase. It was a good meal. I had thought I wouldn't be able to have the dinner and had to call Jim at the Reeses to come eat. I had been on a special diet until that afternoon. James slept very nicely through the whole meal."
Story of James Birth From His Baby Book – 1982
James was born during an ice storm. Actually the ice storm began the day before he was born. We went into Jackson (we were living about half an hour away in Simpson County at the time) when the storm started because I started having mild contractions about the same time. We stayed with a family with 6 children Jim worked with sometimes in printing. The first night I woke up and the contractions were stronger and we went to the hospital, but they faded away at the hospital and we went back to the Reece's house. She said she knew I wasn't really in labor because I was checking on everyone before I left. The next day my water broke and there was some meconium staining in the show. We went back to the hospital around 2 in the afternoon. I said I hoped they wouldn't have to send me home again but Dr Barnes said since my water broke I wouldn't be leaving until the baby came.
I was in the same birthing suite I used when Tulani was born. And had the same nurses. They hooked me up to the monitor because of the meconium and even attached a wire to James head to "get a better reading". I remember thinking as I was laying there listening to the nurses talking and going about their business, that there I was laying there in labor and yet they were living their regular lives. They weren't actually involved in it at all. I imagine it's sort of like when you're dying. But that's neither here nor there.
I started pushing at 6:30PM and figured the baby would be born soon. After an hour of second stage labor and pushing the head still wasn't engaged. I remarked between contractions that I hoped it wasn't going to take me until midnight for the baby to be born. (I said that because each of the babies was born three hours later then the last one and Tulani was born around 9 PM.) Dr. Barnes said they weren't going to wait that long, if he (she was sure it was a boy because he was causing so much trouble, she said) wasn't born in an hour she was going to do a c-section. That hadn't even entered my mind. Soon she sent all the nurses that were waiting for the birth off to get ready. I tried getting on my knees like I had with Ayanna, but to tell the truth, the mood was ruined. I just wanted to get the whole thing over with. If the baby was going to require a c-section, just go on and do it, I thought. Of course afterwards I wondered if I'd tried pushing awhile longer if he would have come on down.
On the way to the delivery room I asked Dr. Barnes if she would tie my tubes since I was going to be opened up and she said yes and I didn't have to sign any papers, I think Jim did. And she gave me a tubal. Afterwards, when I found out that once you have a c-section you don't always have to have a c-section if it's not structural, I wished I hadn't.
James was born at 8:17PM. He was 22 and 3/4 inches long and weighted 8 lbs and 12 ozs. He was fine and nursed fine and kept on growing. His Apgar score was 9 at one minute and 10 at three minutes.
My mother told me that we should name James for my husband. So we did. She was very ill with cancer and died five months later without having ever seen baby James.