Henry Johnson served with Thomas Ray Allen during the Civil War. He testified in July 1907 about Thomas' name change.
Johnson was born about 1839 in Adair County, Kentucky. His slave owner was James L. Johnson. Henry Johnson enlisted for three years on August 15, 1964 in Lebanon, Kentucky. He was six feet tall. I believe this is the tallest man I've come across in the USCT records so far. His eyes, hair and complexion were described as black. He was 25 years old and his occupation was farmer. He was sent to Camp Nelson near Louisville, Kentucky where the rest of his troop was stationed.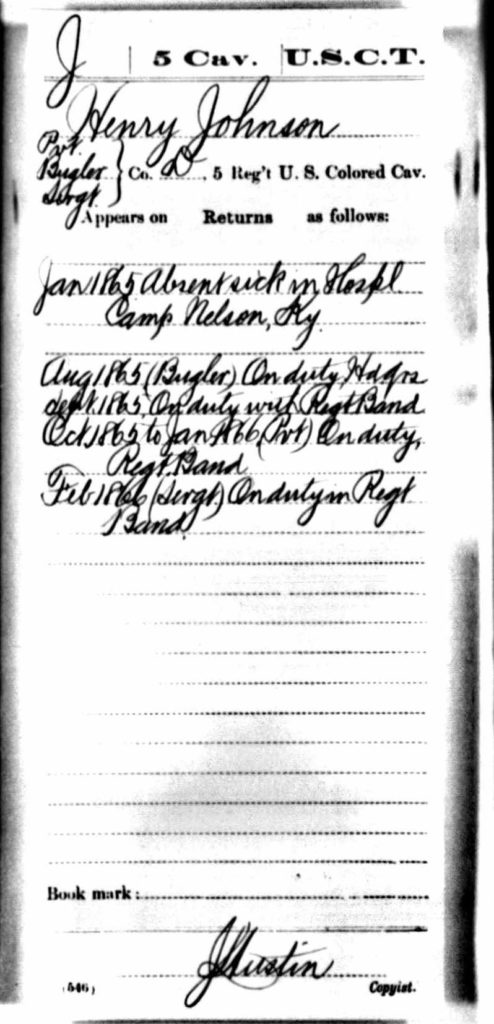 Here are some activities listed in his records:
In January 1865 he was absent and sick in the hospital in Camp Nelson, KY.
August 1865 (Bugler) On duty headquarters. (Note: Thomas Ray Allen was also listed as a bugler)
Dec, 1865, On duty with Regimental Band
October 1865 to Jan 1866 (Private) On duty, Regimental Band.
On February 23, 1866 Henry Johnson was appointed Sergent from Private.
February 1866 (Sergt) On duty in Regimental Band.
He was mustered out in Helena, Arkansas March 16, 1866.
He signed with his mark X when he joined the USCT. He was able to sign his name when he gave testimony for Thomas in 1907.
There were so many Henry Johnson's that I was unable to follow him through census and other civilian records. He seems to have been an interesting man and I am sorry I was not able to get to know. more about his life.