Looking at this photograph, I wondered about the lives of the children in the boat. Here are their lives in a paragraph.
Evelyn Douglas, seated on the left in the first row, was born in 1910 in Detroit. She was the only child of Dr. Edward and Louise Douglas. Her father was a dentist.  Her mother was a dressmaker before Evelyn was born. Evelyn graduated from the University of Michigan and earned a graduate degree in education. She married Charles E. Beatty, Sr., a pioneering educator, in 1935. He was the first black principal of Perry Elementary School in Ypsilanti, MI which later housed HighScope Perry Preschool program. She taught for 30 years in the Detroit Public Schools.  Evelyn was the mother of three children. She died at age 93 in 2003 in Detroit.
Cornelius Langston Henderson, who sits in the middle of the first row, was born in 1915 in Detroit, Michigan. He was an only child and grew up several blocks from the Cleages on Detroit's Old West Side. Cornelius was named after his father, Cornelius L Henderson Sr., also born in Detroit. Like his father, Cornelius Jr became an engineer. His mother, Gertrude, born in Virginia and taught in the Washington DC public schools before she married. The younger Cornelius graduated from Howard University in Washington DC with a degree in civil engineering. He later took postgraduate classes at the University of Michigan. He worked for the City of Detroit as a civil engineer for over 30 years, where he helped design sewer systems.  He was married and raised two sons and a stepdaughter. He died in November of 1993 in Detroit and is buried in Detroit Memorial Park.
Albert B Cleage, Jr, my father, seated on the right end of the first row, was the oldest of the seven children of Dr. Albert B. Cleage Sr and Pearl Reed Cleage. He grew up to be a black nationalist minister and organizer around political and civil rights issues. He founded Central Congregational Church which became Central United Church of Christ and finally the Shrine of the Black Madonna.  He had two daughter, my sister and me. He died in 2000.
Directly behind my father is his first cousin Helen Mullins. Born in 1899 in Indianapolis, Indiana, she was the oldest of the 12 children of James and Minnie (who was my grandmother Pearl Cleage's sister) Mullins. James Mullins held various jobs through the years, including that of fireman, carpenter and  laborer. Helen completed highschool. She married Otto Mitchell. They raised four children. In the 1940 census Helen was a telegraph operator for Western Union while Otto worked on the assemble line of an automobile factory in Detroit. They owned their own home. Helen died in 1982.
Helen is holding Barbara Cleage, my aunt. Barbara was the 5th child and first daughter of Dr. Albert and Pearl Cleage. She completed a year at Wayne State. She married Ernest Martin and had one son. Unfortunately the marriage didn't work out and she returned to Detroit. Barbara worked as a receptionist in her father's doctor's office, at Cleage Printers doing layout and finally her true talent came to the fore and she organized and managed the bookstores and cultural centers for the Shrine of the Black Madonna. She was amazing at it. Barbara is 96 and lives in South Carolina.
Next, in the back row middle, we have my uncle Louis Cleage. Born in 1913 he was the 2nd of the seven children. He followed in his father's footsteps and became a medical doctor, sharing an office with him for some years. Besides having a medical practice on Lovett Ave. in Detroit for many years, he was active in the Movement. He wrote Smoke Rings for the Illustrated News and ran for office on the Freedom Now Party ticket in 1964. He maintained a cottage in Idlewild where the family spent many happy summers. Louis died in 1994.
Last we have a partial, ghostly image of my uncle Henry Cleage. He was the third child born in 1915. He graduated from Wayne State in Detroit and became a lawyer. During WW2 he and his brother Hugh farmed as a conscientious objectors. (Where was Hugh when this picture was taken? Click to read) Henry later left the law and started Cleage Printers where he and Hugh printed far into the night putting out flyers for grocery stores, books of poetry and radical newsletters. He ran for Prosecuting Attorney on the Freedom Now ticket in 1964.  After the 1967 Detroit riot, Henry returned to the law and worked for Neighborhood Legal Services until he retired to Idlewild, MI where he fine tuned his Status Theory. He died in 1996.
The photograph in the boat was taken the day of this picnic, summer of 1919.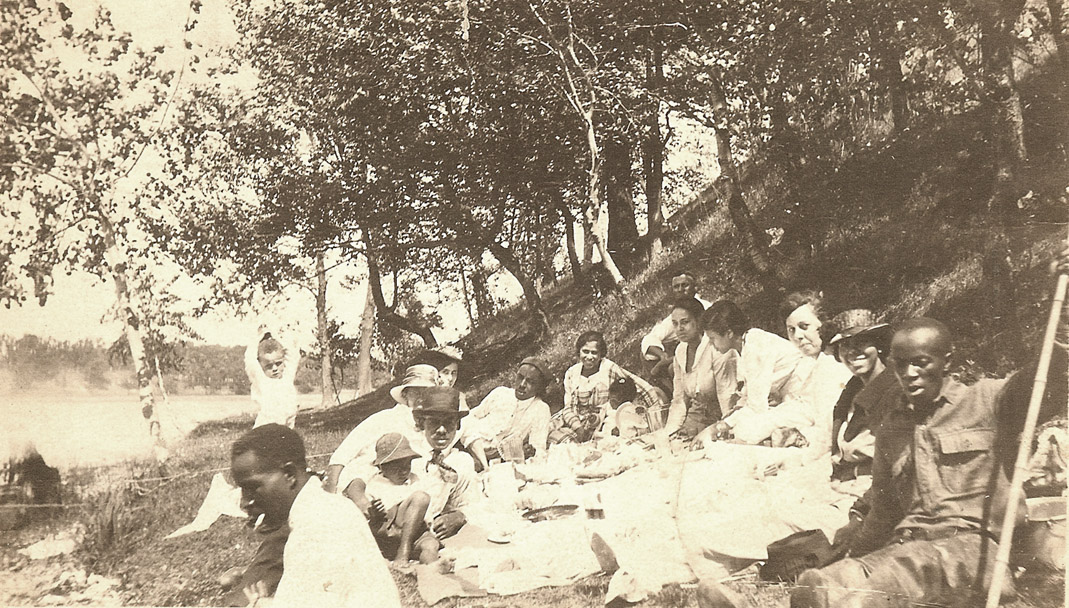 I used news articles, census and other records from ancestry.com to fill in the lives of Evelyn Douglas and Cornelius L. Henderson, who are not related to me.