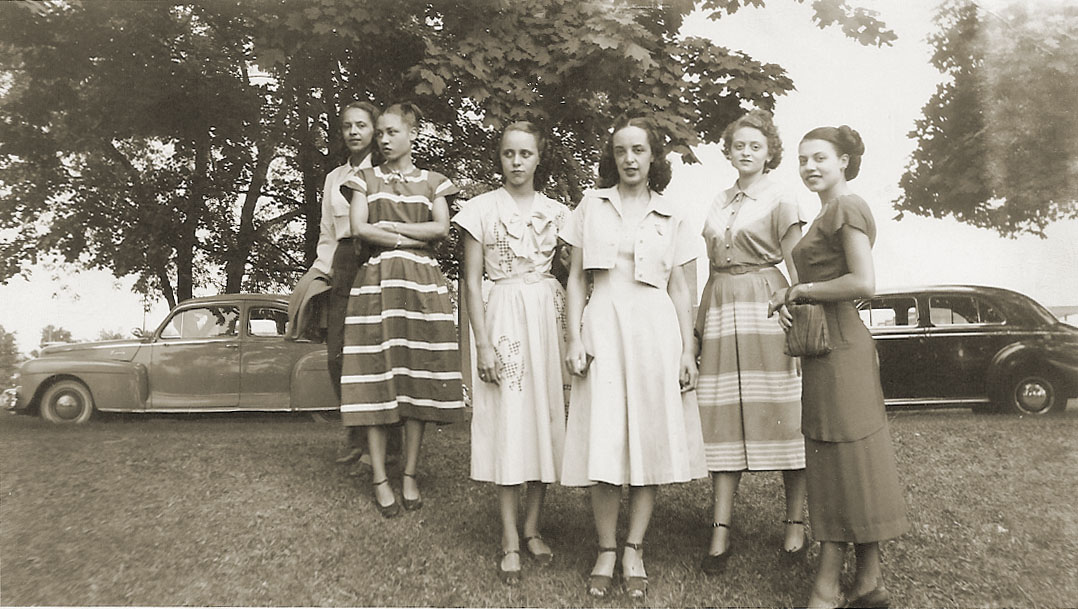 Here are 6 young women at a Boulé event back in the 1940s in or outside of Detroit. Two of my aunts are in the picture. Barbara Cleage is front and center with a light dress and jacket. At the end of the line is my aunt Anna Cleage who seems to be wearing trousers. Unfortunately the photo was unlabeled and I do not know the names of the others. I recognized the woman on the far right as one in the background photograph of the photograph of my grandfather, Albert B. Cleage Sr with a camera. Sheryl asked last week what sort of even my grandfather was attending. It made me go back and look at the background in the photo below and then look for photographs that appear to have been taken on the same day. You can read an post from 2012 about the Boulé at this link.
My grandfather Albert B. Cleage with his camera. In the background we see the young woman with her hand on her hip and the dark dress, from the first photo above. The woman closer to us in the striped outfit, carrying a big purse, appears in the bleachers (which we see in the background here) in the photo below.
The 4th woman from the right, first row, is in the photo with my grandfather to his left. Above her head, on the top row are some of the young women from the first photo above.
First a photo of the men, then one of the women. Or vice versa. Who is that on the second row taking a photograph of the photographer? Front row center is Cornelius Henderson, engineer who graduated from the University of Michigan and helped design the Ambassador Bridge between Detroit and Windsor.
Cornelius L. Henderson
My grandmother second bench, 2nd from right. My aunt Anna (from the photo of the lovelies) can be seen behind the lady first in my grandmother's row. My aunt Barbara is 1 person over from Anna. You can see the woman in the striped dress in the first photograph lineup. Toward the left side, top row, you can see another young woman from the first photo.I do not see any family members but do notice the men and women are sitting together in this one. I wonder how the man in front lost his leg.