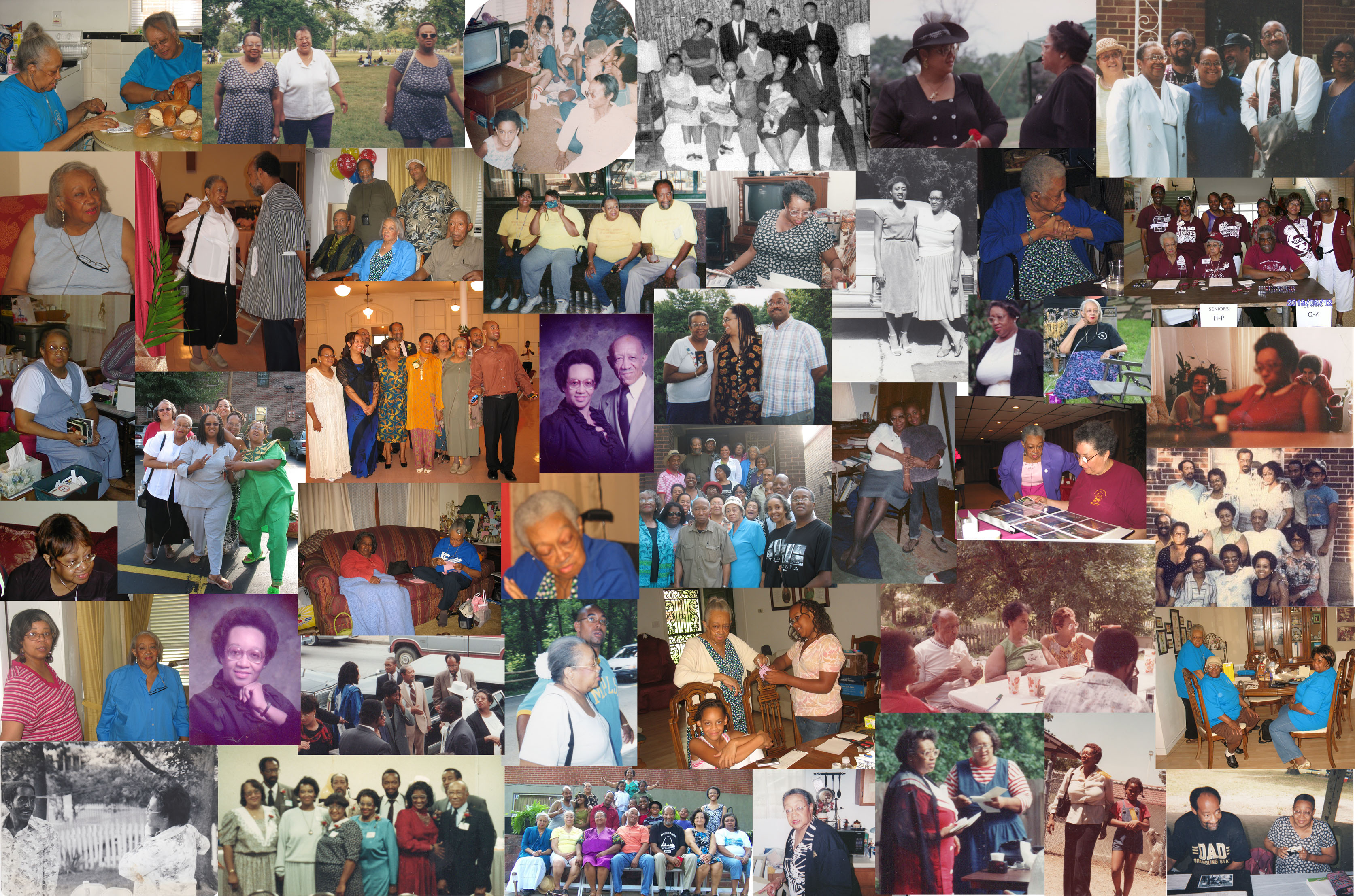 My sister-in-law Joycelyn Maxine Williams Anderson died on May 23, 2015 after a long illness.  Maxine (as I called her, some called her Joycelyn) was my husbands oldest sister. Maxine always sent me a birthday card and she always thanked me for putting up with her brother for so many years.  St. Louis will not be St. Louis without her.
Maxine made an appearance as a one year old in the 1940 census here -> 1940 Census – Chester and Theola Williams.  There is more about the Williams family here "I" is for Inglewood Court.
Life Reflections (Obituary)

Joycelyn Maxine Williams Anderson was born in Dermott, Arkansas on May 21, 1939 to Chester Arthur and Theola Marie (Davenport) Williams.  She was the first of twelve children ( six girls and six boys.)  She began her education at Chico County Training School. The family moved to St. Louis in 1945 and found their first church home at Mount Olive Missionary Baptist Church.  Joycelyn professed her love and belief in Jesus Christ at an early age and was baptized by Reverend Langford.  Her walk with the Lord brought her to Washington Tabernacle Missionary Baptist Church in 1947.
Jocelyn was educated in the St. Louis Public School System and graduated from Charles Sumner High School.  She attended Grinnell College in Grinnell, Iowa and was united in holy matrimony with Hearn Humphrey Anderson.  To this union was born one daughter, Nichole Patrice (Anderson) Borman.
Throughout her life, Joycelyn's prevailing philosophy was "In spite of handicaps, all things are possible – you have to grow where you are planted."  She was employed by the Malcolm Bliss Mental Health Center and retired after thirty-four years from her position as a recreational therapist's aide with the Missouri Department of Mental Helath.  The expertise and caring she displayed was continued after her retirement as she became an avid community volunteer.
She volunteered for the Oasis program and regularly read to school age children; she was an area coordinator for the Senior Connections program and was a member of the Summer Class of '57 alumni association, working tirelessly to ensure opportunities for current Sumner students.  She contributed generously to Washington Tabernacle Missionary Baptist Church serving as a Deaconess and President of the John E. and Regina S. Nance Scholarship Fund; a member of the Women's Missionary Union and a Life Member of the Berean District Association.  Lastly, Joycelyn articulated her business skills as a Mary Kay Beauty Consultant over a period of thirty-one years.
After an extended battle with Chronic Obstructive Pulmonary Disease (COPD), Joycelyn answered the voice of our Heavenly Father on Sunday, May 24, 2015 and peacefully passed away in her sleep.  Preceding her in death were her parents, Chester and Theola Williams; her brothers, Chester Arthur Williams, Jr., Earl Raymond Williams, Andrew Milton Williams and her former husband, Hearn H. Anderson.
Joycelyn leaves to cherish her memory: one daughter – Nicole P. Borman (Kent); her sisters – E. Jean Williams, Catherine Boayue, Linda Nance (Herreld), Monnette Lartey and Deborah Benard (Perry); her brothers – Harold F. Williams, James Edward Williams (Kristin) and Michael A. Williams; and a host of very dear nephews, nieces, aunts, uncles, cousins, church family and friends.