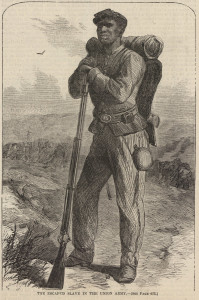 For this year's April A-Z Challenge I am blogging a series of sketches about the free people formerly enslaved on the Cleage plantations in Athens, Tennessee. Most are not related to me by blood, although our families came off of the same plantations – those of Samuel, Alexander and David Cleage. Click on any image to enlarge.
George Cleage was born in Memphis, Tennessee about 1845.  He joined the 1st U.S. Colored Heavy Artillery in Knoxville, TN in 1864. His enlistment papers describe him as 19 years old, 5 ft 8 inches with black hair, black eyes and yellow complexion. His occupation was listed as "farmer". His military record was uneventful, except for being confined to the military prison at Chattanooga for several months. 
When he was mustered out in October of 1865, he had $10.50 coming to him, that would be worth $156.72 today.  Not a lot to start a new life.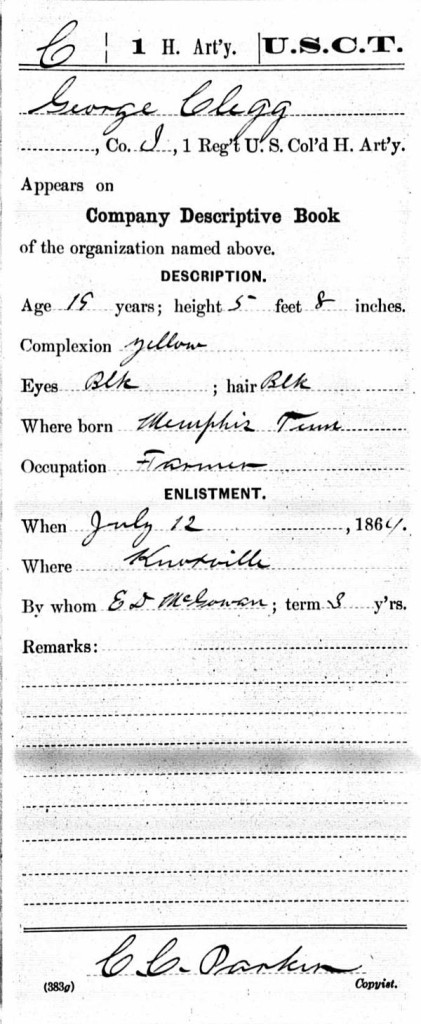 In 1868 he married Martha Rice in Athens, Tennessee. His first daughter, Sarah was born in 1869. While looking at him in the 1870 census, I looked to see who his neighbors were and right there above him was Fannie Turk, widow of Isaac and their children! I have been looking for her and not finding her in censuses. Isaac and Fannie came off of David Cleage's plantation and Isaac also enlisted in the USCT in Knoxville. To read more about Fannie and Isaac, go to the link above.
In 1880 Martha and little Sarah are gone (presumed to have died) and George has married Jane. There are three daughters, Anna, 6; Mary, 4 and Lizzie, 2 years old. George continues to have employment listed as laborer, but by 1900 he is listed as a brick mason. I wonder if George had been doing brick work all along. Coming off of a plantation known for building with bricks, I expected more of the free Cleage men to be brick masons. (Cleage Bricks to learn more about Samuel Cleage's brick making and construction business.)
In 1900 George was a widower. Two of his daughters are enumerated with him. Although daughter Anna married Frank Cunningham, she is using Cleage. She has one child, 2 year old Mazinia. George's daughter Lizzie is working as a cook. Both of the daughters are literate, George is not. Tom and Sallie (Cleage) Waterhouse lived down the street from them. Sallie was the daughter of Clinton (sometimes Called Dick) and Sallie Cleage, who I wrote about in "D" is for Dick. I am loving the way people show up in each other's lives.
That is the last I find of George Cleage. Lizzie ended up in Knoxville. Mary and Anna ended up in Indianapolis where they died in the 1920s. Anna is listed in the city directories as "Anna Cleage (widow of Frank) and that caused me some confusion because I thought she might have been a wife of my great grandfather Louis' brother Frank Cleage, but that turned out not to be the case. She must have gone back to her maiden name after Frank Cunningham died. My grandfather and 3 of his siblings lived in Indianapolis at this time. I wonder if the two families crossed paths.