For this year's April A-Z Challenge I am blogging a series of sketches about the free people formerly enslaved on the Cleage plantations in Athens, Tennessee. Most  are not related to me by blood, although our families came off of the same plantations – those of Samuel, Alexander and David Cleage.   Click on any image to enlarge.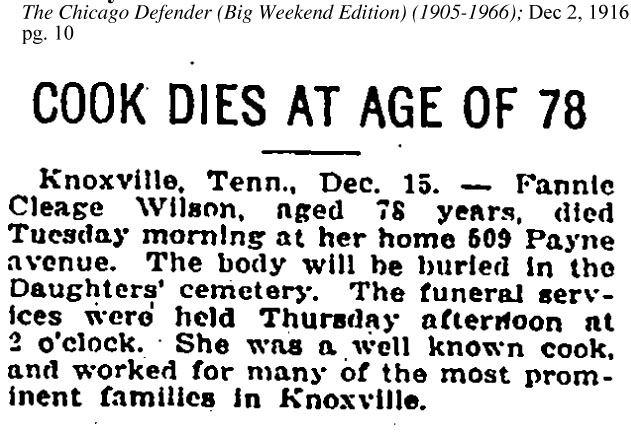 "Cook Dies at Age Of 78 Knoxville, Tenn., 15 – Fannie Cleage Wilson, aged 78 years, died Tuesday morning at her home 609 Payne avenue. The body will be buried in the Daughters' cemetery. The funeral services were held Thursday afternoon at 2 o'clock. She was a well known cook, and worked for many of the most prominent families in Knoxville."
When I saw this item about Fannie Cleage, I chose her for F. There was a Fannie mentioned in the 1834 letter to the Overseer by Samuel Cleage's, however this Fannie was not born yet, so that was not her.
In the 1900 census in Knoxville, Tennessee she was listed as a servant for the Hood family. The head of the family, NM Hood was a 47 years old merchant and had been married to Estela 32, for three years.  Fannie was 65, a widow who had given birth to 3 children, all now dead. She was able to read and write.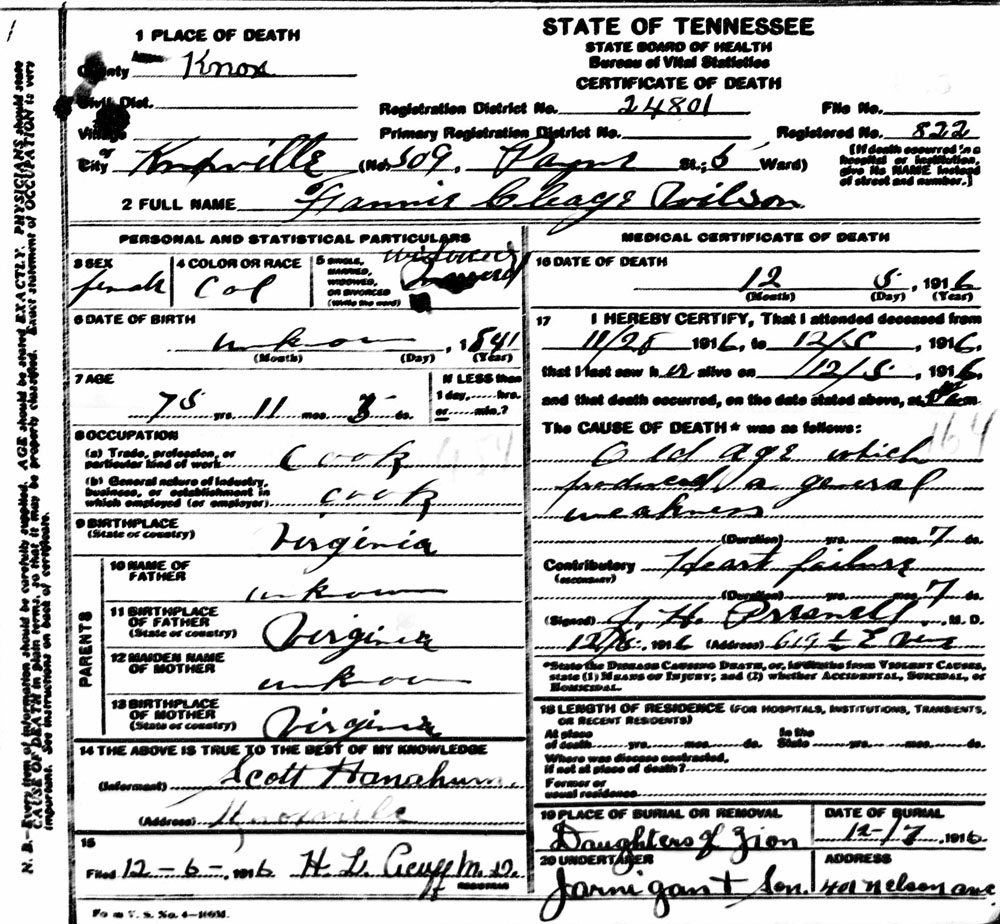 Fannie Cleage's death certificate says that she died of old age, general frailty and heart failure.  She was a widow, 75 years old and had worked as a cook.  She was buried Daughter's of Zion Cemetery.
"Located on Bethel Avenue in East Knoxville since c. 1880 is the Odd Fellows Cemetery, an African-American fraternal and benevolent cemetery.  The Odd Fellows, the Daughters of Zion, and the Good Samaritans purchased the property to create the joint cemetery."
Afterward:  My mother wanted to name me Fannie, after her mother Fannie Turner Graham. My grandmother told her not to do it. I was almost Fannie Cleage.