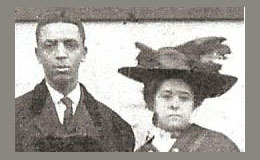 For this year's April A-Z Challenge I will be blogging everyday using items taken from the letters written by my grandfather to my grandmother from 1907 to 1912, starting with "A" and moving right through the alphabet to "Z" during April.
Would like to see you Thursday afternoon.
Detroit 9/14/09
Dear Pearl,
I expect to arrive in Indianapolis Thursday morning and if it will be possible for me to see you any where at anytime before Sabbath write me at #910 Fayett St. – Albert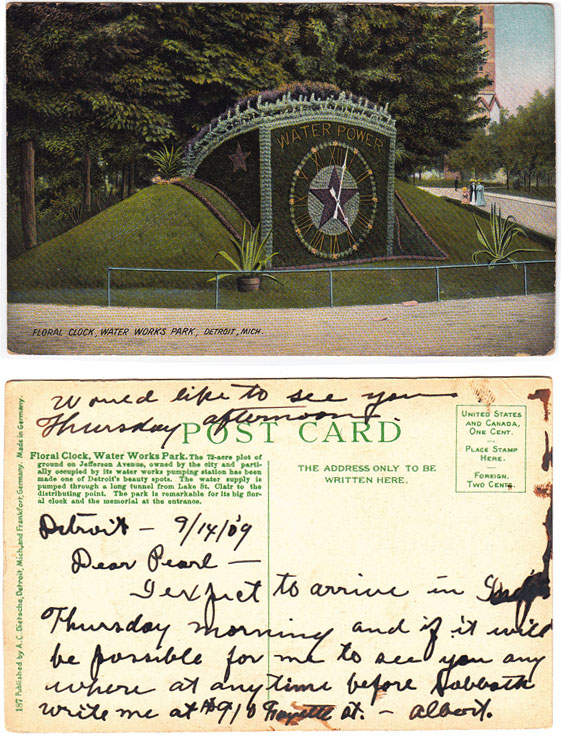 Title: Floral Clock at Gladwin Park, Detroit, Mich.
Caption on back: This Floral Clock is located at Gladwin Park, which contains 75 acres. Here also is the water pumping station were seventy-three million gallons of water are pumped daily for Detroit's supply. The Clock is run by water power.
"This park — which still exists today but is no longer open to the public — would eventually encompass 110 acres with swimming and picnic areas, play equipment like swings and teeter-totters, baseball diamonds, even a library. It also was a popular place for fishermen. At the turn of the 20th Century, the park also had two islands, three bridges, a small wading lagoon and a winding canal where rowboats could enter the park," "The First 300 Years" says. "Visitors strolled along pathways lined with chestnut trees, intricately landscaped shrubbery and floral displays," it continues. Another beloved attraction was a clock near the entrance that was made of flowers and run off water pressure." Water Works Park Tower – Historic Detroit