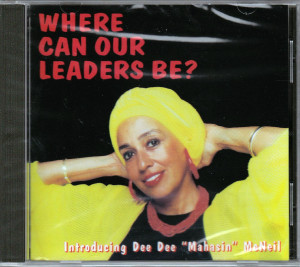 Today I'm going to share the recording, Where Can Our Leaders Be? by my talented cousin, Dee Dee McNeil.  Dee Dee started writing as a child. I remember many holidays spent up in Poppy's room practicing her plays with my sister and cousins. After dinner we would perform for our parents and grandparents. I don't know if we sang her songs for "our public" but I do remember a few of them, especially "Ho, ho, the little bear skating", which I can still sing.
In 1970 Dee Dee left Detroit and moved to Los Angeles to seek her fortune. She connected with the Watts Prophets soon after and became part of their group, appearing on their album, "Rappin Black in a White World" and sang "What Is A Man" on that album. She also penned and sang the title song of the album "Black In A White World" co-written with fellow Detroiter, Marthea Hicks.  Hicks would later die in the Jim Jones Guyanna massacre along with her son, nephew and younger sister. Dee Dee improvised the entire musical score on the original album, playing piano and performing "live" without overdubs. She also recorded several original poems along with the other three male poets who completed the group. She has written songs for several iconic Motown artists including Gladys Knight, Diana Ross, The Four Tops (who originally recorded "What Is A Man"), Edwin Starr, Nancy Wilson, David Ruffin,  Rita Marley and many more.  I don't quite get what the visual is about on this YouTube version of "What Is A Man" , but the singing is wonderful.

I found this short, professional biography on Dee Dee's website.  The website also has links to a radio interview, song writing credits, poetry, songs and much much more.
Dee Dee McNeil and Dwight Dickerson Quartet Perform at AUS

Students, faculty and members of the public enjoyed a captivating performance by Dee Dee McNeil and Dwight Dickerson Quartet held at American University of Sharjah (AUS) yesterday, February 17th 2010. A multi-talented vocalist, singer, songwriter, poet, journalist, producer, playwright and educator, Dee Dee McNeil has won renown for her art all over the world. As a contract songwriter for Motown Records in her native Detroit, Michigan, many legendary artists have recorded her music including: Diana Ross and The Supremes, Gladys Knight and The Pips, David Ruffin, Edwin Star, The Four Tops, Nancy Wilson, Rita Marley, Kiki Dee, Jonah Jones, Side Effect, and the rapper 'Styles.' She was a contributing member of the historic rap group, The Watts Prophets, now recognized as one of the major forerunners of contemporary hip hop music. She was one of the first women to rap in the late '60s and early 70's, speaking up as an articulate champion for women's rights. One of her raps about respect for women was used as the televised theme song during New Zealand's Miss Universe Contest in 1983. The plays she has written are based on historic figures and their musical contributions.
Where Can Our Leaders Be?