This year I am going through an alphabet of news items taken from The Emancipator newspaper, published between 1917 and 1920 in Montgomery, Alabama. Most are about my grandparent's circle of friends. Each item is transcribed directly below the clipping. Click on any image to enlarge.
Charles Watkins was a friend of my grandfather Mershell C. Graham.
______________________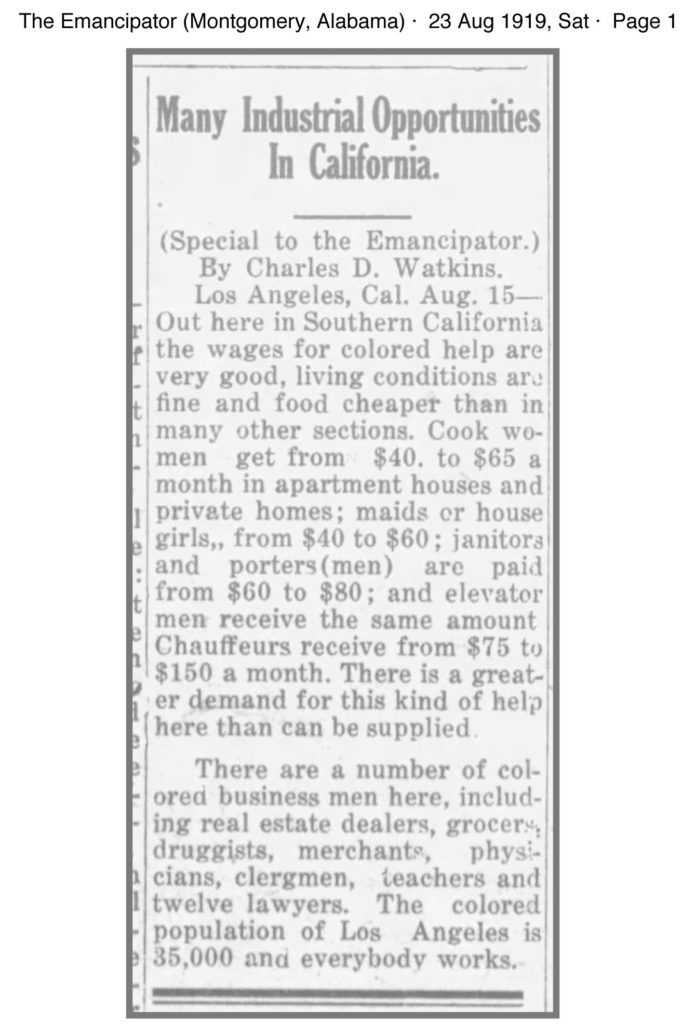 Many Industrial Opportunities In California.
(Special to the Emancipator.) By Charles D. Watkins. Los Angeles, Cal. Aug. 15
Out here in Southern California the wages for colored help are very good, living conditions are fine and food cheaper than in many other sections. Cook women get from $40 to $65 a month in apartment houses and private homes; maids or house girls, from $40 to $60; janitors and porters (men) are paid from $60 to $80; and elevator men receive the same amount Chauffeurs receive from $75 to $150 a month. There is a greater demand for this kind of help here than can be supplied.
There are a number of colored business men here, including real estate dealers, grocers, druggists, merchants, physicians, clergymen, teachers and twelve lawyers. The colored population of Los Angeles is 35,000 and everybody works.
___________________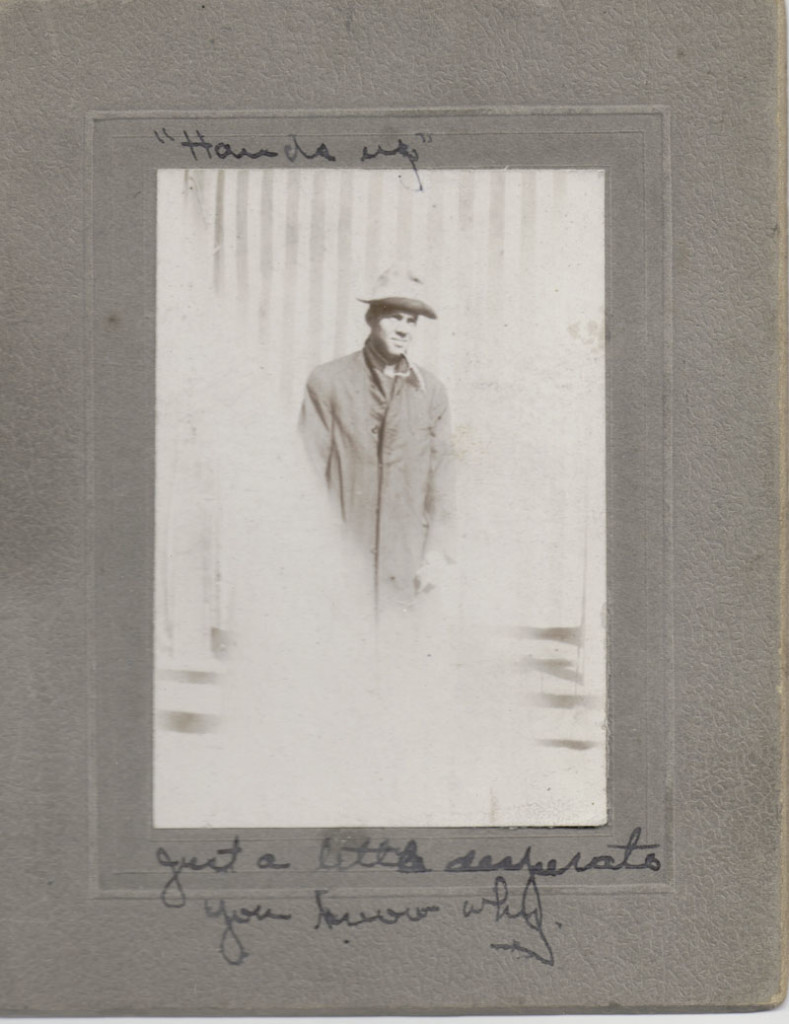 Here is a story my cousin Jacqui told me about her grandfather, Victor Tulane and his rescue of Charles Watkins in Montgomery, Alabama. This story was told to her by her mother, Naomi Tulane Vincent. It happened in 1917. The Tulane family lived above the store on Ripley and High Street. The Watkins family lived several blocks away on Union Street.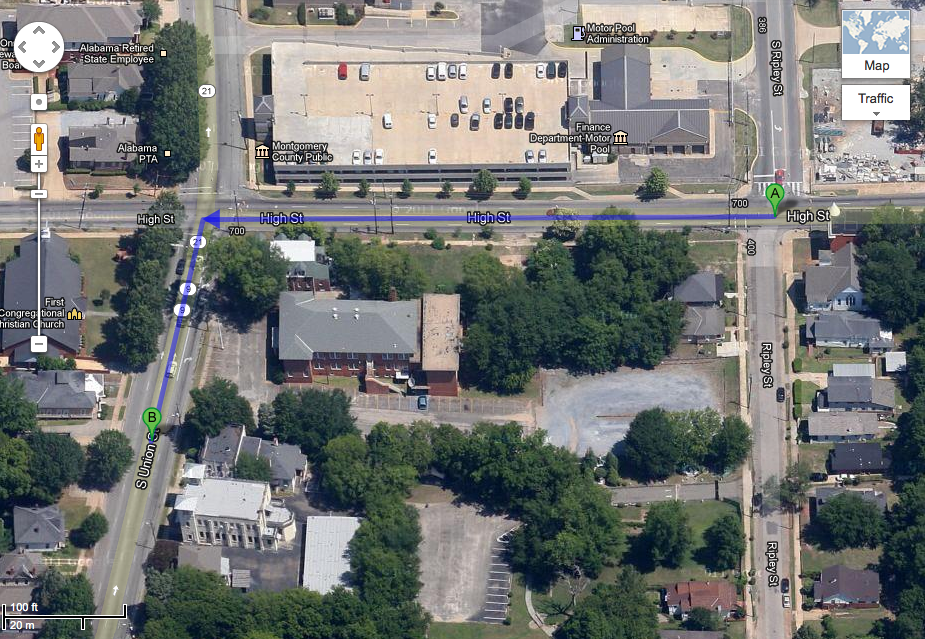 It was the middle of the night when the Tulane family woke up to car lights shining in the windows. They got up and looked out into the yard. It was full of white men in cars and trucks. Victor Tulane told his wife, Willie Lee and his daughter, Naomi to go back to bed, everything would be all right.
He let the white men in and they told him they were looking for the Watkins boy. Charles Watkins was 28. Watkins, they said, had insulted one of their wives and they wanted him. Was he there, they asked? Victor told them that nobody was there except his wife and daughter, they could look for themselves. They went through the whole building, looking everywhere. Finally, satisfied that Watkins wasn't there, they left.
As dawn approached, Victor brought Charles Watkins out from his hiding place beneath the floor. He put him in the car, piled produce on top of him, drove him out in the country where his nephew, Roscoe McCall had arranged to put him on a train heading north to Chicago.
Stella: they got stopped on the road.
Louise: The police, the posse, don't they call it a posse? Or whatever.
Stella: Yes.
Louise: came after him and then when they shined the light on Daddy. They were in a field and they saw that it was Mr… your grandfather McCall's son and they said "Oh Rossie…"
Stella: Because his father, not cutting you off, Ross's own, father had worked at the jail and had charge of the colored prisoners…
Margaret: So this incident of Uncle Ross in the field, what happened?
Stella: They stopped him, right at that field.
Louise: No mother, start with how they were standing outside the drugstore… he and that other one, that Watkins boy and the white girl came by and she told her boyfriend that they had, that this Watkins fellow had winked at her and that started a riot in the city.
Stella: Winked at her.
Margaret: Is that right?
Stella: A riot.
Margaret: Well, how did Uncle Ross get him out of the city?
Stella: Out of the city?
Margaret: You said that they were in the field and the police came and said…
Stella: Now all before this started, Ross had a friend out in the country. This man was a good friend of his and they would go hunting out there. And that's why he knew the man… his name… I can't think of his name… what was his name…anyway, well he had a home down in the country and he would go down there every summer you know, just take a week off and hunt and…
Louise: A good place to hide out.
Stella: To hide out. Yes.
Margaret: That's all?
Stella: And there was a railroad train coming out of Montgomery going on to Atlanta and Ross got this man out of Montgomery and had this porter on this train to stop at this little station down there in the country and nobody would ever think a train would stop there and he stopped just like he got him to do and he put this man on this train in the back and had a place for him to stay and stay shut up and he did that until he got to Atlanta and he was safe.
Margaret: And did he stay in Atlanta or did he leave Atlanta?
Stella: Oh he left Atlanta. We didn't hear any more of him. But Ross saved his life! They were going to lynch him uh huh, oh yes. Ross had some narrow escapes in that time.
Margaret: He did?
Stella: Yes, because you see this one was taking him for that and that one was taking him for this and it was terrible.
************
Before he left Montgomery, Charles Watkins was a grocer, operating a grocery store near the family home on Union Street. In 1917, he lived in Chicago with his wife and children and worked in the stockyards. By 1920 he was living in Los Angeles, which he described as the land of opportunity. He worked as a carpenter and made a good life for himself and his family there.
Naomi married Dr. Ubert Vincent in May of 1920 and moved to New York City.
Rosco McCall moved to Detroit in 1919. His family followed in early 1920. They later settled in Chicago where he worked as a Pullman Porter.
My grandfather Mershell Graham had moved to Detroit and was working there in 1917.
I found some of William Watkins extended family on Ancestry.Com and was able to see some photos of the family. Unfortunately they had never heard this story.
_________________
Most of the information for this post is from family oral history. I found corroborating information on Ancestry.com in Census Records, Directories, Death Records, Military Records and Marriage Records. News items were found on Newspapers.com. I also used Google Maps. The photographs are from my family photos.