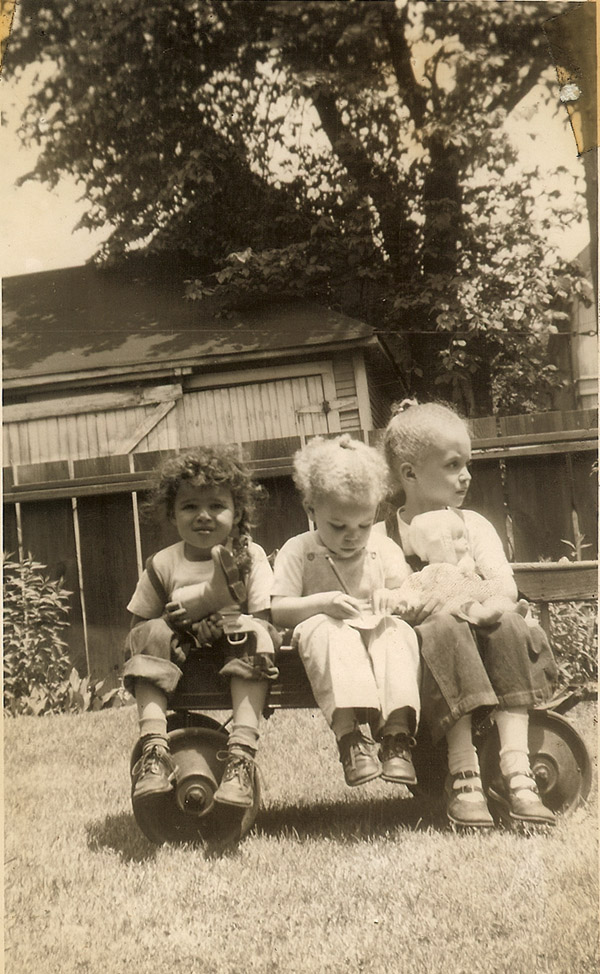 On the back of the photograph my grandmother, Fannie (aka Nanny), wrote "Barbara Lynne 3, Pearl Michelle 2, Kristin Graham 4.  May 30 – 1951.  This was snapped by DeeDee."
This photo was taken in my grandparents backyard. We spent most Saturdays back then at Nanny's and Poppy's playing with our cousins.   On the left end of the wagon is my cousin Barbara holding a cowboy boot and a toy gun. In the middle is my sister Pearl who is writing madly.  I am on the right end holding a doll and looking worried.  My sister grew up to be a writer.  I grew up to have 6 children. If only cousin Barbara had grown up to ride bucking broncos or live on a ranch or rob banks, the mirroring of the future would have been complete.  This photograph was taken by Barbara's older sister, Dee Dee who was 7 years old at the time.
For more old photos, with or without dolls, click on the picture below.