When I decided to write about my grandfather Mershell's car, Lizzie, I thought it was a model T, but when I went looking at pages that tell you how to tell whether a car is a model "A" or model "T", and what year it was made in, I found that based on the shape of the headlights, the bumper, the running board and the doors, that it was a Model "A" Tudor sedan and built in 1931. I was happy to find the note below in my grandfather's little notebook. I remembered various stickers on the back window and thought it must have been purchased used and the note also mentions that.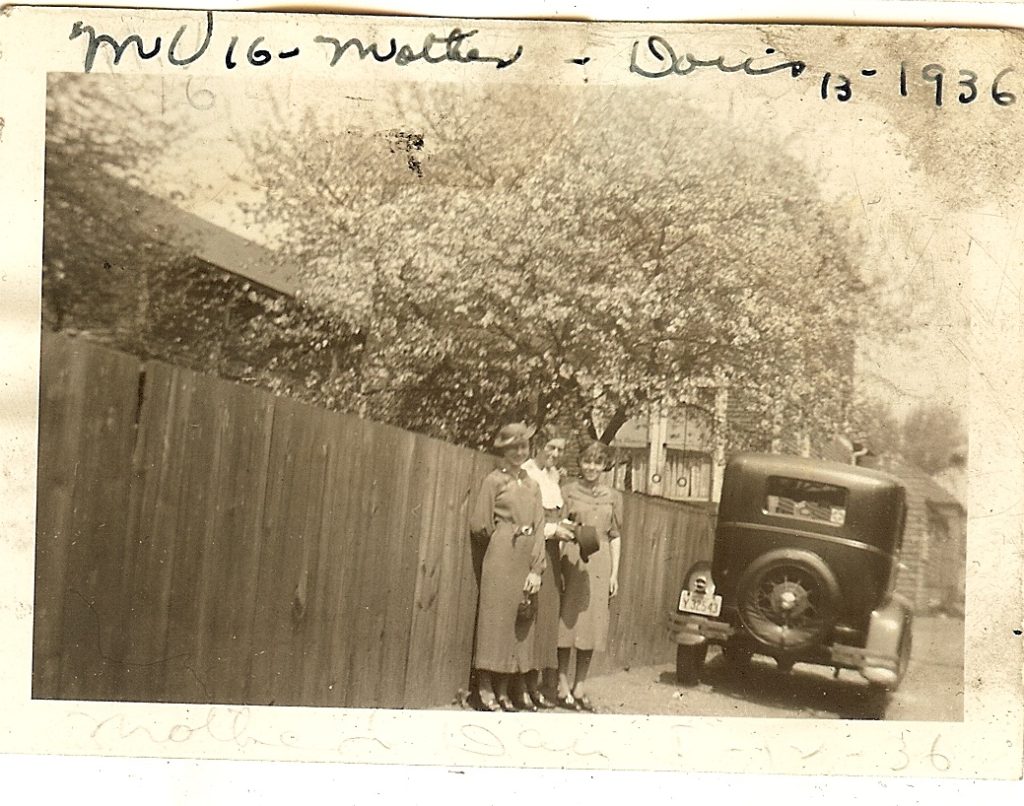 Lizzie, my grandfather Poppy's old Model A Ford, was the first car that was a regular part of my life. We didn't have our own family car until I was eight. Lizzie was black with a running board and awning-striped shades on the windows. We pulled them down when we changed for swimming at Belle Isle.
Poppy didn't have a garage. The back of his yard was taken up in a large vegetable and flower garden with a winding path and bird feeder, so he rented a garage from a neighbor across the alley. Was it the family with all the kids? I don't remember. I do remember my mother telling me one of their sons mentioned to Poppy something about his pretty granddaughter and I figured she was going to say Dee Dee, my older, beautiful cousin. At the time I was skinny with glasses and hair in two braids. I was truly surprised when she said he was talking about me. Come to think of it, he was skinny with glasses too. Anyway, I don't remember ever talking or playing with him or any of my grandparent's neighbors. We stayed in the house or yard making up plays, building fairy castles, playing imaginary land and swinging.
Back to Lizzie. Poppy did not drive to and from work. He worked as a stock clerk at the River Rouge Ford Plant, quite a distance from home. He caught the bus. According to Google maps that trip takes over an hour now. Bus or streetcar service might have been more direct in the old days. I hope it was. The car was used on the weekends to do errands on Saturday and to go to Church on Sunday. I remember riding in Lizzie with my grandfather to go to Plymouth Church where he was a founder, a Deacon and the man who fixed the furnace and put up bulletin boards and everything between. We would run around and explore the empty church while he worked.
My sister Pearl's memory
I remember the back window had a little shade you could pull down. I remember loving the running board because you could stand up on them and look around before climbing in. And I remember when we went with Ma and Poppy to trade it in and one of the doors flew open. I wish they'd kept it. (Note: As I remember it, the car door the door of our old gray Ford Betsy flew open as we drove into the parking lot to trade it in on a later model used car, not Lizzie.)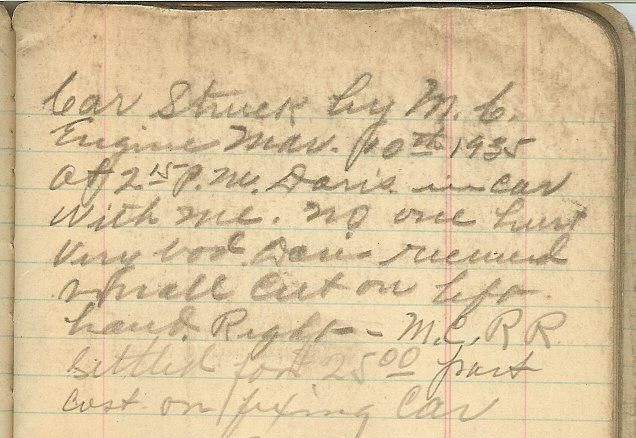 Car struck by M.C. (note: Michigan Central) engine Mar. 10th 1935
At 2:15 P.M. Doris in car with me.
No one hurt very bad.
Doris received small cut on left hand
M.C. RR settled for $25.00 part cost on fixing car.
Sunday, March 10, 1935 was a cold, rainy spring day. My grandfather and my twelve year old mother, Doris were on the way home. They were crossing the railroad tracks when they were struck by a Michigan Central railway engine.
My sister Pearl remembers: The train was backing up. They were crossing the tracks headed home. Poppy didn't see it because it was on his blind eye side. Ma saw it but didn't want to hurt his feelings by telling him. How crazy is that?!?!?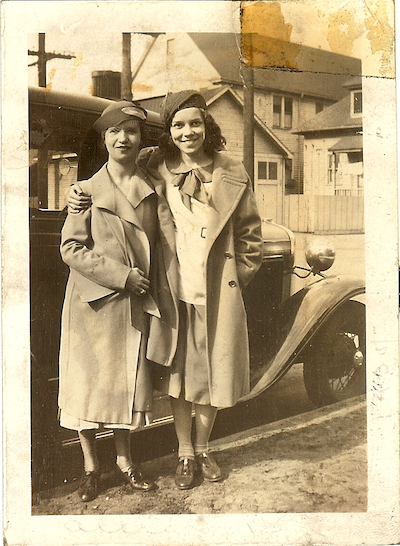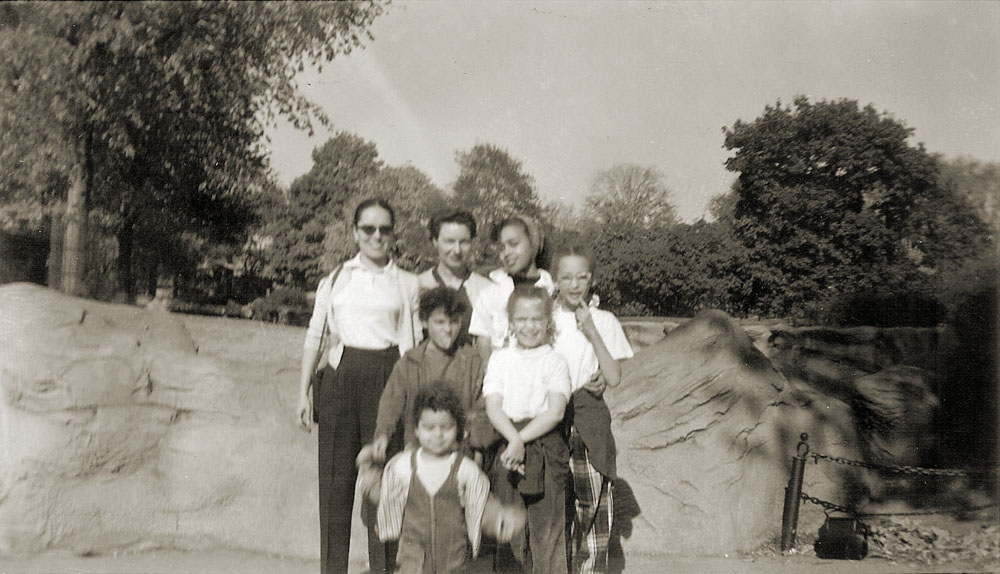 Cousin Marilyn's memories
My cousin Marilyn was the youngest of the cousins. Before she started school she used to spend the week at my grandparents while her parents worked. Poppy would drive her back home for the weekend. Her memories are below.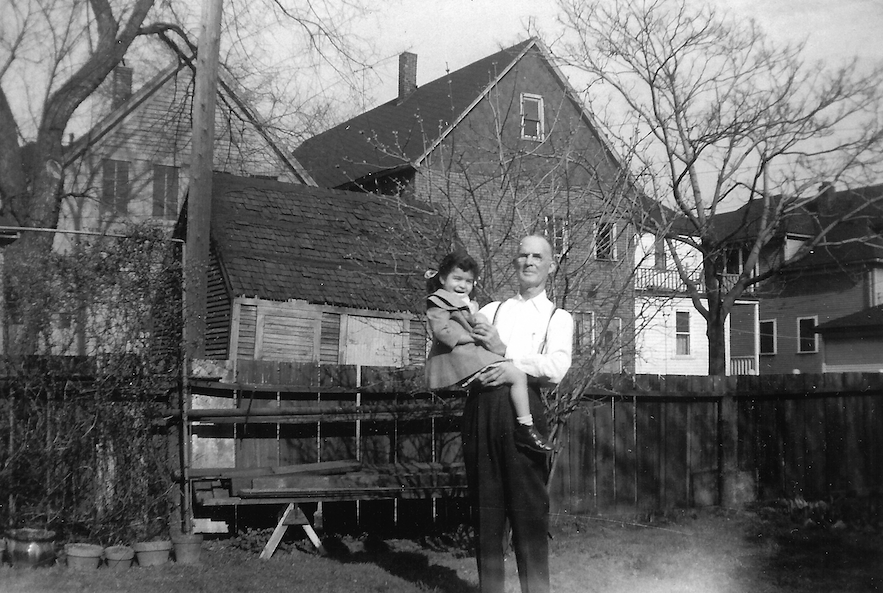 Hey cuz, yes I remember LIzzie, the dark blue car!? I was always embarrassed to be in that old car when Poppy would bring me home to Mama's for the weekend. I was just a little girl. I remember ducking down in the seat when we would come down Calvert. Those mean kids would say "Why your Grandpa got that old car? It's so ugly!" Or something to that effect.
My cousin Dee Dee had so many memories, I gave her a separate post here -> Lizzie Part 2
How to identify Model "A"