In November of 1945 my uncle Dr. Louis Cleage participated in an experiment to measure the effect that Billy Eckstine's singing had on the young women he sang to. He used an electrocardiograph and measured their blood pressures and heart rates while listening to him sing "Jelly, Jelly Blues to them. It turned out that their blood pressure and heart rate rose during the experiment.
The photograph below that accompanied one of the articles in the online archive of the Michigan Chronicle must have been better in the original. Unfortunately, I don't have an original.
Click to open articles in a different window.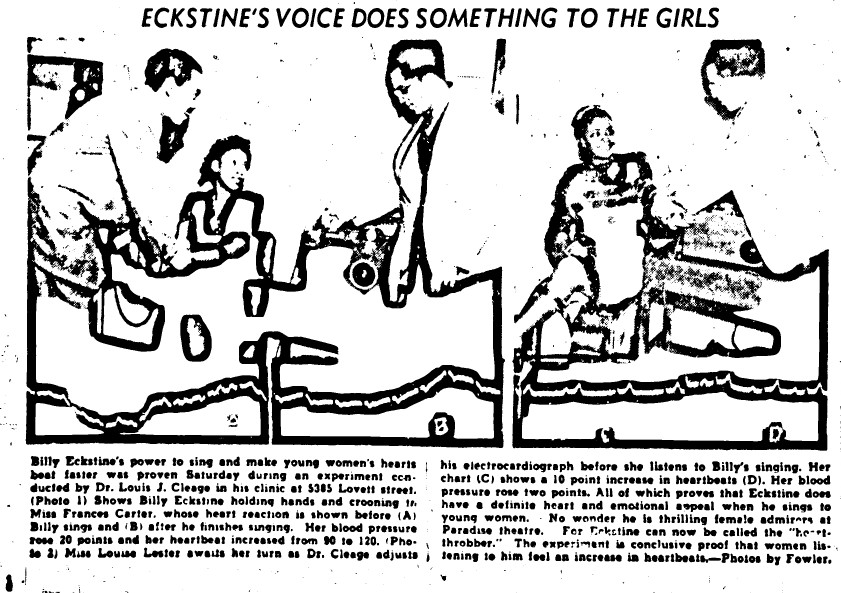 Billy Eckstine's power to sing and make young women's hearts beat faster was proven Saturday during an experiment conducted by Dr. Louis J. Cleage in his clinic at 5383 Lovett street. (Photo 1) Shows Billy Eckstine holding hands and crooning to Miss Frances Carter, whose heart reaction is shown before (A) and (B) after he finishes singing. Her blood pressure rose 20 points and her heartbeat increased from 90 to 120. (Photo 2) Miss Louise Lester awaits her turn as Dr. Cleage adjusts his electrocardiograph before she listens to Billy's singing. Her chart (C) shows a 10 point increase in heartbeats (D). Her blood pressure rose two points. All of which proves that Eckstine does have a definite heart and emotional appeal when he sings to young women. No wonder he is thrilling female admirers at Paradise theatre. For Eckstine can now be called the "heart-throbber." The experiment is conclusive proof that women listening to him feel an increase in heartbeats. – Photos by Fowler.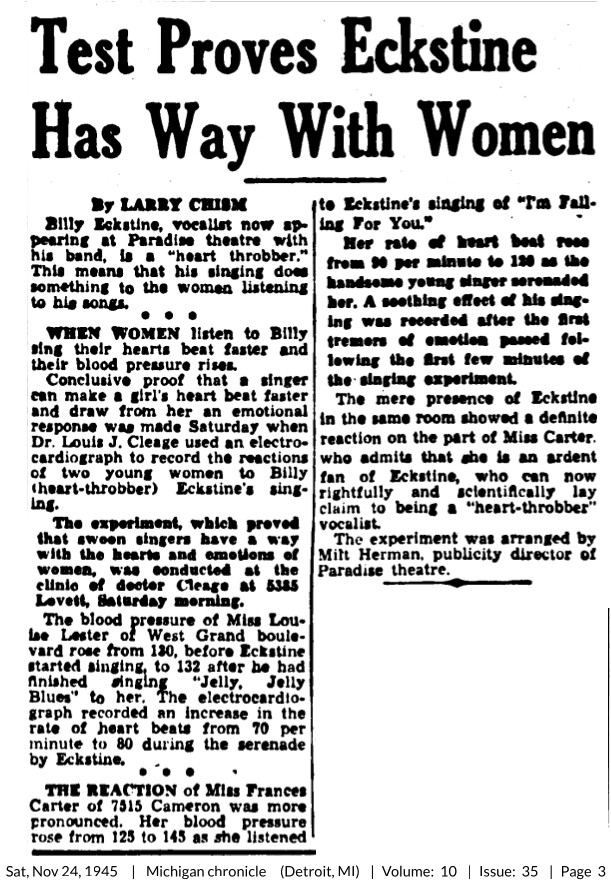 Test Proves Eckstine Has Way With Women
By Larry Chism
Billy Eckstine, vocalist now appearing at Paradise theatre with his band is a "heart throbber." This means that his singing does something to the women listening to his songs.
***
When women listen to Billy sing their hearts beat faster and their blood pressure rises.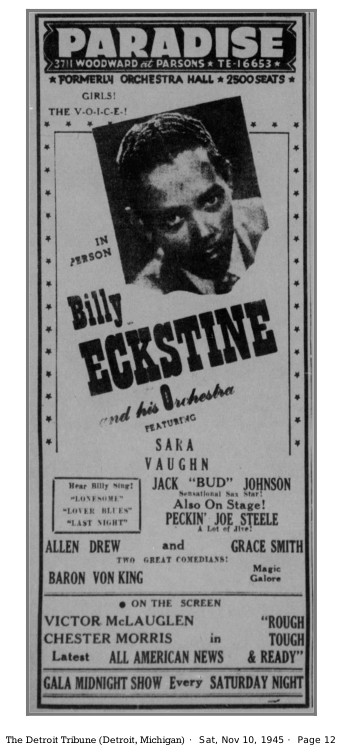 Conclusive proof that a singer can make a girl's heart beat faster and draw from her an emotional response was made Saturday when Dr. Louis J. Cleage used an electrocardiograph to record the reactions of two young women to Billy (heart-throbber) Eckstine's singing.
The experiment, which proved that swoon singers have a way with the hearts and emotions of women, was conducted at the clinic of doctor Cleage at 5335 Lovett, Saturday morning.
The blood pressure of Miss Louise Lester of West Grand boulevard rose from 130, before Eckstine start singing, to 132 after he had finished singing "Jelly, Jelly Blues" to her. The electrocardiograph recorded an increase in the rate of heart beats from 70 per minute to 80 during the serenade by Eckstine.
***
The reaction of Miss Frances Carter of 7515 Cameron was more pronounced. Her blood pressure rose from 125 to 145 as she listened to Eckstine's singing of I'm Falling for You."
Her rate of heart beat rose from 90 per minute to 120 as the handsome young singer serenaded her. A soothing effect of his singing was recorded after the first tremors of emotion passed following the first few minutes of the singing experiment.
The mere presence of Eckstine in the same room showed a definite reaction on the part of Miss Carter who admits that she is an ardent fan of Eckstine, who can now rightfully and scientifically lay claim to being a "heart-throbber" vocalist.
The experiment was arranged by Milt Herman, publicity director of Paradise theatre.
More about Louis Cleage and the Paradise Club
Uncle Louis Plays the Organ
Louis Jacob Cleage – Obituary 1913 – 1994
Dialogue in Poetry
Louis Cleage – W8AFM
Orchestra Hall – history
Old photos of Orchestra Hall aka the Paradise Club