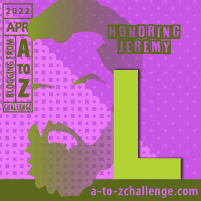 This is my ninth year of blogging the A to Z Challenge. Everyday I will share something about my family's life during 1950. This was a year that the USA federal census was taken and the first one that I appear in. At the end of each post I will share a book from my childhood collection.
Now and Then
Golden leaves fell in the bushes 
overnight brightening my yard. 
Behind my eyes, 
I walk beside a river 
with my mother.  Trees all golden. 
A dog splashes in the water, 
 shakes  himself . 
My four year old self 
watches.