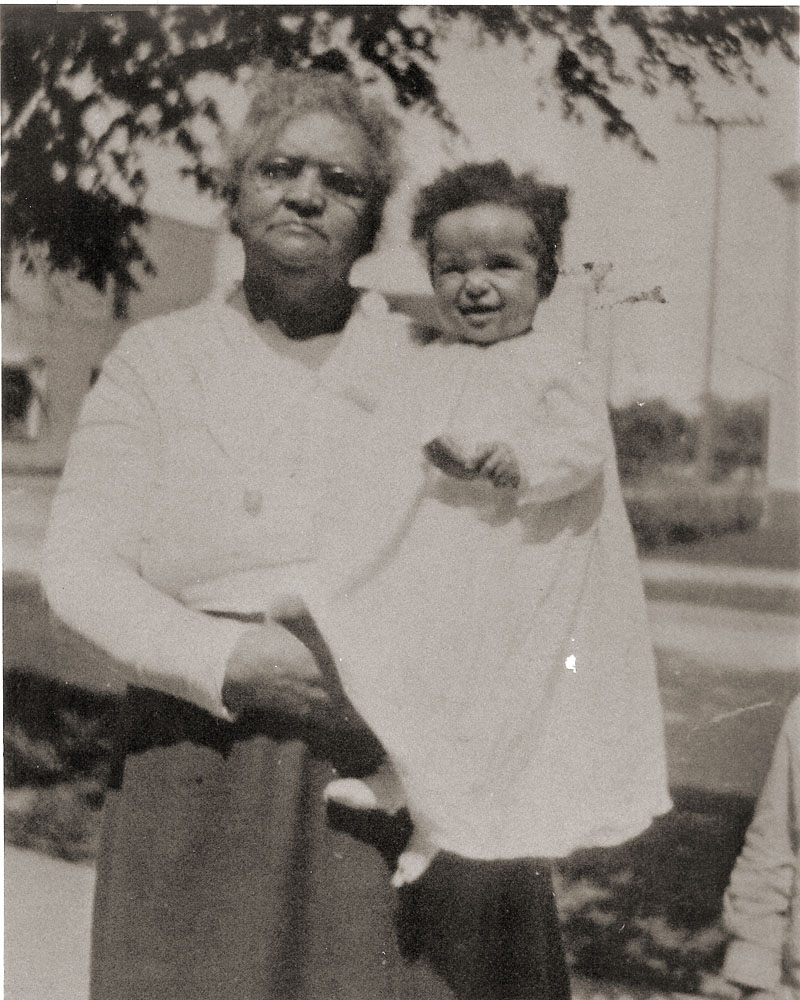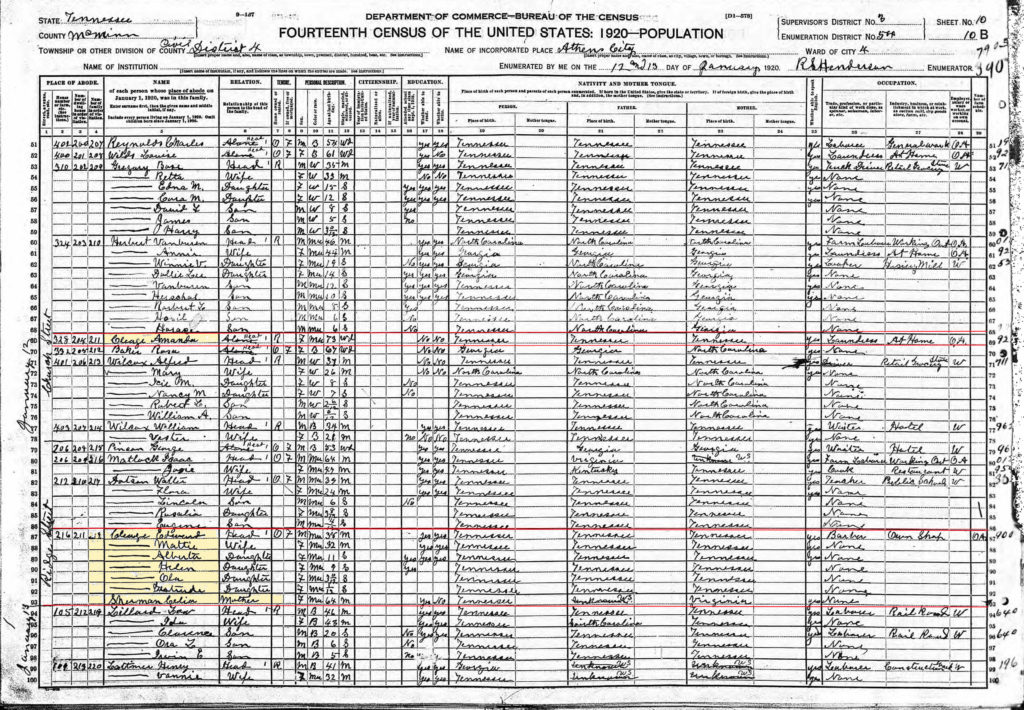 In 1920 my great grandmother Celia Rice Cleage Sherman lived with her son Edward and his family in Athens, Tennessee. She was 64 years old and could read but not write. She was not working for pay. She was married but her husband was living in North Carolina with his daughter. By June he was dead of tuberculosis of the bowels, apparently a difficult disease to diagnose and treat.
Edward Cleage was the head of the household. He was 38 years old, literate, owned his own house and was a barber operating his own shop. Mattie Dotson, his wife, was 32 years old. She was literate and did not work outside of the home. They had four daughters, Alberta 11 and Helen 9 were attending school. Ola was 3 and a half and the baby, Gertrude Beatrice was only a month old.
Mattie's brother Walter Dotson and his family lived next door. He was 39 and taught in the public school. He also owned his own home free of mortgage. His wife Flora did not work outside of the home. They had three children, Lincoln who was 6, Rosalia was 3 8/12 and Eugene was 4/12. Both households were described as "mulatto.
On this same census page there were seven older people who lived alone because of being widows or widowers. One of them was Amanda Cleage, a widow who at 73 was still supporting herself as a laundress from her home. She rented her place and was unable to read or write. I feel that I know Amanda quite well after doing an in depth investigation of her a year or so ago. It was like seeing an old friend to find her one of my great grandmother's neighbors.
William Wilcox and his neighbor George Pinson were both identified as black. Both worked as hotel waiters for wages. Both were literate. George Pinson was a widower. William Wilcox's wife, Vester did not work outside of the home.
Herbert Vanburen and his wife Annie rented their home. He worked as a far laborer on his own account and Annie Vanburen took in laundry. They had seven children. The oldest, Winnie was 19 and was a looper at a hosery mill. A looper was given a finished sock without the toe portion. She placed it into a machine that would attach the toe using several needles and thread, and it would come out looking as if the whole sock was one piece.
The next four children, ages 14 to 8 attended school. The youngest two were six year old twins and not yet in school. Everyone who was old enough was literate and everybody was described as mulatto.
Other single people were 67 year old Rosa Baker who was a widow, illiterate and did not have employment. Charles Reynolds owned his house free of mortgage, was literate and did general laboring on his own account. He was 54. Louise Wilds was 61, a widow and could read but not write. She took in laundry on her own account. They were all described as black.
Forty six year old Low and his wife Ida Lillard, forty three, lived on the other side of the Cleages. They rented their house. He could read but not write. She was literate. Low and his oldest son, twenty year old Clarence both worked as laborers on the railroad. The two youngest children were six and five, too young for school. The family was described as black.
Henry Lattimer was 41 and worked as a laborer in construction. His wife Vonnie was 32 and did not work outside of the home. They were both literate. He was described as black. Vonnie and the six children were described as mulatto. The oldest son, Leake, was 19 and like his father worked as a construction laborer. Sixteen year old Cleona had attended school in the past year was literate and worked as a knitter at a hosiery Mill. The 10 year old and 7 year old attended school. The two youngest were under three.
There were two white families living nearby. Both of them rented. Bose Gregary was literate, although his wife was not. He worked as a driver for a grocery store. His wife didn't work outside of the home. Their oldest three children attended school. The younger two were too young.
Alfred Wilcox was also white. He and his wife were not literate. He also worked as a driver for a grocery store for wages. I wonder if the two families were connected, but I am running late here with no time to look into that. His wife didn't work outside of the home. They had four children. The oldest were 8 and 7 and not yet in school. The youngest two were under three.