Three of my grandmother Pearl Reed Cleage's sisters lived in Benton Harbor with their families. My grandmother lived in Detroit. This situation called for regular visits between Detroit and Benton Harbor, Michigan.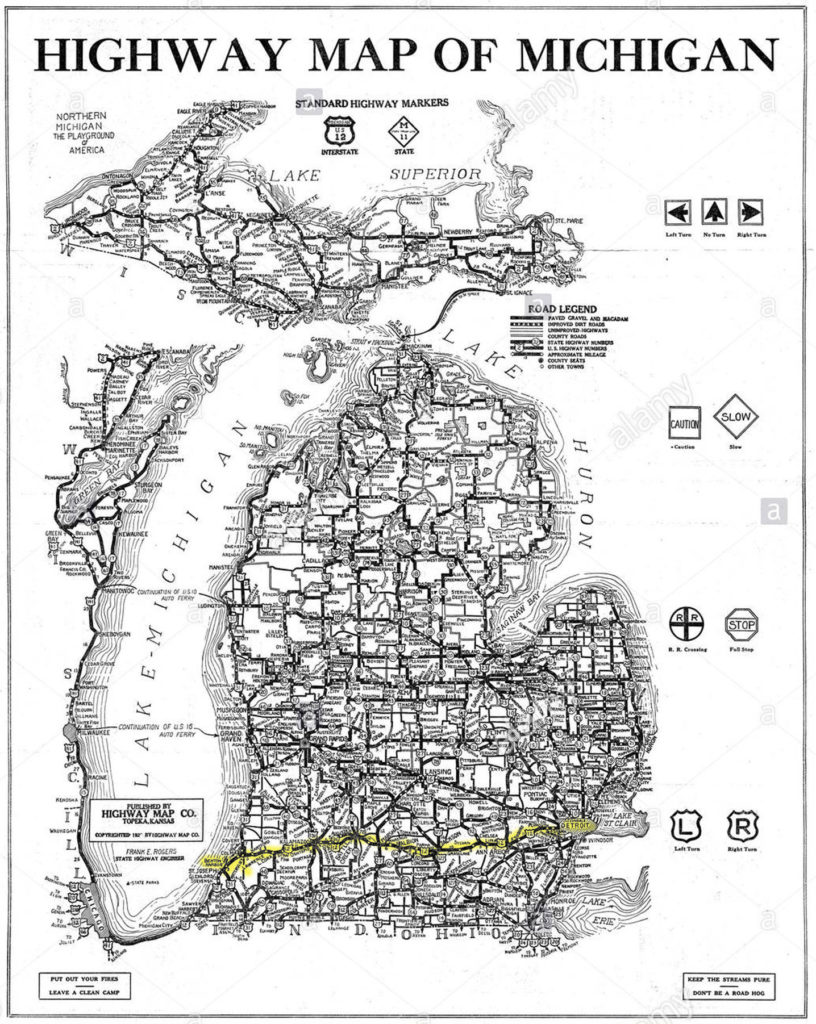 My uncle Henry shared some of his memories of Mr. Mullins in the 1990s. "Mullins was always referred to that way. He was a very stern, hardy type. Admired the Irish. Had the long Irish upper lip himself. A very 'Indian' looking fellow. They lived in Benton Harbor and later moved to Detroit.
'Sir Walter Lipton', that's the only kind of tea he'd drink. Rather, whatever kind he drank was that. He'd be talking about only drinking 'Sir Walter Lipton', and when he finished, Minnie would tell him, "Oh, Mullin, hush up! You know that's Salada Tea." When he moved to Detroit with his family the last time they figured he was 90 something years old. He died one day walking from Tireman all the way downtown. I think he just fell out. Like the old one horse shay, he just give out."
Henry continued, "Aunt Minnie would talk a lot of trash. She said he'd sit down with a bottle of wine and eat all the food, talking a lot of trash about he was a working man, he needed his strength and the rest of them were all starving to death. All that was Aunt Minnie's talk. We never heard his side of it. They lied on him and he never defended himself. They never made fun of him because he'd a beat everybody's brains out. He never found it necessary to say anything. I think Aunt Minnie embellished the truth because I know we went there and tore up his lawn, his pride and joy, and he didn't say anything much. He had a grape arbor. We (Me, Hugh, Bill and Harold), had a tent out there. We'd get to wrestling and tear up the tent and the grapes and he didn't say anything. Probably crippled Bill and Harold after we left because they should have known better, we were just kids."
I found quite a number of short news items mentioning the family trips. They were not nearly as entertaining as Henry's stories.
Dr. and Mrs. A. B. Cleage Mr. and Mrs. Jacob Cleage, Henry Cleage and Miss Helen Mullins, of Detroit, Miss Virginia Lane and Mrs. Josie Cleage of Indianapolis, Ind. and Clarence Reed of Chicago, who have been guest of Mrs. Minnie Mullins, of Broadway, have returned home.
The News-Palladium (Benton Harbor, Michigan) – 13 Jul 1923, Fri – Page 4
It sounds like they had a real family party.
Who's who
Dr. and Mrs. A.B. Cleage – my grandparents
Mrs. Jacob Cleage, wife of my grandfather's brother Jacob.
Henry Cleage – my grandfather's brother.
Miss Helen Mullins – my grandmother's sister Minnie's oldest daughter.
Miss Virginia Lane – not a family member.
Clarence Reed – my grandmother's brother.
Mrs. Jossie Cleage – my grandfather's sister who married a Cleage from another branch.
Mrs. Minnie Mullins – my grandmother's sister

Mrs. Minnie Mullins and small son, John of Broadway, have gone to Detroit to visit the former's sister, Ms. A. B. Cleage, who is ill.
The News-Palladium (Benton Harbor, Michigan) – 14 Jan 1925, Wed – Page 4
Dr. A. B. Cleage and family, of Detroit, have returned home following a week's visit with Mr. and Mrs. James Mullins, of Broadway.
The News-Palladium (Benton Harbor, Michigan) – 6 Sep 1927, Tue – Page 4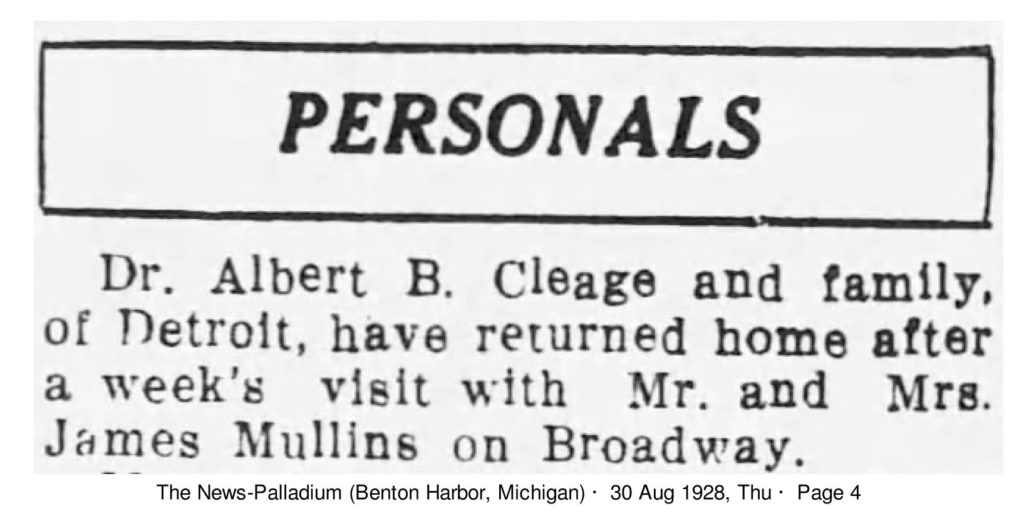 Dr. Albert B. Cleage and family of Detroit, have returned home after a weeks visit with Mr. and Mrs. James Mullins on Broadway.
The News-Palladium (Benton Harbor, Michigan) – 30 Aug 1928, Thu – Page 4
Related Links
Mr. James Mullins 1863-1944
Minnie Averitt Reed Mullins 1878 – 1963
Josephine "Josie" Cleage
Clarence Elwood Reed
What it was like to drive 100 years ago
1900-1930: The years of driving dangerously