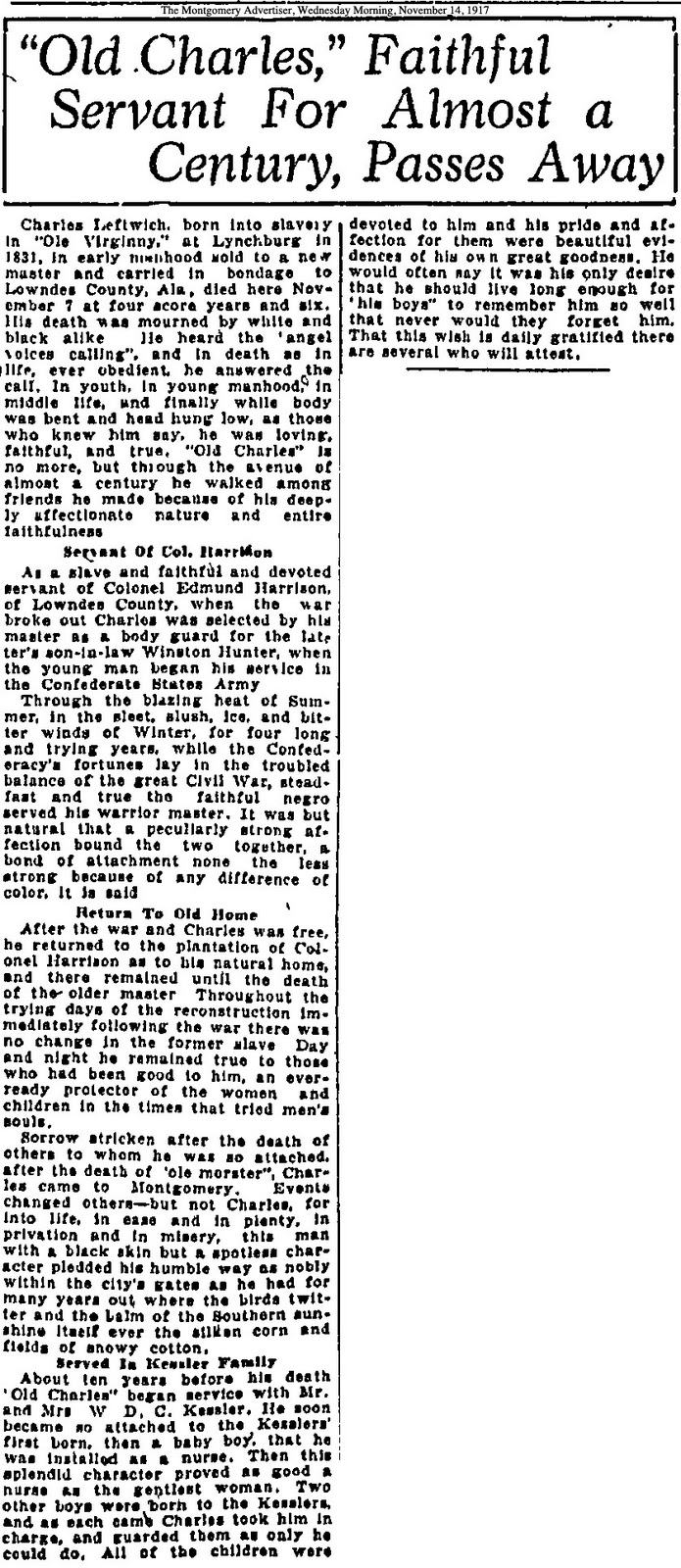 Eliza was also owned by Col. Harrison.  Her mother, Annie Williams, was born in Virginia. I am trying to figure out if any information in this article can help me in my research.
The Montgomery Advertiser, Wednesday Morning, November 14, 1917
"Old Charles," Faithful Servant For Almost a Century, Passes Away
 Charles Leftwich, born into slavery in "Old Virginny," at Lynchburg in 1831, in early manhood sold to a new master and carried to bondage to Lowndes County, Ala. died here November 7 at four score years and six.  His death was mourned by white and black alike.  He heard the "angel voices calling", and in death as in life, ever obedient, he answered the call.  In youth, In young manhood, in middle life, and finally while body was bent and head hung low, as those who knew him say, he was loving, faithful, and true.  "Old Charles" is no more, but through the avenue of almost a century he walked among friends he made because of his deeply affectionate nature and entire faithfulness.
Servant of Col. Harrison
As a slave and faithful and devoted servant of Colonel Edmund Harrison, of Lowndes County, when the war broke out Charles was selected by his master as a body guard for the latter's son-in-law Winston Hunter, when the young man began his service in the Confederate States Army.
Through the blazing heat of Summer, in the sleet, slush, ice, and bitter winds of Winter, for four long and trying years, while the confederacy's fortunes lay in the troubled balance of the great Civil War, steadfast and true the faithful negro served his warrior master. It was but natural that a peculiarly strong affection bound the two together, a bond of attachment none the less strong because of any difference of color, it is said.
Return To Old Home
After the war and Charles was free, he returned to the plantation of Colonel Harrison as to his natural home, and there remained until the death of the older master. Throughout the trying days of the reconstruction immediately following the war there was no change in the former slave. Day and night he remained true to those who had been good to him, an every ready protector of the women and children in the times that tried men's souls.
Sorrow stricken after the death of others to whom he was so attached, after the death of "ol morster", Charles came to Montgomery. Events changed others – but not Charles, for into life, in ease and in plenty, in privation and in misery, this man with a black skin but a spotless character plodded his humble way as nobly within the city's gates as he had for many years out where the birds twittered and the balm of the Southern sunshine itself ever the silken corn and fields of snowy cotton.
Served in Kessler Family
About ten years before his death "old Charles" began service with Mr. And Mrs. W.D.C. Kessler. He soon became so attached to the Kesslers' first born, then a baby boy, that he was installed as a nurse. Then this splendid character proved as good a nurse as the gentlest woman. To other boys were born to the Kesslers, and as each came Charles took him in charge, and guarded them as only he could do. all of the children were devoted to him and his pride and affection for them were beautiful evidences of his own great goodness. He wold often say that it was his only desire that he should live long enough for "his boys" to remember him so well that never would they forget him. That this wish is daily gratified there are several who will attest.