Deposition I
Minerva Allen
16 June 1890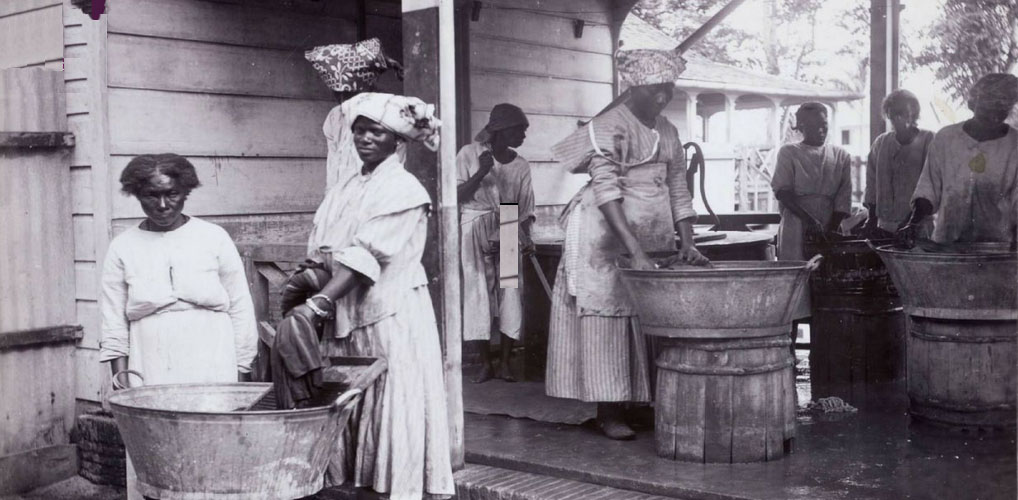 I am 46 years of age, a washerwoman and my post office address is, D St. Peabody's Row, Chattanooga, Tenn. I have known Katie Cleage ever since we were children, we lived at Athens Tenn., and I was with her very often for several years before the war. I remained in Athens about a year or more after the war broke out and then I came to Chattanooga to live.
I knew Philip Cleage from the times he was a boy and after he went in the army. His regiment was encamped near where I lived in Chattanooga. Philip was an old beau of mine and used to pay me attention. That was before he went in the army. We were never engaged to be married to each other.
When I lived at Athens and about a year before Philip went in the army he was married to the claimant Katie Cleage. I did not see them married. I was not there and heard they were married and after that I often saw them together and after Philip went in the army and while he was at Chattanooga before Katie came here from Athens he used to call and see me. He told me then that he had married Katie. After they were married they lived together in the quarters and it was known by all the people on the plantation that Philip and Katie were married. I used to go out to their quarters, there were a great many servants, near a hundred besides a great many children. They did not have any children at that time to my knowing. I never heard that Katie had children which did not live. After Philip went in the army I saw Katie here once and then Philip told me he was going to get a furlough to go see her and I had never seen or known much about her since his death. I don't think I would know her if I should meet her now.
At the time Katie was here during the war, I do not know whether she was in the camp with Philip, I never visited the camps, the people I was with were very strict and never let us run about much. I didn't know what year it was that Philip died but I remember his being taken to the small pox hospital. I did not see him, but I heard of his sickness and death. I do not know whether Katie was there at that time or not.
I never have had any connection with Katie relative to her pension. I have not seen her for years to know her. When Katie lived on the farm, she was Mrs. Cleage's house girl. I don't know, I think Philip just worked on the farm. I never staid out to the farm all night.
I am not related. I have no interest whatever in this claim for a pension. I have fully understood all your questions and my answers have been correctly recorded.
Minerva (her mark X) Allen
**********
Minerva Allen was a washerwoman, as were quite a few of the women who have given depositions so far. I found her with her husband Beau Allen in the 1870 census. They had just been married in August of that year and were living in Chattanooga. He was born in South Carolina and was a porter in a saloon. Minerva had been born in Tennessee and was keeping house.
In 1876 I found Beau in the City Directory working as a barber. That was the last I found of Beau. By 1880 Minerva and her three sons – Frederick 9, Willie 8 and Eugene 2. The family was living with a white couple in Athens, TN. Minerva was a servant.
In 1890 Minerva testified in Katie's pension hearing. In 1892 Minerva was listed in the Chattanooga City Directory as a laundress. That was the last I found of Minerva. I was unable to find any marriage or death records. I did find a Eugene Allen, the right age who lived to marry and have a son, also named Eugene Allen. Then I lost them too.
********
Below are some articles about black washerwomen that I found interesting.
"The Negro Washerwoman, a Vanishing Figure" By Carter G. Woodson
"Washing Clothes Before Chinese"
'We Mean Business or No Washing': The Atlanta Washerwomen Strike of 1881
Resources I used for this post include: Katie Cleage's Pension file and Ancestry.com
For links to the other posts in this series, click this link –> Katie Cleage's Pension Hearing