Affidavit of Katie Cleage Widow
13 Jan 1890
Aged 42
When I first induced Capt. Thomas Giffe to take charge of my claims it had remained dormant for nearly five years and I had well nigh despaired the case, but, now I have good hopes of succeeding, and I thank Mr. Giffe for it. He is the only person who I gave any authority to, that I have any recollections of.
I cannot read or write and I do not know nor recollect what has been written in my name heretofore. I have all confidence in Mr. Giffe. I desire that he be recognized as my atty. In fact, I found that it was impossible for me to get anything done correctly without employing any atty. here who could do my writing for me. I am willing to pay Chas and Has B King for anything they may have done for me, but I cannot consent to give them the credit of working up this case, after 5 years delay. I have paid them as follows – 1st $2, 2nd $1.50 in stamps and 3rd $1.00 making $4.50 altogether.
Katie Cleage (X her mark)
**********
An interesting and informative article about Civil War Pensions that explains who was eligible, how much they received and how these both changed as time passed. Civil War Pensions.

"The Civil War pension system was color blind in that there was nothing in the application process that required applicants to be white. But recent scholarly works have made it clear that the process itself was far from color blind. Because African American soldiers were both less likely initially to be assigned to combat roles, and then less likely to be hospitalized (early disability applications required documentation from hospitals) if injured, they could not produce the documentation required by the application process. And they were less likely than their white counterparts to have the money necessary to complete the process. Ultimately the fate of black veterans' applications was decided by white bureaucrats who found it easy to turn them down without fear of retribution. An interesting side note is that the Grand Army of the Republic actively campaigned for their black brethren to be granted pensions just as white veterans were."
It was also often more difficult for formerly enslaved widows to prove they had been married because of the lack of documentation for "slave marriages".
*************
Thomas Giffe, Katie Cleage's lawyer, was born in Ireland and came to the United States as a young man. He enlisted in the 74th Regiment, Ohio Infantry and was later appointed Captain of Company H, U.S. Colored Troops 16th Infantry Regiment. USCT regiments were led by white officers. After the war Giffe and his family lived in Chattanooga where he was a contractor, a businessman, an attorney and an active member of the Grand Army of the Republic (G.A.R.)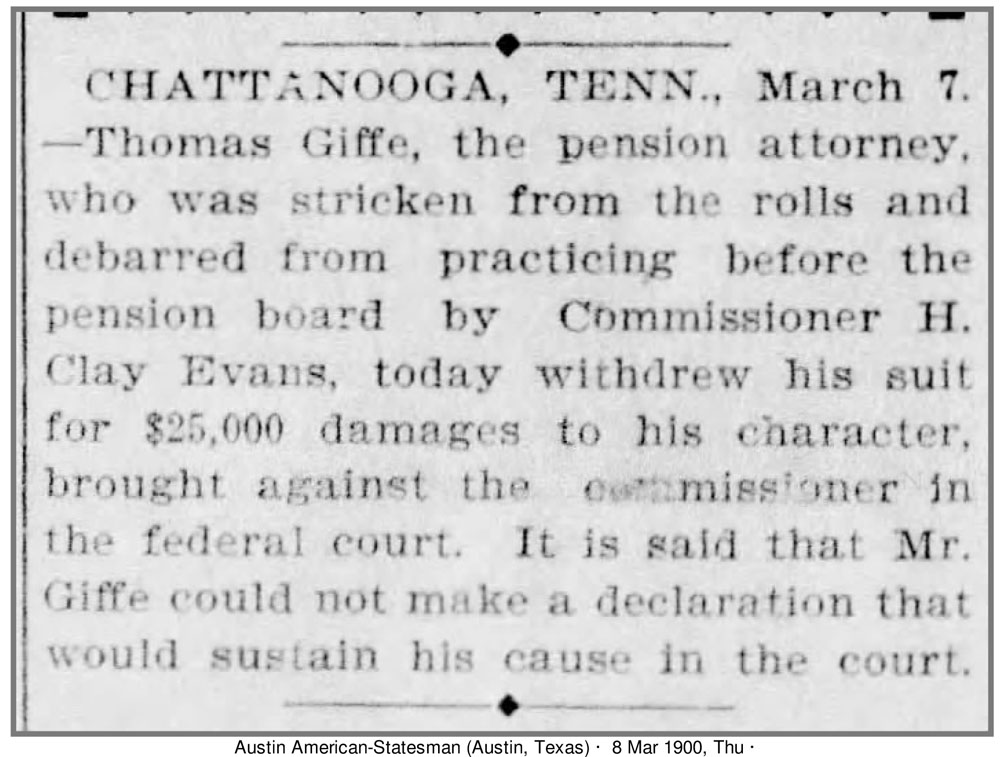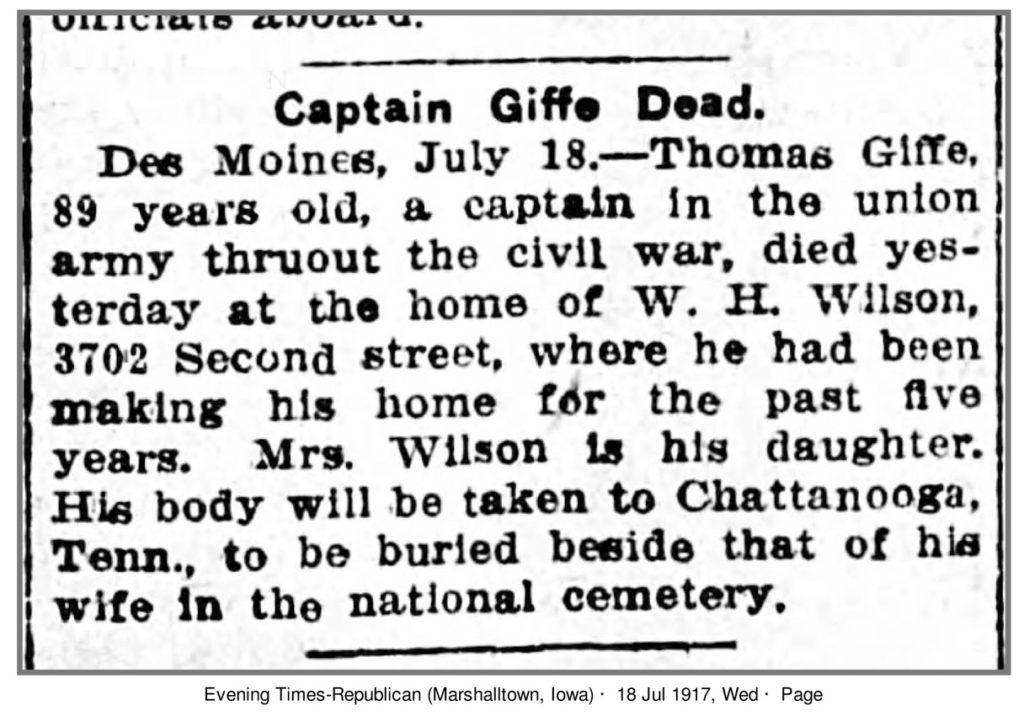 Posts in this series so far
Katie & Philip Cleage
"Until I Was Obliged to Leave" – Katie Cleage
"My husband purchased her when quite a child…" – Jemima Cleage
"I stood aloof and they took him away" – James Royal
"Even then she followed him" – Isaac Charlton
************
I found the information used in this post on ancestry.com, Katie Cleage's Pension file, Chattanooga Newspapers, Newpapers.com . The photograph is from the website of The Tennessee Library (Knoxville)
For links to the other posts in this series, click this link – Katie Cleage's Pension Hearing