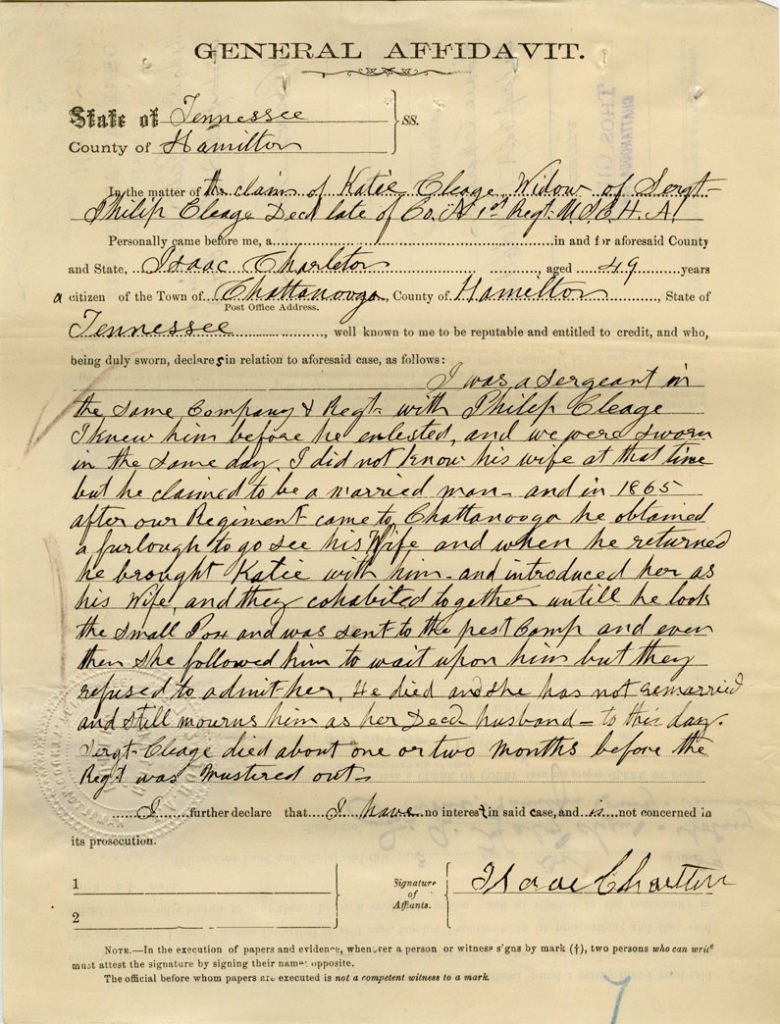 General Affidavit
State of Tennessee
County of Hamilton
3 Dec 1889
Claim of Katie Cleage, Widow of Sgt. Philip Cleage deceased late of Co. "A" 1st regiment U.S.C.H.A.
Personally came before me Isaac Carleton, aged 49 years a citizen of the town of Chattanooga, County of Hamilton, State of Tennessee
I was a sergeant in the same company and regiment. With Philip Cleage. I knew him before he enlisted, and we were sworn in the same day. I did not know his wife at that time but he claimed to be a married man and in 1865 after our Regiment came to Chattanooga he obtained a furlough to go see his wife and when he returned he brought Katie with him and introduced her as his wife and they cohabited together until he took the small pox and was sent to the pest camp and even then she followed him to wait upon him but they refused to admit her. He died and she has not remarried and still mourns him as her deceased husband to this day. Sgt. Cleage died about one or two months before the Regiment was mustered out.
I further declare that I have no interest in said case and am not concerned in its prosecution.
Isaac Carleton
********
I found the information for this post in Katie Cleage's Civil War Pension file.
For links to the other posts in this series, click this link – Katie Cleage's Pension Hearing