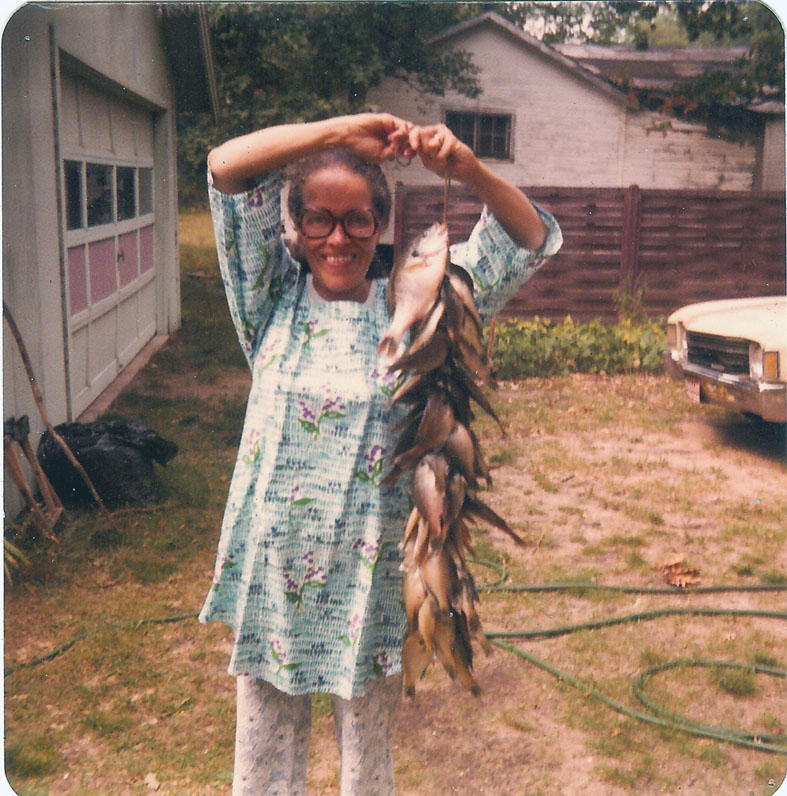 On the left my Uncle Henry is holding a ten inch blue gill that he and my mother caught in September of 1977 in a boat off of my Uncle Louis' dock on Lake Idlewild.  They would fillet them and freeze them in empty milk cartons.
On the right is a boat in front of Louis' cottage on Idlewild Lake. I can't quite make it out, but could be them catching the above string of fish.
In June, 1979 my mother sent to the Emergency Land Fund's newspaper "Forty Acres and A Mule" her recipe for cooking blue gills.  I wish I had a plate of those blue gills right now.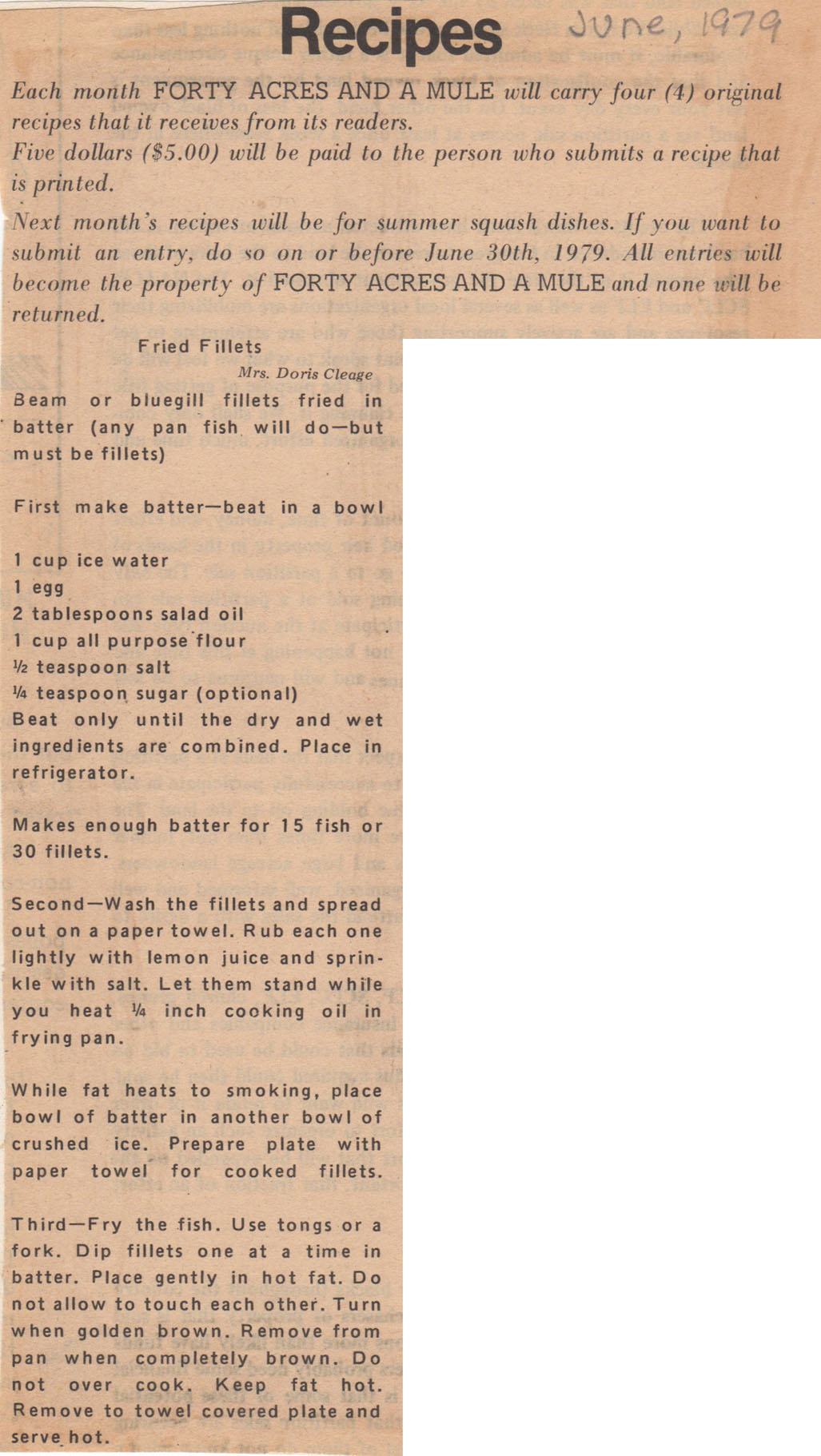 ******************************
I just remembered this letter with a drawing of a fish that my mother wrote to Henry from Idlewild in 1956.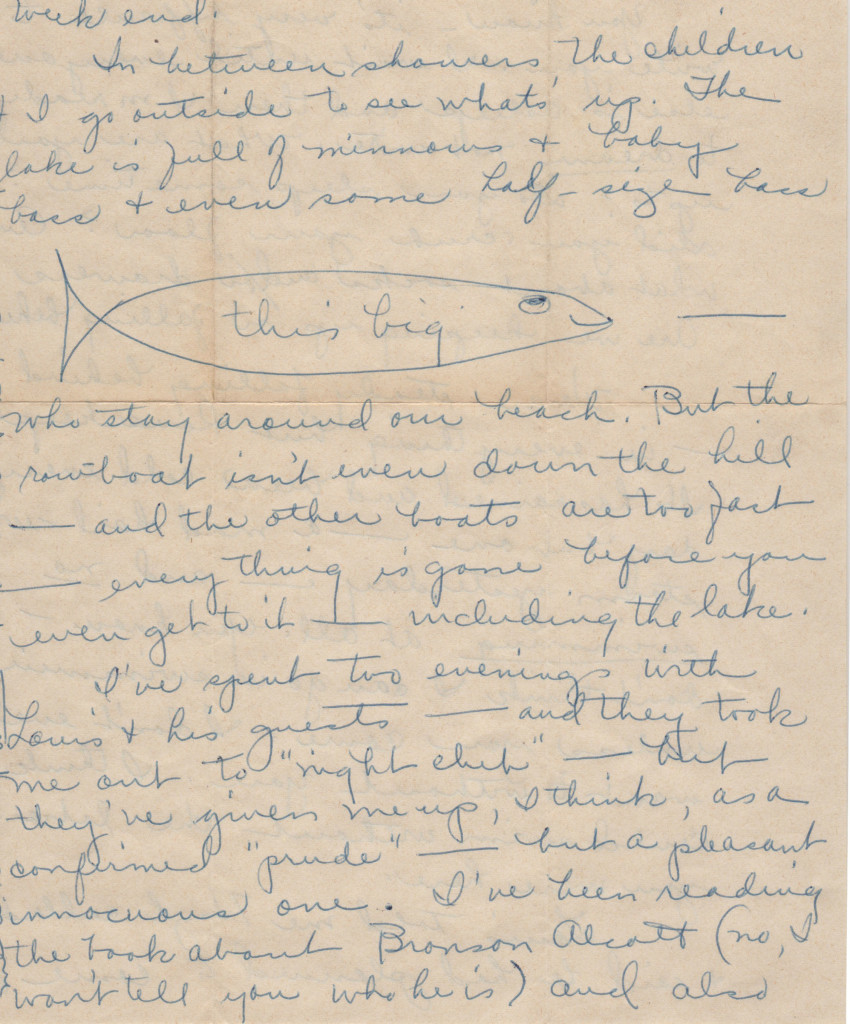 "In between showers, the children & I go outside to see what's up.  The lake is full of minnows & baby bass & even some half-size bass who stay around our beach.  But the rowboat isn't even down the hill – and the other boats are too fast – everything is gone before you even get to it – including the lake.
I've spent two evenings with Louis & his guests – and they took me out to "night club" – but they've given me up, I think, as a confirmed "prude" – but a pleasant innocuous one.  I've been reading the book about Bronson alcott (no, I won't tell you who he is) and also…"
**************************
I was going to write about the time when we hand printed fish one spring in Idlewild. Unfortunately, we don't seem to have saved any of our prints. I did not know printing fish was a Japanese art form called Gyotaku.  Ours were not as lovely as those at the link, but they were interesting.
Note:  My sister tells me she has some of those prints. Whenever she finds them, I will add them to this post.