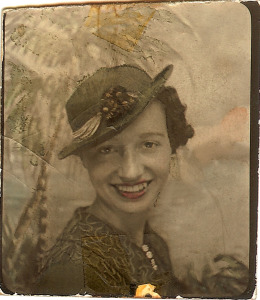 These three photographs of my mother's sister, my aunt Mary Vee were taken in and around 1938.  The first two have been colorized, and not very well either.  What was happening in my aunt's life then?  She was 18 years old and had graduated from Eastern High School and was attending business college, where she won a certificate for her speed and accuracy.  After completing the program there, she worked for awhile at her uncle Jim McCall's Newspaper.  Later some friends of my grandparents from Montgomery helped her get a job at the City County Building as a secretary, where she worked for many years. Some years ago, Mary Vee talked with her daughter about her experience working at the paper.
"… her job was to read all these articles to Cousin Jim McCall, since he was blind. From what she read to him, he would formulate his editorial articles. She said he had a  braille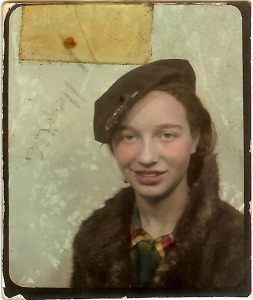 typewriter. She said she learned so much,  just reading to him and talking to him about various topics. Mom said he was a wealth of information and he knew a lot about everything. She started working for them when she was 16 and continued every summer until she graduated from College. At that time, she said, it was due to a letter of recommendation from Uncle Jim that she landed the County job."
What was happening in 1938:  following a number of years of success with the US economy a recession hit which caused unemployment to rise back to 19%. In Europe Germany was continuing it's strategy of persecuting the Jews and occupation in Czechoslovakia, the British prime minister Neville Chamberlain went to Germany fearing another world war and after agreeing to allow Hitler could occupy Czechoslovakia declared "Peace in our time" . The law changed in the US that meant the minimum hourly wage was 40 cents per hour for a 44 hour working week. On September 21st a giant hurricane slammed into the east coast with little or no warning from the Weather Service , the hurricane caused 40 ft waves to hit Long Island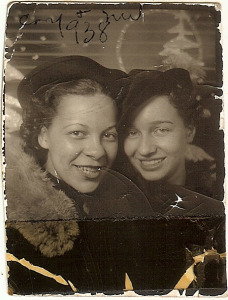 and sixty three thousand people were left homeless and some 700 dead. On October 30th Orson Wells dramatization of "War of The Worlds" radio programme caused panic when it was broadcast more like a news breaking story than a play. Most of the world cheered when Germany's Max Schmeling was defeated by a knock out in the first round by the great Joe Louis for the heavyweight championship.
And more: The Nanking Massacre took place in China during the continuing invasion of the Japanese during their invasion of China. The battle of Teruel, one of the most violent to occur during the Spanish Civil War, took place with German planes bombing the Spanish city. Guerilla warfare against Italy continued in Ethiopia.