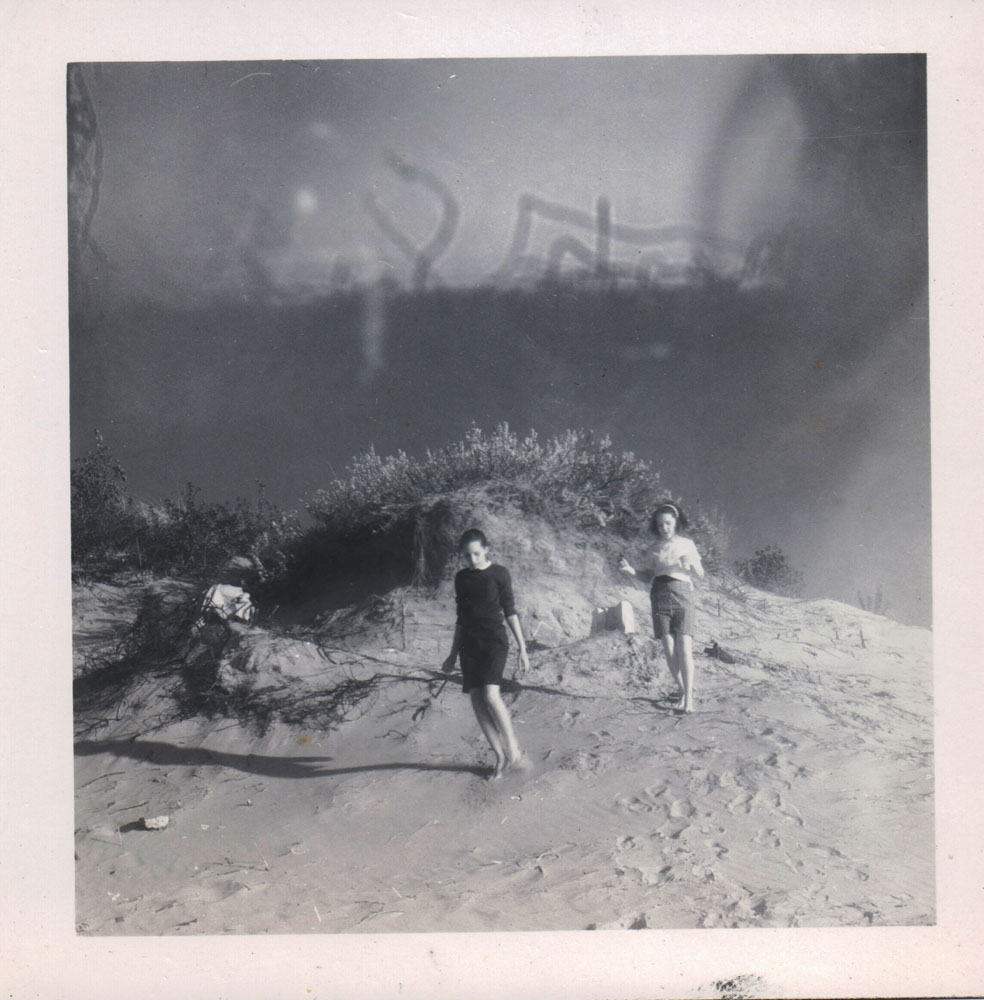 My sister and I running by the dunes at Ipperwash, on Lake Huron in Canada. It was 1960. I was 14 and would start Northwestern High School in September. Pearl was 12 and would start McMicheal Junior High School.  The lake is in the background but the strange distortions at the top make it difficult to tell what is there.
My mother and Uncle Henry had been trying to find a place to spend weekends and vacations out of Detroit. That weekend we had driven through various towns and country to reach Ipperwash. There was a wide beach and cars could drive on it. The beach itself was all open to the public. I remember the house we looked at was like a big farm house and had beds all over, in the attic and in the several bedrooms. We spent the night at a cabin the realtor had and left early the next morning. They decided not to buy there because of the cars on the beach and the public.
I remember driving either there or home through a rainy day, looking through the window at the towns we drove through, everything summer green, but grayed by the gloomy day.
The Ipperwash Crisis – While looking for photo of the beach, I found that during WW 2 the Canadian Federal Government expropriated the land of the Stoney Point First Nation with promises to return it after the war. The war ended, the land wasn't returned. In 1995 members of the Stoney Point First Nation occupied the land in protest. There was a cemetery located in what was now called the Ipperwash Camp. During the protests an unarmed member of the protesters was shot and killed. The land was to be returned to the Stoney Point First Nation but it hasn't been completed yet. You can read more about it at the link above.