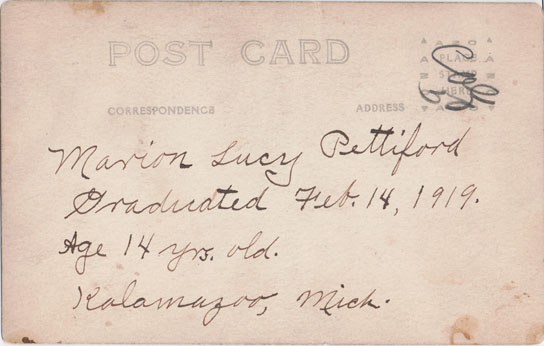 I found this postcard in my Cleage family photographs. She is not a relative.  Her family lived down Balch street from my Grandparents while they lived in Kalamazoo. Her father and my grandfather also belonged to some of the same groups.  The Dunbar group for the uplift of the Race was one of them. My grandparents moved to Detroit in 1915 but must have kept in touch with the Pettifords.
Marion was the third child of Joseph Pettiford and the first child of Joseph and his second wife, Mary A. Brown Pettiford.  All of the children were born in  Kalamazoo. I was able to fill in some of the questions using Ancestry.com but it was when I started looking through historical newspapers that I found out much to flesh out the bare bones of the family.
Joseph Wilson Pettiford was the son of Young Pettiford who was the son of Edmund Pettiford, born in 1795 in North Carolina into a community of free people of color. The family moved to Ohio, where Joseph was born, and later to Indiana, where Edmund died.
By the 1890s, Joseph and his family were living in Kalamazoo, MI. Located in the SW corner of the state in Berrien County.  He worked as a custodian (not a janitor, he informed the local paper) in the county Courthouse for over 20 years. It was an elected position.  He was very active in the Masons, holding local and state posts. Both he and his wife were active in 2nd Baptist Church.  He could cook up a good possum dinner, according to the local paper, The Kalamazoo Gazette.
In 1922 Mary Pettiford suffered a fatal stroke while out fishing with her husband near South Haven. Her funeral was well attended.  Marion was listed among the children and that is the last I can find of her.  In 1928 Joseph died. Unfortunately the obituaries after 1922 are not online for the Kalamazoo Gazette. I'm sure it was a long one after all his years at the courthouse and perhaps it mentioned what happened to Marion.
I checked the 1930 census, the 1940 census. All of her siblings in the 1930 and 1940 census. The marriage records online at Ancestry.com and FamilySearch.com. I checked newspaper articles at Ancestry and at GenealogyBank.com.  So far, no luck. I will continue to check back now and then and report any new findings.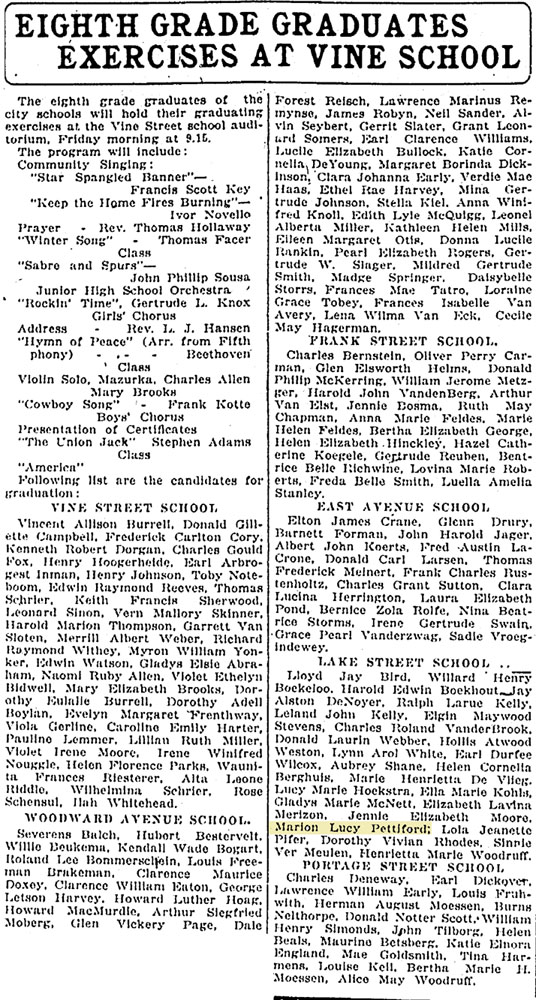 Eighth Grade Graduates Exercises at Vine School
The eighth grade graduates of the city schools will hold their graduating exercises at the Vine Street school auditorium, Friday morning at 9:15.
The program will include:
"Star Spangled Banner" – Francis Scott Key
"Keep the Home Fires Burning"- Ivor Novello
Prayer – Rev. Thomas Hollaway
"Winter Song" – Thomas Facer – Class
"Sabre and Spurs" – Hohn Phillip Sousa –  Junior High Orchestra
"Rockin' Time", Gertrude L. Knox  –  Girls' Chorus
Address – Rev. I.J. Hansen
"Hym of Peace " (Arr. from Fifth Symphony) – Beethoven  –  Class
Violin solo, Mazurka Charles Allen  – Mary Brooks
"Cowboy Song" – Frank Kotte  – Boys' Chorus
Presentation of Certificates
"The Union Jack" Stephen Adams  – Class
"America"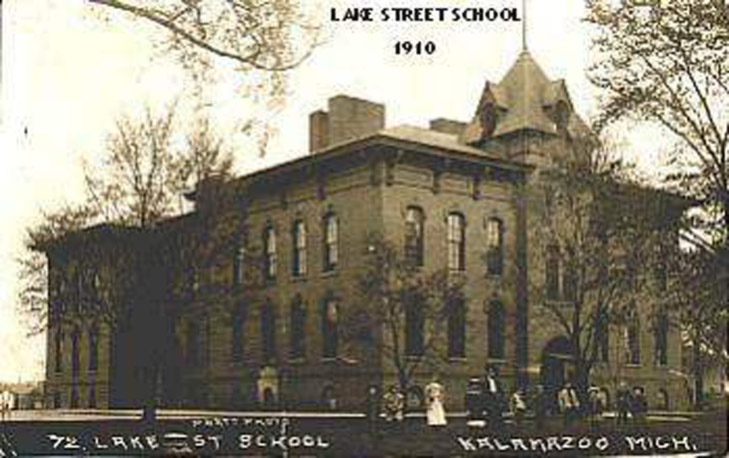 For more information and photos of the early Pettifords, Weavers and other free people of color visit – The Weaver Settlement
For a beautiful picture of an extended Pettiford family reunion in 1935 – Pettiford reunion photo from 1935