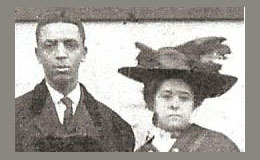 For this year's April A-Z Challenge I am blogging everyday using items taken from the letters written by my grandfather to my grandmother from 1907 to 1912, starting with "A" and moving right through the alphabet to "Z" during April.
Postmark – June 20, 1909.  Somehow I had overlooked this postcard, but I felt I had to post it, even though I had to dig pretty deep to find a "J" connection.  I wonder what my grandmother thought when she received this card?
Written in Toledo, mailed Buffalo C-
6/19/09
I left Indianapolis last night at 7:25. Stayed all night in Hamilton O. Am now in Toledo at 10 a.m. will leave for Detroit 2:14.
A.B.C.