In 1943 my Uncle Louis Cleage and family friend, Paul Payne bought some lots in Idlewild, Michigan. Idlewild is a black resort located in the Manistee National Forest in Lake County. It's 5 hours north of Chicago and 4 hours northwest of Detroit. Lake Michigan is half an hour away at Ludington. I've posted some photographs, documents and letters showing the progress of the original cottages. They did much of the work themselves. If you find the letter my grandfather wrote back to Detroit hard to read, scroll down to the transcription below.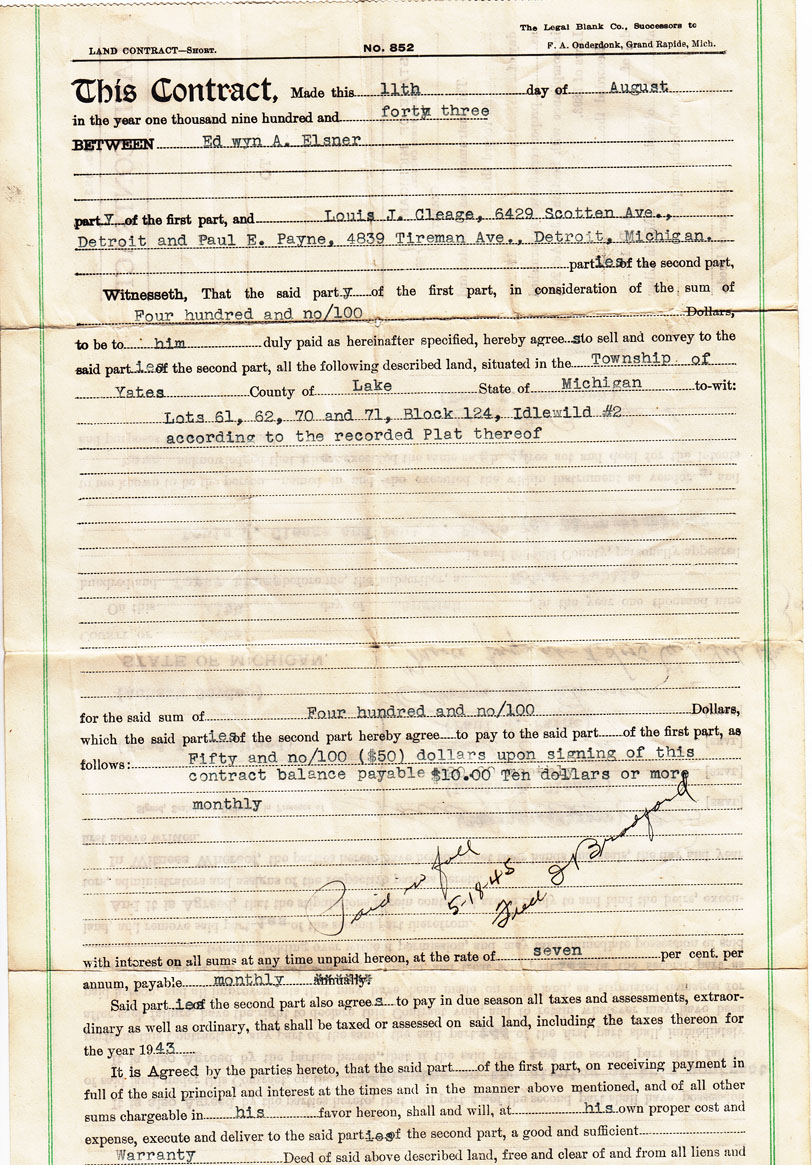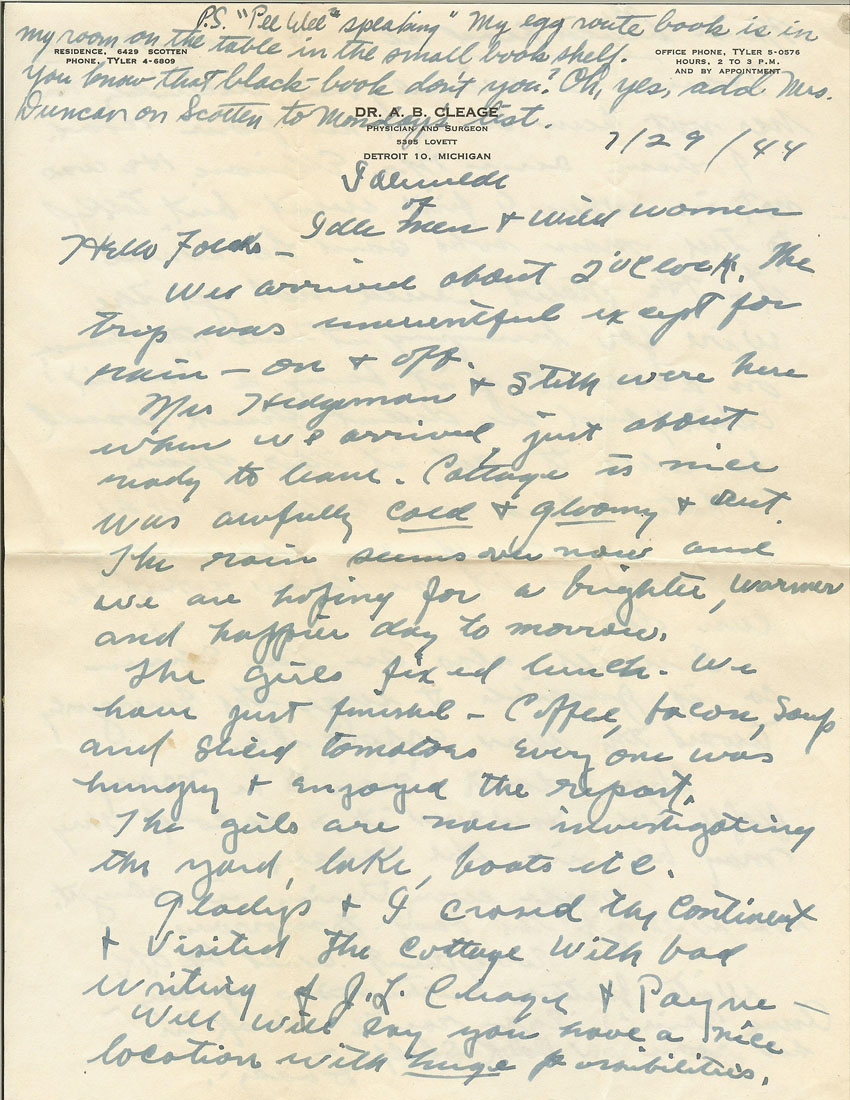 During WW 2, two of my uncle's were conscientious objectors and farmed near Avoka, MI. They had milk cows and chickens, among other things. Their younger sister sold the eggs in Detroit around the neighborhood. While she was up in Idlewild, she needed someone at home – her mother – to handle the egg route. Like a paper route, but with eggs. Read more here.

P.S. "Pee Wee" speaking. My egg route book is in my room on the table in the small bookshelf. You know that black book, don't you? Oh, yes, add Mrs. Duncan on Scotten to Monday's list.
7/29/1944 Idlewild of Idle men and wild women.
Dear Folks –
We arrived about 2 o'clock. The trip was uneventful except for rain – on and off. Mrs. Hedgeman and Stith were here when we arrive just about ready to leave. Cottage is nice, was awfully cold and gloomy out. The rain seems over now and we are hoping for a brighter, warmer and happier day tomorrow.
The girls are now investigating the yard, lake, boats, etc. Gladys and I crossed the continent and visited the cottage with bad writing of J.L. Cleage and Payne – well, will say you have a nice location with huge possibilities. Nice beachhead etc, and hedgerows.
House is wired, but electricity has not been brought in from road. I have seen Mr. Ellison. He was not in when I first went but talked to the man who was and he wired it. He stated could not get the wire for bringing it into the house on account of it being a "tourist" cabin; and he didn't think would be able to get it this year.
Later saw Mr. Ellison who said he would see about it again Monday and let me know what he can do. I will also see the Edison Co. if possible and urge the emergency toward the war effort etc.
There don't seem to be many people here. However it is so cold they maybe in the house. Hope everything is alright. We will get the boat tomorrow. Everything will be ok. Write further instructions, if any – Anna Celia's egg route book in her room on bookshelf –
Daddy