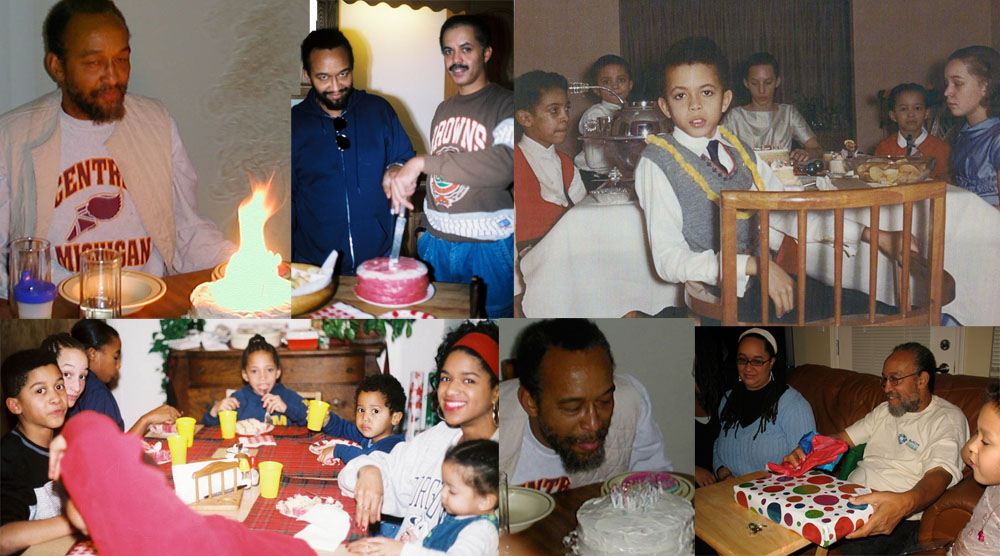 Photos starting from the top left: Jim getting ready to blow out the flaming inferno that was the candles on the cake in 2002. Jim and Warren celebrating together at a surprise party in Idlewild about 1990. The cousins around the table to celebrate Cousin Warren's (wearing the lai) birthday about 1958. That is me at the far end of the table. On the bottom row we have another table full of cousins (children of those in the previous photo) celebrating the combined party of Jim and Warren. Jim successfully blowing out all those candles. Last photo is Jim last year opening his gifts.
When I was growing up my cousin Warren celebrated his birthday with a family party after Christmas on December 30. There we cousins are on the upper right getting ready to eat cake. There was always punch, cake, ice cream and chips. Maybe hot dogs? Plus balloons and birthday presents. Being close to Christmas didn't seem to impact his birthday. My sister Pearl's birthday is December 7, which doesn't seem that close to Christmas. We didn't do parties but had a cake and she received presents just like I did for my august birthday.
My husband, Jim, comes from a family with 12 children. Three of them were born very close to Christmas. Milton was born on Christmas Eve, Catherine was born on Christmas day and my husband was born on December 30. He says everybody always had a birthday cake and nobody every got many birthday gifts so that wasn't different. Over the years we've been together his birthday has become an important part of the Christmas celebratory season. We have cake, gifts, dinner, a gathering. Now that the children are grown, some with children of their own and most of us are in the same city we gather for Christmas Eve, Christmas Day, Jim's Birthday, New Years Eve and New Years day. By January we are ready for a break!