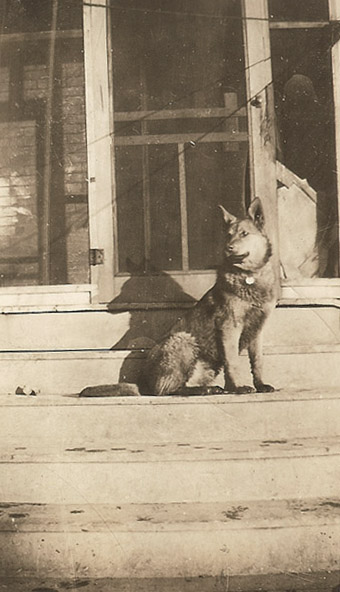 Training Duke
As Told To Me By My Uncle Henry Cleage
Sometimes we would wake up and Uncle Hugh would be sitting on the porch.  He wouldn't say good-bye when he left.  Mama's family was just like that, they'd appear and then disappear without a word.  We had a great big police dog, Duke. He was a bad sucker.  Everybody in the city knew he was a bad dog.
So Uncle Hugh said "That dog ain't worrying me."
You know, he used to come around the house in the back.  We told him not to come in there, that dog would eat him up.
He said, "That dog ain't gonna touch me."
We said don't mess with that dog.  He just insisted.  He walked out there to the little screened back porch.  He walked out.  Duke was standing there all ruffled up. He should have known, because Duke lifted that upper lip, you know?  (Note:  Here Henry would lift half of his upper lip and give a low, menacing growl) Duke backed up a couple of steps.  Uncle Hugh kept by the door and he took the first step. The dog stood there and Uncle Hugh thought he had him and let the door slam and soon as that door slammed, Duke just leaped at his head.  Uncle Hugh tore up the whole screen on the back door getting back inside.  He was going to force the dog back and go out there and show him who's boss.  Well, he got back in because we all hollered at the dog and grabbed him and everything else, but we knew the dog.
Smoking all those cigarettes had got him, he said.  He was going to pop off at any time, he didn't think he ought to go through that excitement he would have had to go through to train him.  "That is a bad dog," he said.  "That is a tough dog, he's a smart dog too, but if I was here a couple days, I'd straighten that out."
Well, he could have.  If he'd been there a couple days, I mean.
To learn more about Hugh Reed click on his name.
 For more Sepia Saturday offering about dogs and men and other things click below.