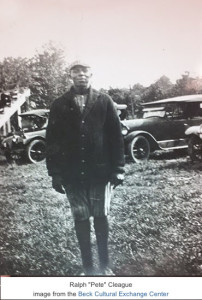 For this year's April A-Z Challenge I am blogging a series of sketches about the free people formerly enslaved on the Cleage plantations in Athens, Tennessee and their descendents. Click on any image to enlarge.
Ralph "Pete" Cleage was born January 25, 1898 in Athens, Tennessee. He was part of the second generation of his family born free.  The son of Florence Cleage and grandson of Jerry Cleage,  he grew up surrounded by extended family. Ralph, his mother and his siblings, Harriett and William, lived with his Aunt Nellie Cleage Deadrick and her daughter Delia, until he was about 21. Florence was a cook and Nellie was a laundress. The children all attended school. Ralph completed three years of high school. He worked as a laborer and as a truckman for the railroad.  Ralph was 5'11", weighted 180 lbs and had dark hair and dark eyes.
Ralph's mother Florence,  died June 4, 1918 of typhoid fever. She was 40 years old.  She was buried in Hammond's cemetery.  Ralph's grandfather Jerry Cleage died the following year on March 28, 1919 of arteriolosclerosis.  He was 92 years old.
The next year found Ralph playing baseball with the Knoxville Giants, a black baseball team.  He played first base and later became a respected umpire.  The players worked other jobs to support themselves as they did not make enough to live on.  You can find more articles on Knoxville's black baseball players at Old Knoxville Baseball by clicking the link.
Ralph married Carrie Sweat about 1934.   He lived in Knoxville and eventually moved to Nashville where he continued his baseball career.  He worked as a watchman and a laborer to supplement his income. You can see his Baseball Stats at this link.  Here are a few articles from Mark D. Aubrey's Old Knoxville Baseball page that mention Ralph Cleage. The Winston-Salem article is from www.newspapers.com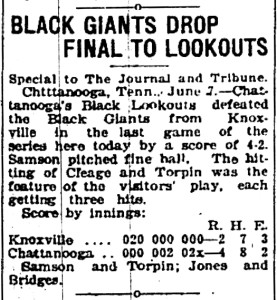 Ralph died on October 29, 1977.  He was 79 years old. Because he died so recently, his death certificate is not available online.  Ralph is buried in Crestview Cemetery, the largest black cemetery in Knoxville.  Like many of the African American cemeteries I have found during this challenge, it started out well kept and went into a decline in the 1960s until it was covered in brush and weeds. A clean up effort started in 1990 and it is reported to be in much better condition now.