Another post from the Drafts folder.
I recently received some family information from one of my granddaughters. I've been using the information to see what I can find out. I have not done any research in New Orleans, LA before.
"My great grandmother was born on 2/26/24. Her mother whose first name was Agnes passed away at 18 or 19 due to Tuberculosis. At the time her mother passed, my great grandmother was only four months old. Her fathers name was Joseph Robinson and he passed away when she was twelve or thirteen. She had an older sister whose name was Irene who was approximately thirteen months older. Their mother, Agnes and their father, Joseph married when Agnes was 16 and Joseph was 21."
I found two marriage records for Grace Robinson. In both, her parent's were given as father, Joseph Robinson and mother, Agnes McGee. Grace's birthdate was given as about 1922 in one and about 1924 in the other.
Next, I looked for a marriage license for Agnes McGee and Joseph Robinson. I found their marriage license on Family Search. The actual document was available for viewing and that was great because there is information on it that wasn't available in the index on Ancestry.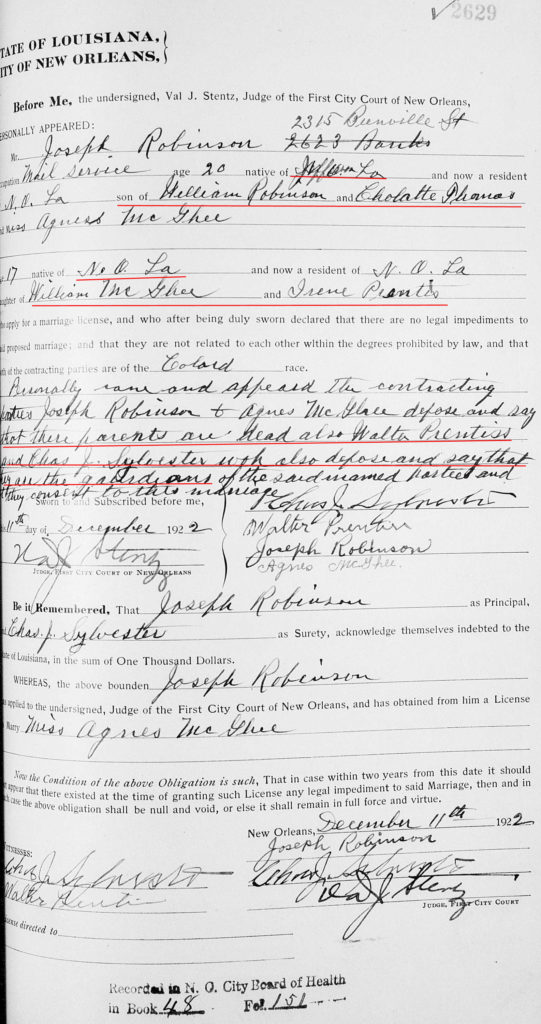 In addition to finding that Joseph Robinson married Agnes on Dec. 11, 1922 in New Orleans, I also found that Agnes maiden name was McGhee and that she was born in New Orleans. Joseph Robinson was born in Jefferson, LA. His occupation was mail service. Was he working as a postman or a delivery man? Both sets of parent's names were listed, taking the known information back a generation. All of the parents were dead by this date and guardians give permission for their marriage. Agnes' guardian was Walter Prentiss, her mother's brother and Agnes' uncle. I have not found a relationship for Charles J. Sylvester.