This time last year I didn't know the i Gene Awards existed.  This year I am here to present the Awards for the best posts on my blogs in five categories.  First I would like to thank my ancestors for saving so many photographs, stories, letters, journals and scraps of paper and seeing that they got to me.  It has made my job so much easier. And now on to the awards.


The Best Picture Award goes to  My Mother – 1952  a Sepia Saturday offering that caused much speculation about why she seemed to be avoiding the camera.  Was she shy?  Was she coy?  Did she lose her earring?  Was there a cat under the chair?  We will never know but I would like to thank my mother, Doris Graham Cleage, for being so photographically mysterious.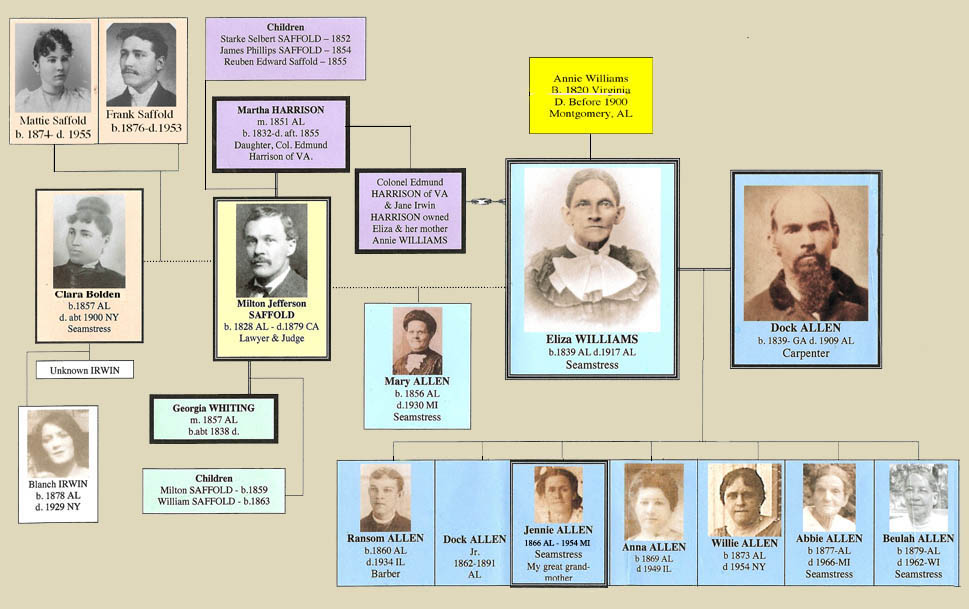 The Best Screen Play Award goes to Eliza and the People in Her Life – a Chart  This would be a multi-generational saga that begins in slavery and ends in freedom.  We have slavery, lust, an escape to freedom while being chased by hounds, true love, vengeance, the surrender of Montgomery, reconstruction, family bonds, death in childbirth, hard work and much, much more. The chart is the cast of this drama.   I would like to thank my sister Pearl Cleage for being my casting director. Her picks are below:
Young Eliza — Jurnee Smollett/played the debating girl in "The Great Debators" and was the young girl featured in "Selma, Lord, Selma!" and "Eve's Bayou." good actress.

Old Eliza — Barbara O/Yella Mary from "Daughters of the Dust." amazing actress and looks like she could be what Jurnee would look like old. (let's say old Eliza is the one who starts telling the story in flashbacks so she'd start and then Jurnee would fade in as Eliza in her twenties when she meets Dock.

Dock — Jeffrey Wright/played Muddy Waters in "Cadillac Records." he's a little old, but he looks like he could be Dock and he's an amazing actor.

Annie Williams — Viola Davis/in her 40's, so she could be in a flashback/she was nominated for an academy award for her role as the mother in "Doubt." last year, she won a Tony for playing Rose in "Fences" on b'way.

Milton Saffold — here come the movie stars… maybe Jake Gyllenhaal he was in "Brokeback Mountain" and lots of movies. he's a good actor. the right age, in his 30's.

Georgia Whitting —  Reese Witherspoon, usually comedic, but was really good playing June Carter Cash in the movie about Johnny Cash.  She's from Tennessee so she could call on her roots.

Edmund and Jane Harrison — oh, let's throw in a couple of really BIG time movie stars for fun. how about angelina jolie and brad pitt?

Martha Harrison —  how about Dakota Fanning? she's young, blond, not a bad actress.

Clara Bolden – Tariji P. Henson. got nominated for an Ocsar for a weird movie two years ago. was also a star of the awful movie, "Hustle and Flow", but that wasn't her fault. she's pretty good and can play sad and angry, two emotions required of colored mistresses.
The Award for Best Documentary goes to In Which I Hit the Google Photo Jackpot, another Sepia Saturday offering.  In this one I wrote about the information I found trying to explain why the Tulanes might have been sitting so far apart on the porch, get side tracked into researching Victor Tulane's family and then talk about all the photographs I found for this family, using google, while just trying to illustrate the original information.
The Award for Best Biography goes to the two part series about my Grandmother Fannie Mae Turner Graham 1888 – 1974 – part 1 and Fannie Mae Turner Graham 1888 – 1974 – Conclusion I would like to thank my mother, Doris Graham Cleage, for writing this series in 1976.
Last but not least, The Award for Best Comedy goes to a post for which I have to give credit to my Uncle Henry Cleage (Does it seem to you, right about now, that I wrote only half of these posts, at most??) for the short story Just Tell The Men – A short story by Henry W. Cleage.

A big thank you to Carnival of Genealogy hostess, Jasia, at Creative Gene for creating these Carnivals!
.