The prompt for this weeks Sepia Saturday is a photograph of a boy in front of a theater next a sign advertising a movie about an ex-convict. Standing on the far right side is a man with his head cut off by the photographer. I looked through my photos and was disappointed to find no sepia headless ones. I thought I had seen some in a box of photographs that came from my uncle Henry Cleage.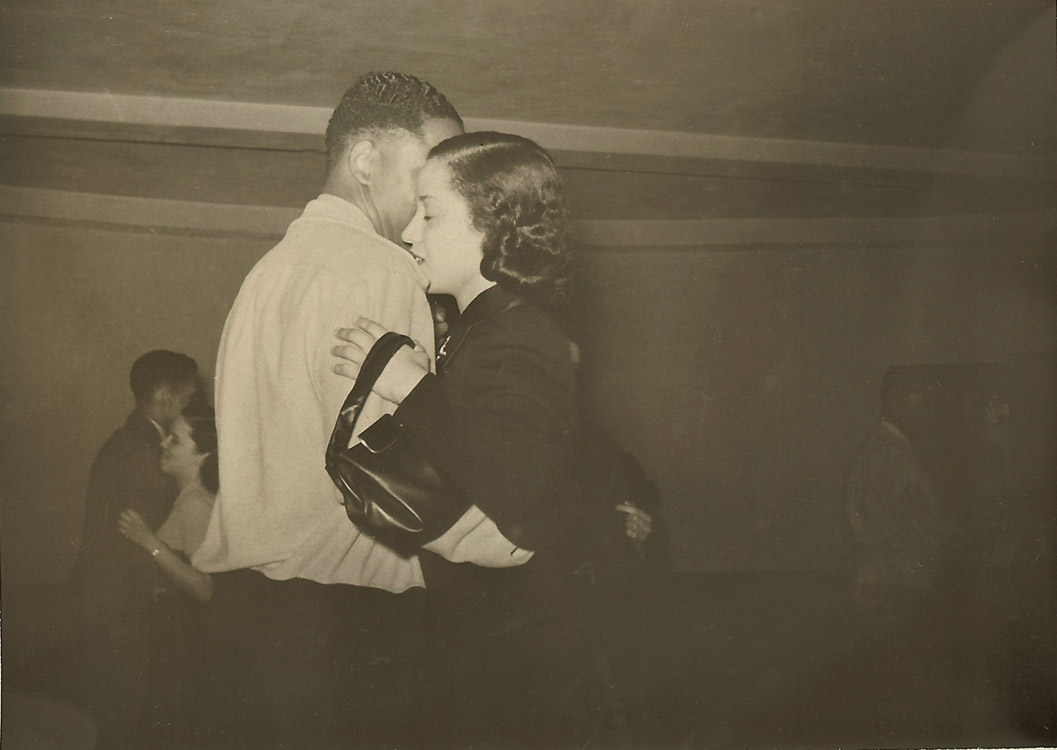 I came across this photograph in the box. Most of the photographs are of Henry's first wife, Alice Stanton. She is the one in the front holding the purse. I noticed Doris Graham, my mother and Henry's second wife, dancing in the background. I do not know who either of the men are. The photo was taken in 1939 or 1940 in Detroit. Henry and Alice were married on 3 September, 1941 in Detroit and divorced not too many years later. At first I thought that this photograph was taken the same day as the one below, but when I compared them, the news photo was of a much posher affair.
For some reason, at this point, I noticed the address on the box that the photographs were kept in. It was addressed to Dr. L. J. Cleage at Homer Phillips Hospital in St.Louis.
Had my Uncle Louis done his medical internship at Homer Phillips Hospital? If so, it was probably around 1940. Although both Louis and my father were enumerated with their parents on Scotten Ave. in Detroit, both were listed as absent from the home. You can see them here in the 1940 Census. I went to Ancestry.com and looked for records for Louis Jacob Cleage. In the 1940 census he was indexed with his parents but there was also a Dr. Louis Cleage in St. Louis, MO. There he was, living in the doctor's housing at Homer G. Phillips, as a Jr. intern.
The story of Homer G. Phillips hospital is a familiar one – black citizens tired of second class health care, black doctors tired of not being able to hospitalize and care for their own patients, of being unable to practice in the hospitals in their city. Click this link to read more about Homer G. Phillips Hospital's interesting history. My husband's younger siblings were born in St. Louis. He thought some of them might have been born at Homer G. Phillips. As luck would have it, his sister called right about then and confirmed that she and all of the youngest five Williams' were born there from 1950 to 1963.
I seemed to be on a roll, so I decided to see if my father was enumerated in 1940 as a student at Oberlin where he attended Seminary. He did not turn up anywhere else outside of his parents home in the 1940 census. However, he was listed in the 1940 Oberlin Student Directory. His birth date is off by 9 years, but the home address is his parent's Scotten Ave. address in Detroit.
After all this it was an anti-climax to find one photo with half a head missing – Henry holding up some fish while standing by Lake Idlewild. Since the focus is on the fish, perhaps this doesn't really count. My family photographers seemed to have been more likely to leave lots of space with everybody crowded to the center than they were to chop off a head. Or maybe they just tossed all of those headless photographs.