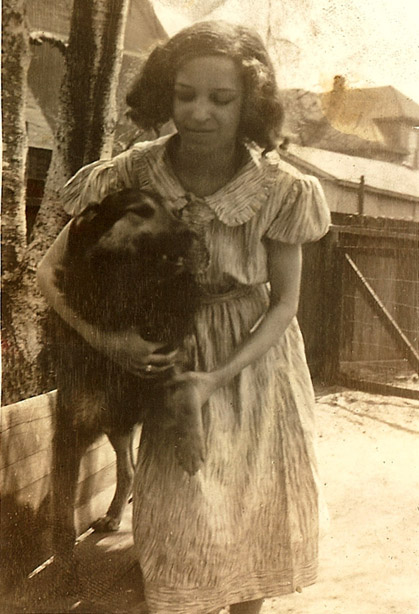 My grandfather wrote in his little notebook in 1940,
"Bonzo taken away by
Humane Society Sept. 3rd 1940                                                                                                 $1.00 donation made.                                                                                                                 This dog was about 12 years old."
In this photograph my mother, Doris was 10 years old. Bonzo must be about 5.  They are in the backyard of my grandparents house on the east side of Detroit.  Bonzo was an outside dog and had a place under the porch to sleep and get out of the weather. He went through the cold winters there. When he was taken away by the Humane Society he was suffering terribly from rheumatism.
Before my mother's family had Bonzo, they had a dog named Toodles.  Toodles was allowed in the house sometimes because once, when there was company and he was in the basement, he fell down the steps and, as I remember the story, broke his neck. Which is why Bonzo always stayed in the yard.
For more fine old photographs, some of girls and animals, click on the link below.