In late April of 1966 I was 19 and a sophomore at Wayne State University in Detroit. Northern High students walked out of school on April 25 to protest the way they were being (or not being) educated. Several other inner city high schools walked out in sympathy. Northwestern organized a supporting boycott and my sister, Pearl, was a leader. My father and others were providing adult support.
I usually studied in the sociology room of the Main Library, which was in the middle of Wayne's campus. As I was leaving to go to my next class that day, a guy came up and asked if I was Rev. Cleage's daughter. I said I was. He asked if I was leading the Northwestern boycott and I said no, that was my sister. We made arrangements to meet after my class on the picket line in front of the Board of Education Building.
We did and afterwards sat around for several hours talking in the "corner" in the cafeteria at Mackenzie Hall. The "corner" was where black students congregated. I felt strangely comfortable with Jim. Strange for me, anyway, since I didn't feel comfortable with anybody, unless I was in a political discussion. He tried to convince me to join a sorority and convert the members to revolution. There wasn't a chance I was going to do that. He also told me that he was "nice". I asked if he meant as in some people were "revolutionaries", he was "nice". He said yes, that's what he meant.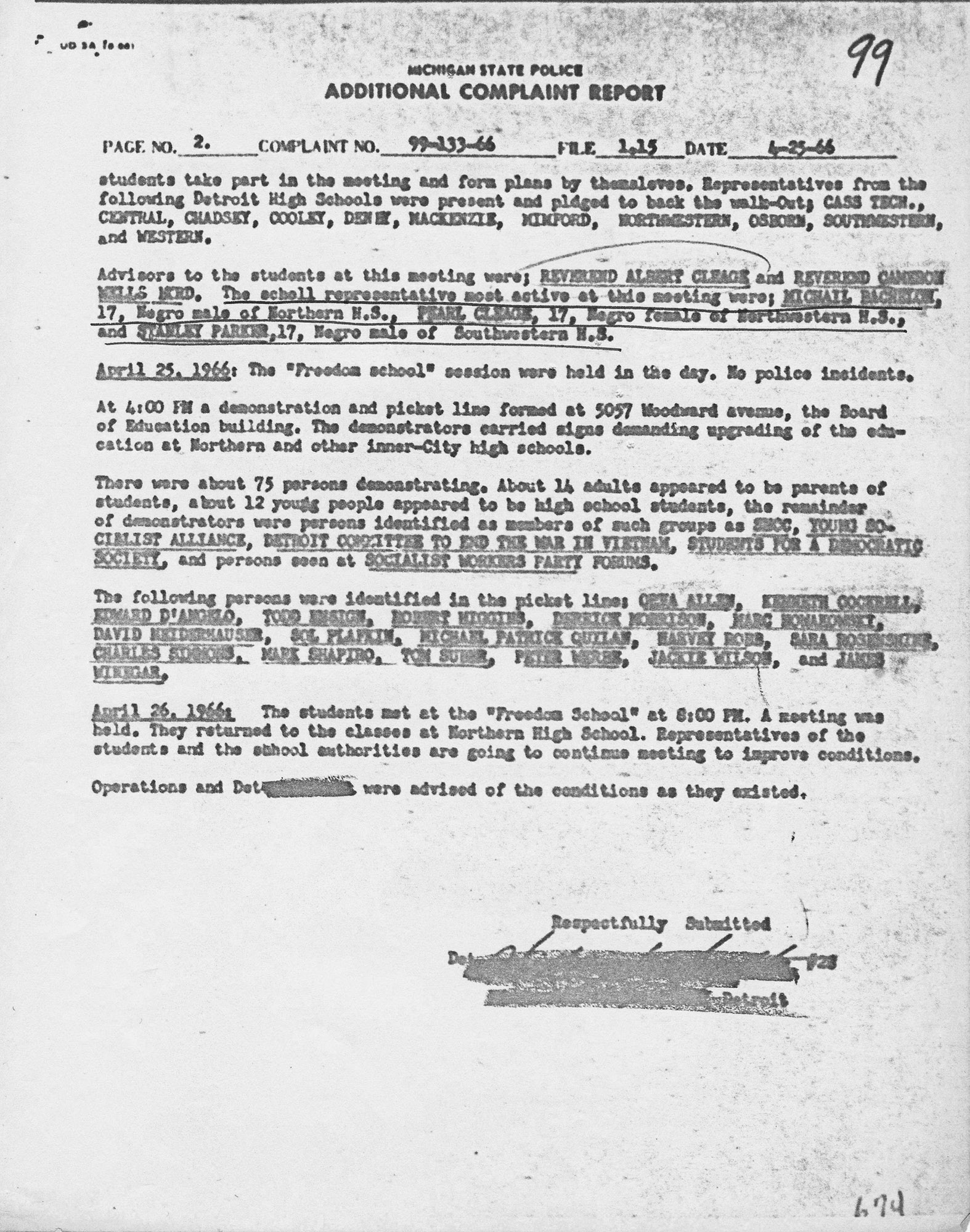 Michigan State Police
Additional Complaint Report
Page No. 2 Complaint 99-133-66 file 1.15 Date 4-25-66
(note: seems to be continued from a lost page)…students take part in the meeting and form plans by themselves. Representatives from the following Detroit High Schools were present and pledged to back the walk-out, Cass Tech, Central, Chadsey, Cooley, Denby, Mackienzie, Mumford, Northwestern, Southeastern and Western.
Advisers to the students at this meeting were; Reverend Albert Cleage and Reverend Cameron Wells MED. The school representatives most active at this meeting were; Micheal Bach____, 17, Negro male of Northern HS, Pearl Cleage, 17, Negro female of Northwestern HS and Stanley Parker, 17, Negro male of Southwestern HS.
April 25, 1966: The "Freedom School" session (sic) were held in the day. No police incidents.
At 4:oo PM a demonstration and picket line formed at 5057 Woodward Avenue, the Board of Education building. The demonstrators carried signs demanding upgrading of the education at Northern and other inner-city high schools.
There were about 75 persons demonstrating. About 14 adults appeared to be parents of students, about 12 young people appeared to be high school students, the remainder of demonstrators were persons identified as members of such groups as SNCC, Young Socialist Alliance, Detroit Committee to end the War in Vietnam, Students for a Democratic Society and persons seen at Socialist Workers Party Forums.
The following persons were identified in the picket lines: _____ Allen, Kenneth Cockerel, Edward D'Angelo, Todd Ensign, Robert Higgins, Derrick Morrison, Marc ____, David Neiderhauser, Sol Plafkin, Micheal Patrick Quinlin, Harvey Roes, Sarah Rosenshine, Charles Simmons, Mark Shapiro, Tom____, Peter_______, Jackie Wilson and James Winegar.
April 26, 1966: The students met at the "Freedom School" at 8:00 PM a meeting was held. They returned to the classes at Northern High School. Representatives of the students and the school authorities are going to continue meeting to improve conditions.
__________FAST FORWARD TO APRIL 26, 2012_________
Today, April 26, 2012, I received this email from a community organizer in Detroit about a student walkout yesterday.
"Today, 180 students were suspended for walking out of Western HS yesterday. Their cell phones were taken from them and messages and numbers were gone through by security. The police deleted numbers and messages from the students' phones.
This month, Frederick Douglass Academy students walked out over constant turnover of teachers and shortage of supplies. The principal being fired was the catalyst in this student lead walk out. The secretary of the school was ultimately fired, as well.
Mumford HS students walked out, refusing to have Mumford put into the Educational Achievement Authority (failing district). The students were suspended and the teacher who told them they are not failures was fired for allegedly encouraging them to walk out."
To read more about the present walkout on huffpost go to Detroit Student Walkout.
To visit a website with information by the involved students about the freedom school that starts today (Friday, April 27) and more, click Southwest Detroit Freedom School. The article is on the left side and there are more links at the bottom of the article. I'm cheered to find organizing going on in response to what happened. Almost makes me wish I was in Detroit.
There is no May Pole in this post but there are a couple of Demonstrations that I think will represent May Day.