This is my tenth A to Z Challenge. My first was in 2013, but I missed 2021. This April I am going through the alphabet using snippets about my family through the generations.
My Uncle Henry Cleage was a twenty year old student at Wayne State University in Detroit when he kept this diary. He did eventually graduate and went on to geta law degree. He was a great thinker and during his life did a variety of things. Henry was also a printer and a publisher, publishing the Illustrated News, a radical black newsletter during the early 1960's with family and friends. During WW2 he and his brother Hugh were conscientious objectors and spent the war farming in Avoca, Michigan. You can read the whole Diary here. Like many of us, he started off strong writing everyday, but as the year went on he petered out.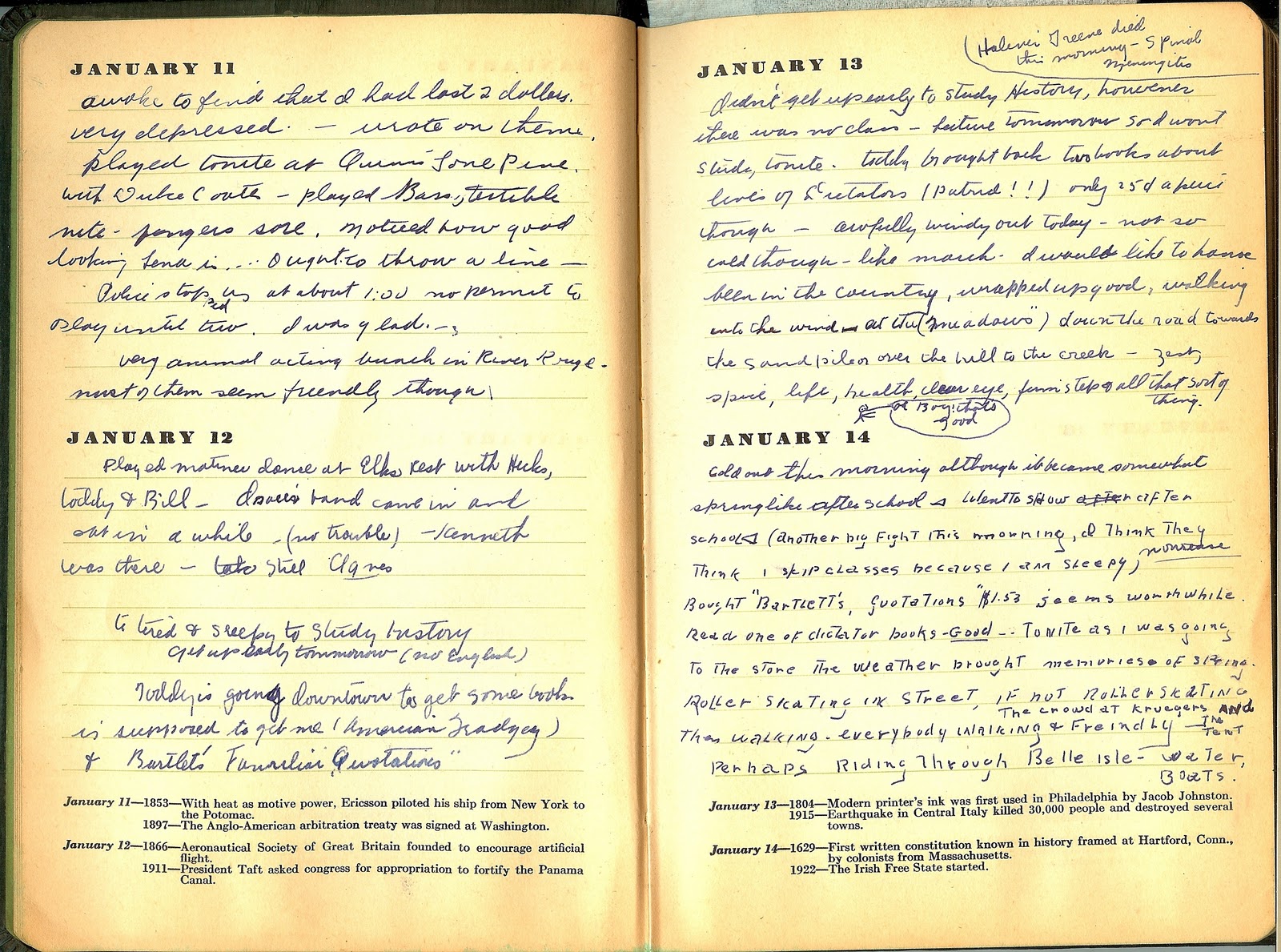 January 11
Awoke to find that I had lost 2 dollars very depressed. Wrote on theme. Played tonight at Quinn's Lone Pine with Duke Conte, played bass, terrible night. Fingers sore. Noticed how good-looking Lene is… Ought to throw a line – Police stopped us at about 1:00AM. No permit to play until two. I was glad. Very animal acting bunch in River Rouge. Most of them seem friendly though.
January 12
Played matinee dance at Elks rest with Heckes, Toddy and Bill – Dracee's band came in and sat in awhile (no trouble) Kenneth was there. Too tired and sleepy to study history. Get up early tomorrow (no English) Toddy is going downtown to get some books is supposed to get me 'American Tragedy" and 'Bartlett's Familiar Quotations"
January 13
Haliver Greene died this morning -spinal meningitis. Didn't get up early to study History, however there was no class – lecture tomorrow so I won't slide, tonight. Toddy bought back two books about lives of Educators (putrid!!) only 25 cents a piece though – awfully windy out today-not so cold thought – like March. I would like to have been in the country, wrapped up good, walking into the wind at the Meadows, down the road towards the sand pile or over the hill to the creek – zest, spice, life, health, clear eye, firm step and all that sort of thing.
January 14
Cold out this morning although it became somewhat spring like after school. Went to show after school. Another big fight this morning, I think they think I skip classes because I am sleepy, nonsense. Bought 'Bartlett's Quotations" $1.53. Seems worthwhile. Read one of dictator books – Good – tonight as I was going to the store the weather brought memories of spring. Roller-skating in street, if not roller skating then walking. Everybody walking and friendly. The crowd at Krueger's and the tent. Perhaps riding through Belle Isle – water, boats.
_______________
Henry's sister Anna via my cousin Anna shared her memories of the combo: "Hi there! I had a chance to get Mom's remembrances on Uncle Toddy's band. This is what she recalls:
Uncle Toddy was trying to establish the business of being an agent where he would send singers and instrumentalists to different clubs etc. to perform. If he couldn't get enough players, this is where he would ask Uncle Louis (player of drums), Henry (sax player, bass violin and vocalist), and sometime Mr. Hand (Oscar) – not really sure what he played – to fill certain jobs. Uncle Henry was a really good sax player and he had a great voice. Some group called the Vagabonds wanted him to play the sax for them. Mom thinks that Henry actually joined their band for awhile."