The photographs used in this series are from my personal collection. Please do not use without my express permission.
I got carried away writing about where my Cleages lived in the 1920 census. The pictured houses below are from Google maps. There were many houses gone. The red line goes from the house picture to the map version. Some houses did not have numbers and I could only guess where they were on the block, so no line.
Inside the Sanborn map, I put the head of household, his or her occupation, how many people lived in the house and their race. This information is from the 1920 census. My grandparents and their sons lived in the house in the red yard. Unfortunately, that is now a vacant lot. You can tell the shape and size of the house from the diagrams. My grandparents house was two stories with a porch across the front of the house. There was no garage or other building in the backyard.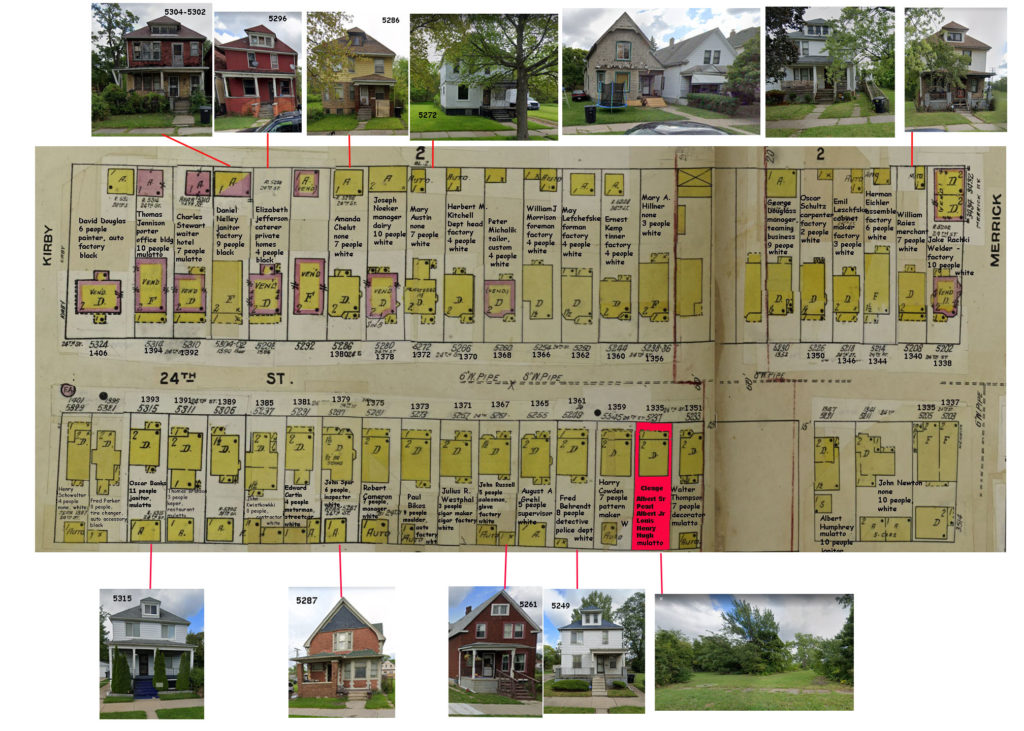 In the 1920 Census 36 year old Albert B. Cleage was a physician working on his own account. He was born in Tennessee, as were both of his parents. His wife, Pearl was listed as 30, although she was actually closer to 34. She and her parents were born in Kentucky. She and her husband were literate. Although this was not on the census form, she was about three months pregnant with Barbara her 5th child.
There were four sons in the household. My father, Albert was eight. Louis was six. Both of them attended Hubbard elementary school, which is now gone. Henry was three years and nine months old, Hugh was one year and seven months old.
They owned their home, which was mortgaged, at 1355 24th Street in Detroit. Later that year all of the street numbers were changed and the number became 5237 24th St. This caused me some trouble in years past, before I knew the numbers changed and had placed the house in the wrong place. To learn more, click. Detroit Citywide Address Change
Everybody in the family was identified as "mu", which stood for "mulatto". This was the last census to designate people as "mu(latto)" or "B(lack)". In the 1930 census, "Neg(ro) would be used for both.