In 1937 Mary Virginia, my mother's older sister, was 17 and a senior at Eastern High School, on East Grand Blvd within walking distance of the house on Theodore Ave. She graduated in June and in September went to Business College where she excelled in typing.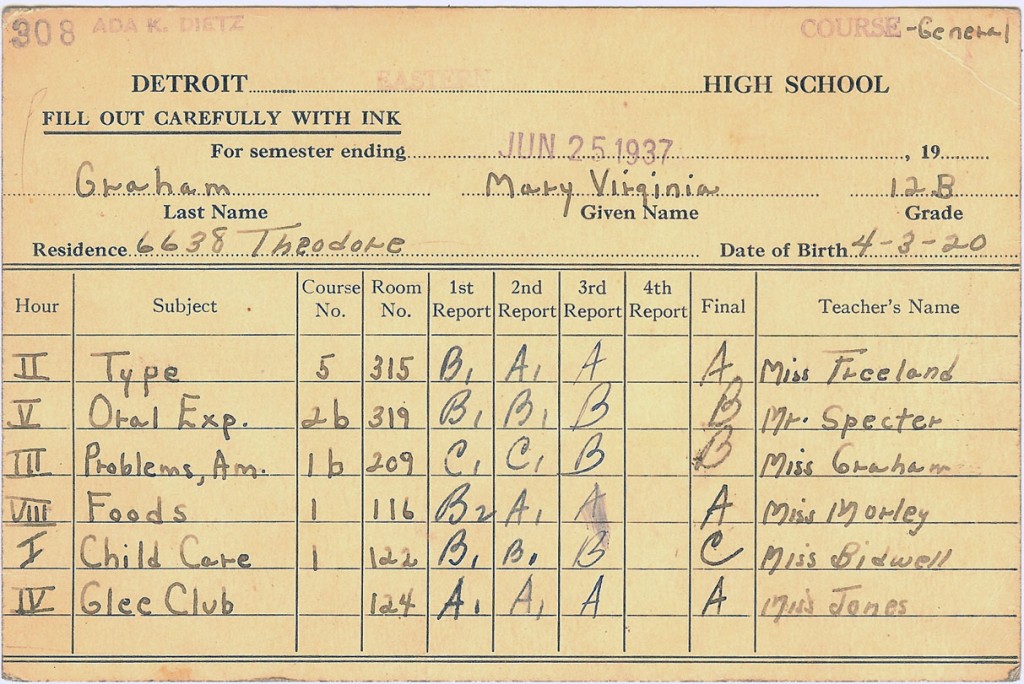 After attending business school, Mary Virginia worked for awhile at her cousin James McCall's Newspaper, The Detroit Tribune. In 1940, he helped her get a good job typing with the city. She held the job for many years and received a proclamation from the City of Detroit for her service to the city during a Family Reunion when she was in her 80s.
____________________
Below is a transcribed article from Nov 20, 1937 issue of The Detroit Tribune. The clipping is below.
"Now for a bit of "Who Goes Where." Running true to the Tribune's policy of giving our young people a chance, we here introduce Miss Mary Virginia Graham of Theodore Street, and this is what Mary Virginia tells us: "There were a number of social gatherings over last weekend, so there was plenty of competition.
"The Beta Mu Chapter of the Alpha Kappa Alpha Sorority had a dance at McKenzie Union. St. Matthews had their annual Balloon Dance, the play "Go Down Moses" was presented at Cass Technical High school; an Armistice dance was held in Windsor—this was all held on Friday night so everyone had somewhere to go.
"First of all I'll start out by telling you who was at the Balloon Dance: Howard and his cute new girlfriend, Jean Johnson; Shirley Turner and "Don Juan" Graham and Charles Hill, Bob Johnson, Bud Elkins, Connie Stowers and Ted "Romeo" Williams, Thomas Askew, Lois Hall, Jeanette Bland, Catherine Redmond, who looked very cute in a red lace gown; Tolula Smith, Allie Mae Harriss, Helen Wilson, Veralee Fisher and Robert Truman, Pete Whittaker, Dorothy Smith, Christine Smoot, Bobbie Douglas, William Patrick, Jr., Walter House, Johnny Roxborough, Harriet Dunn, Bob Coker, Paul Smith, Wendell Turner and Mary E. Elkins, Billy Horner, Elizabeth and oh so many, many others.
"Well, the dance at the Mackenzie Union wasn't lacking for guests either. Those seen swaying to George Dunbar's recordings were: Margie Dunbar and her one and only Kermit Bailer; Carolyn Plummer and Toddy Cleage, Alice Stanton and Henry Cleage, Mary V. Graham and Carlyle Johnson, Oscar Hand, Charlotte Watts with Bassett Jones, who seems to be giving the little girl quite a rush; Eddie Donald, Frances Raiford with a very handsome stranger; Mr. and Mrs. Kenneth Stanton, Mr. and Mrs. Harry Solomon, Mr. and Mrs. C. Johnson, Marjorie Greenidge, Francess Horner and Billy Russell, Spencer Cary, Lorraine Moss and Albert Wallace, St. Clair Billups, Walter Greene, that wise cracker; Frederick Cain. Theodore Woodson and others too numerous to mention. The Union certainly looks swell after its recent doing over.
"Shirley Turner, Doris Graham, Connie Stowers and M. V. Graham, attended the play "Richard Bordeaux" which was given by the Wayne University players at Wayne last Saturday. The girls reported that the play was put over very well by these student players.
"The Social Sixteen Club is really going places since its organization about 3 months ago. The members give this credit to its president, Miss Doris Graham and its secretary-treasurer, Miss Shirley Turner."
Thank you, Mary Virginia. You have done well and we invite you to chat with us at another time.